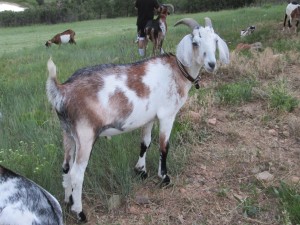 Snickers is a yearling working goat prospect with an excellent, happy-go-lucky attitude and a desire to please. He knows his name and a few basic commands. He leaps into the truck bed when asked, leads and ties well, stands for hoof trimming, and knows a few tricks. He is also beginning to learn how to ground drive. He has accompanied us on many hikes both on leash and off and is good with water crossing. We have even taken him swimming! He was surgically castrated at five months and has horns. He should mature at 200 lbs. or more and will make an excellent working goat or companion.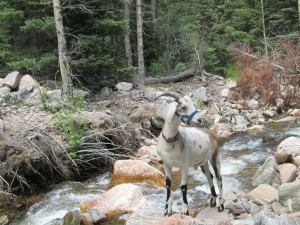 Snickers' mother is Goat-O-Rama Pretty Petunia and his father is Pac-Man. Asking $250.
Did I also mention that he's a goofball?