Day 5 was kind of a dud–cold, windy, rainy, and spitting snow. We tethered the goats in the yard to graze for a couple of hours in the morning and then I bedded their trailer down deep in clean straw and gave them fresh hay so we could get them under shelter just in time for the nasty weather to blow in around 10:30. Phil and I took off to explore the area without goats. We drove up to Tres Piedres and saw the Earthship visitors center where we paid too much to see a model Earthship home. But we bought a book about harvesting rainwater which might come in handy for us one of these days.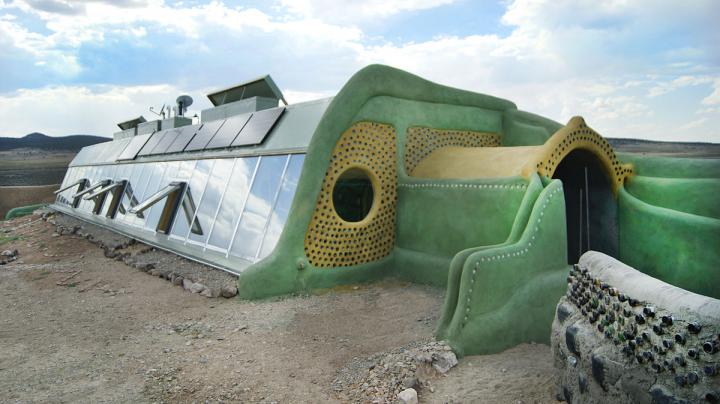 Then we went to the Rio Grande Gorge bridge and walked across so we could spit off it. It was a very high bridge. The gorge was beautiful. But we were puzzled by the lack of parking. You could park on the limited shoulder on either side of the bridge. Or you could park at the visitors center. But there was no access from the visitors center to the bridge without hiking cross-country and climbing over a guardrail. It was very strange because the bridge had wide walking paths and observation balconies on both sides. And we didn't understand this sign on the visitors center bathroom at all!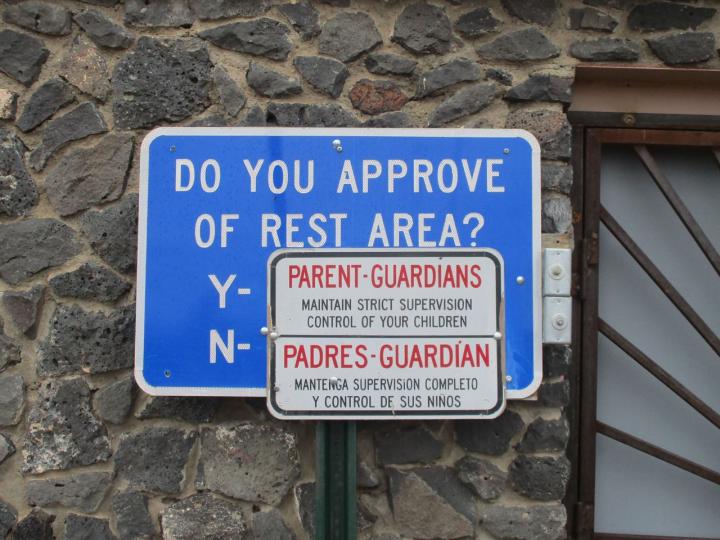 After lunch we visited a couple of museums and a wonderful rock shop. The rock shop was the highlight of the day. They had many beautiful mineral specimens, and Phil bought a bag of mineral spheres to add to his marble collection.
We let the goats out in the yard when we got back and they amused themselves at the apple tree.