Well, we were so busy we didn't get many photos today, but we had a great time! First off was the much-anticipated Chariot Race.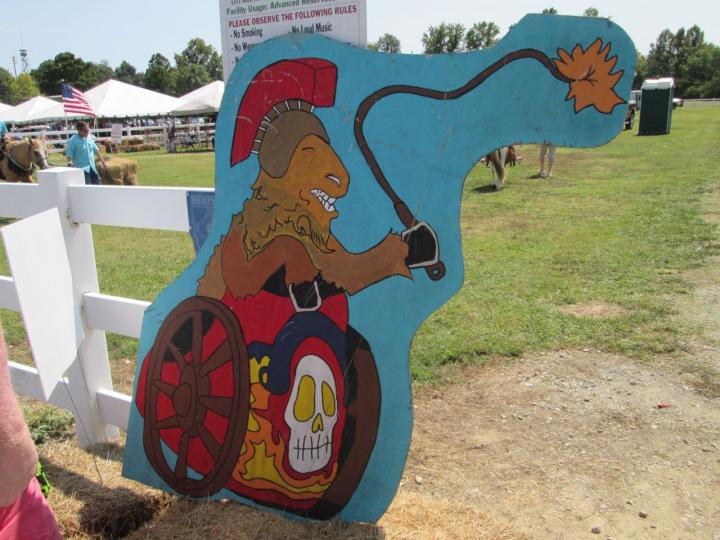 There was some confusion as to where the race was to be held. The program said we would race in the "Kid Zone", which was on the baseball field and the historical location of the race back when it was still run. The lady in charge, on the other hand, said we would race in the horse arena. Phil and I were pretty skeptical about that–the arena had panels set up and was full of cows and hay and a lot of cow pies, and horse arena footing is not suitable for driving goats at speed. We were game, but we felt it would be "the world's slowest chariot race" if we ran (or plodded more like) around the horse arena.
After a bit of back-and-forth, Phil and I suggested we run on the smooth gravel road behind the arena. It was a nice straightaway–not too short, not too long, and the packed footing was excellent for goat hooves and smooth rolling for chariot wheels. Because of the confusion we did not get a huge audience, but the folks that were there cheered enthusiastically.
It was a tight race. Sputnik got off to a faster start and led from wire to wire, but finished by only a neck. With a bit of hollering from Phil (er, Thor), Finn kicked into gear and began to overtake Sputnik about halfway down the track. I hollered at Sputnik with little result, but as Finn began to sail past us I tickled the tip of Sputnik's tail with my finger and he put on an extra little burst of speed to maintain his lead across the finish. It was a good race. It probably helps that I'm a good 25 lbs. lighter than Phil.
Sputnik and I with our First Place trophy.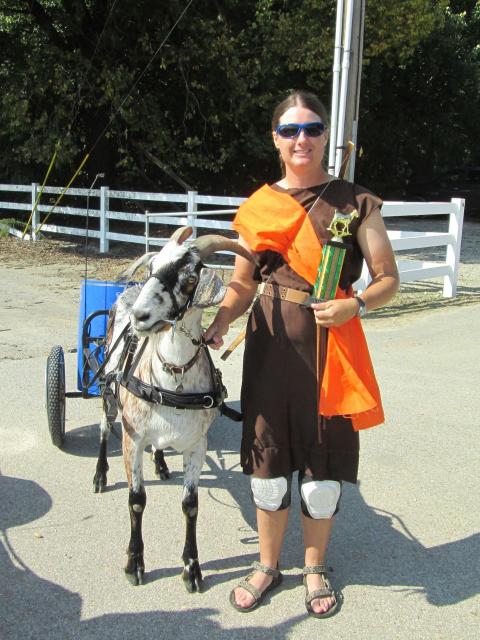 Phil and Finn with their Second Place trophy.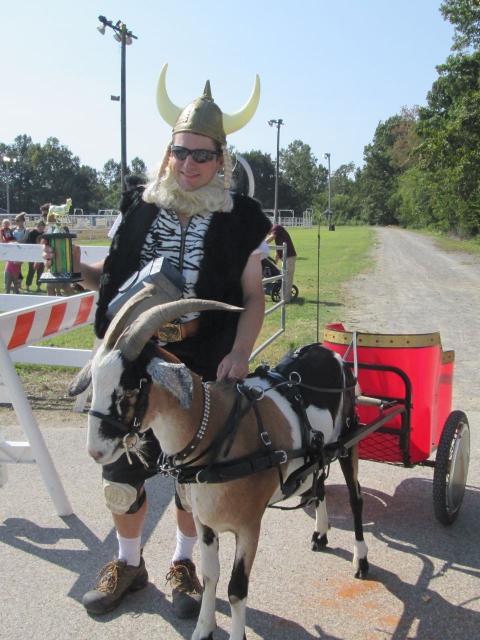 And although it's completely unrelated to goat chariot racing, we had to put this one in here for Uncle Steve. Phil totally rocked this pink tractor, wouldn't you agree?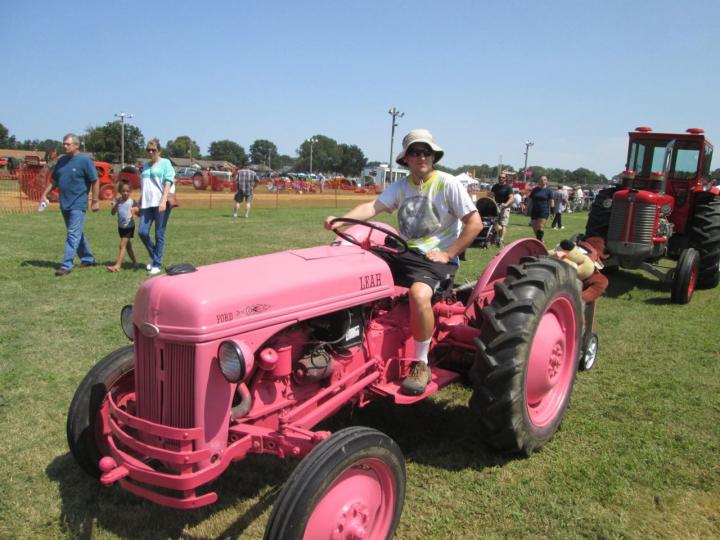 After lunch, Phil and I harnessed Finn and Sputnik up again so we could do cart rides for the kids. The goats were a huge hit, and between them they hauled around somewhere in the vicinity of 140 kids. We posed for a lot of photos this afternoon, and the boys were ver patient. They never balked or complained or got cranky. I wish I had photos of the cart rides because we had Finn and Sputnik's horns done up in striped wraps, but we were much too busy to take photos of each other.
I hear there will be a video of the chariot race available soon, and when that comes out I'll make sure to post it.