We just bought two round calf hutches from a PolyDome dealer in our area and I couldn't be more pleased! These are the perfect size for goats (even extra-big goats!).
What happened was we had a wind storm last week and the heavy wooden goat shed that Phil and his dad built for Cuzco a few years ago took flight and landed about 30 feet away on the other side of the fence. It broke apart and I've yet to survey the damage up close because it's in the middle of the oak brush and I'm going to have to go in there with a chain saw and tractor to retrieve it. So I was suddenly down to one shed for five goats and we all know that only one large and in charge fellow is going to occupy it.
I went to Craigslist and saw an add for a PolyDome dealer and found out he was delivering some to another person right up the road! When we got home with the shelters, a blizzard had set in and Phil and I had to get them off the truck and up the hill to the goat pen. We thought it would be a hassle in the dark with the slick ground and blowing snow, but we turned the shed on its side and simply rolled it up the hill and into the goat pen!
The domes are seven feet in diameter and five feet tall–more than big enough for Cuzco (and several others if he didn't insist on keeping it all to himself). It has no corners, so when Lilly or someone happens to wander in, Cuzco can't pin them. They simply run around the the wall until they get to the door. And speaking of the door, it has a lip about a foot high that keeps wind and snow from blowing in and bedding from spilling out. It's a wonderful design! And best of all, when you're transporting them on your truck, it looks like you just came from Area 51!!!!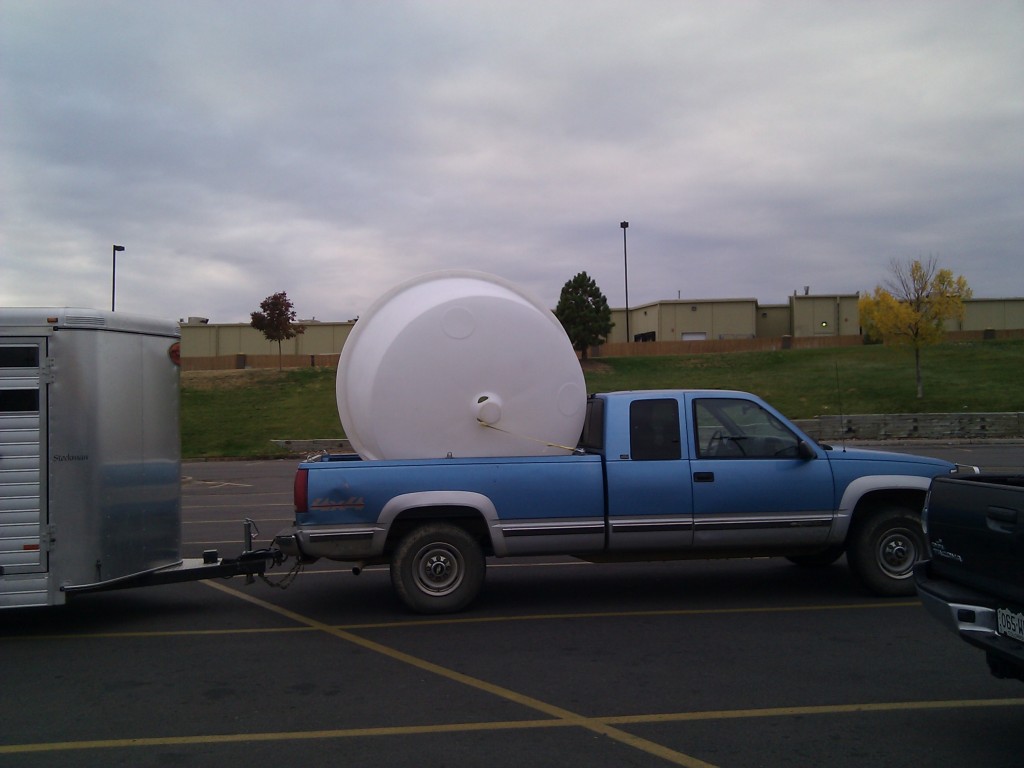 Turns out that storm we unloaded the hutch in was serious. It snowed 14 inches before morning and we woke up to this on October 16. Good thing we bought that new shelter when we did! See it under all the snow?