I swear the Beulah parade and Yule Log Festival get better every year! Last night Phil and I took Finn and Sputnik to Beulah for the annual parade of lights. Phil dressed as Santa Claus and I was the elf. We used our big, pretty carriage this year so Santa was able to sit in the back seat where he could wave and throw candy while I sat in the front seat and drove. Phil bought some LED light strips to stick on the bottom of the carriage and we set them to red and green. They glowed off the pavement and looked spectacular. We strung a few lights over the rest of it as well. I wish I could someday get a really good photo of our Christmas parade get-up, but they never come out.

Finn and Sputnik were wonderful. They walked nicely together without pulling at the bits or see-sawing. I love having a carriage with brakes. There's a long, steep hill at the end of the parade and without brakes the goats would have had a rough time holding back such a heavy carriage and Phil and I would have had to get out and walk. But with brakes to help them hold back the load, Phil and I could both stay seated! The only thing that startled Finn and Sputnik was the laser lights. They balked briefly when they saw the bright green lights buzzing over the pavement at their feet, but with just a bit of encouragement they walked on and had no more trouble. Good boys!
Afterwards Phil and I went to one of the local establishments for some free hot chocolate and they had a beautiful Yule Log cake on the table! It was an amazing piece of artwork–almost too good to eat–but we did anyway. It had merengue mushrooms growing out of the chocolate bark!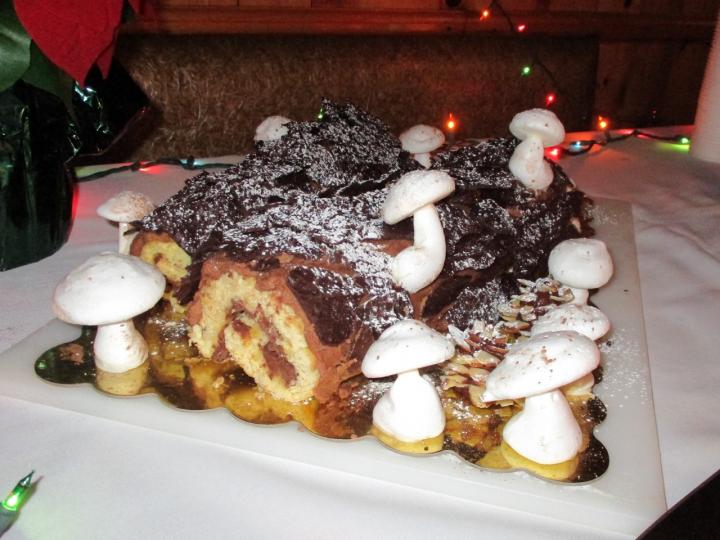 Next day was the Yule Log Festival, and Phil and I loaded the boys in the pickup truck and got there nice and early so we could find a place to park. It was chilly so they were grateful to have blankets for the trip.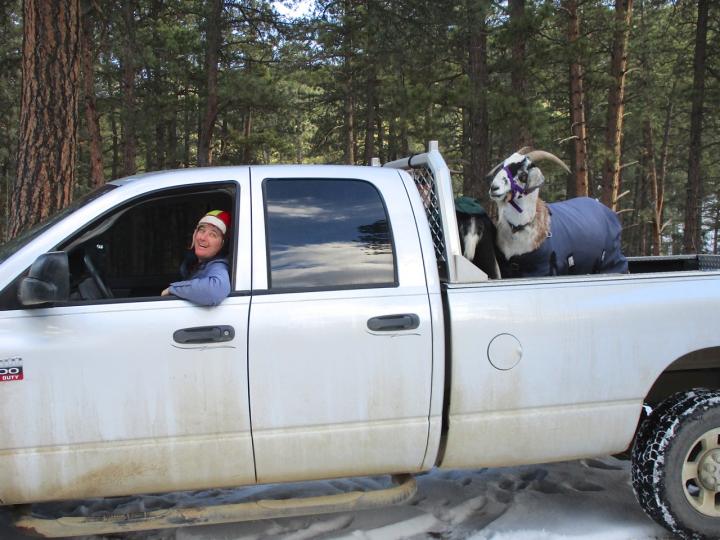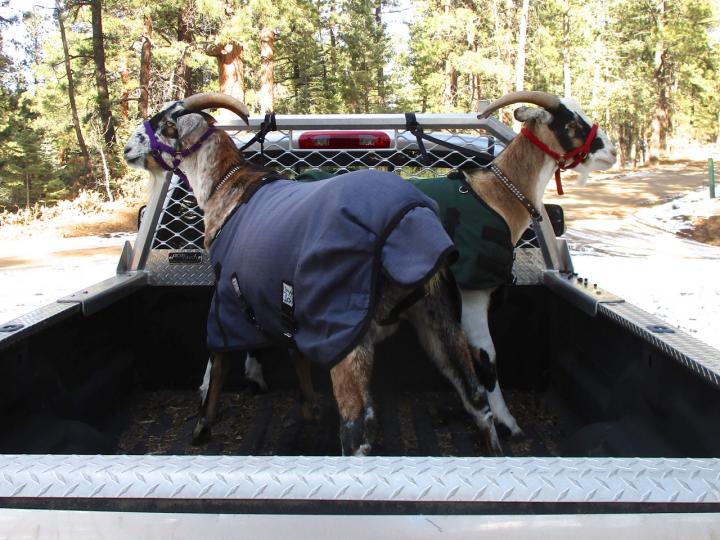 We harnessed them up in anticipation of helping drag back the Yule Log. Both wore jingle bells on their collars for a festive sound.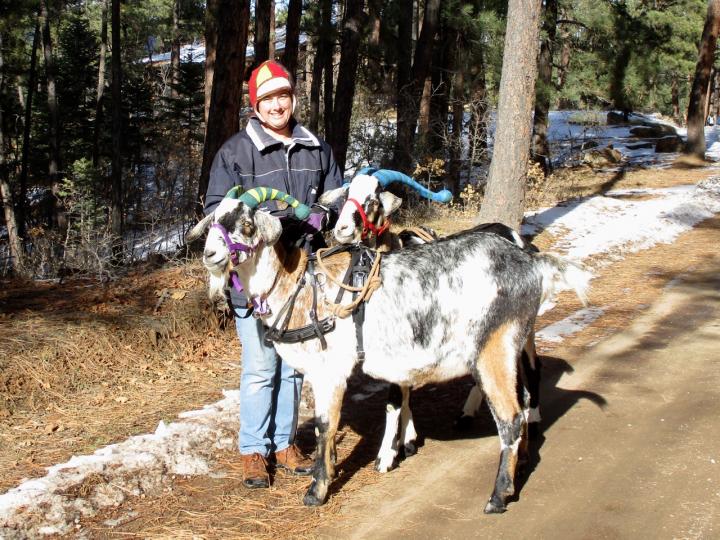 Last year's Yule Log, waiting to light the Yule Fire.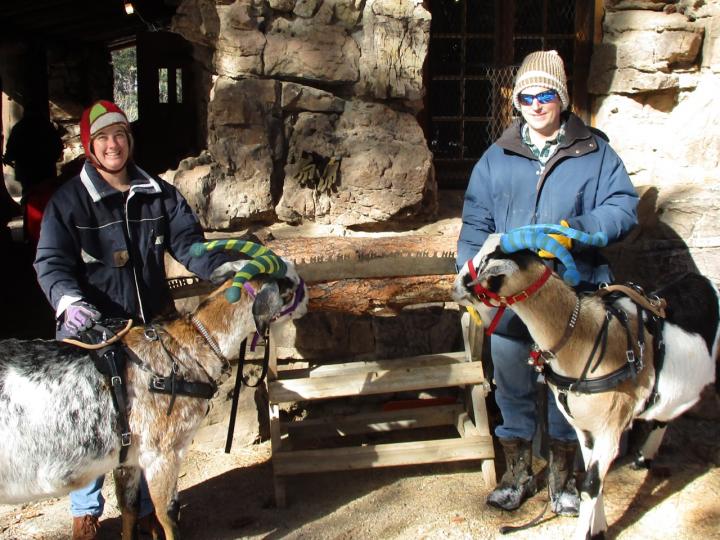 Father Christmas came over to greet the goats.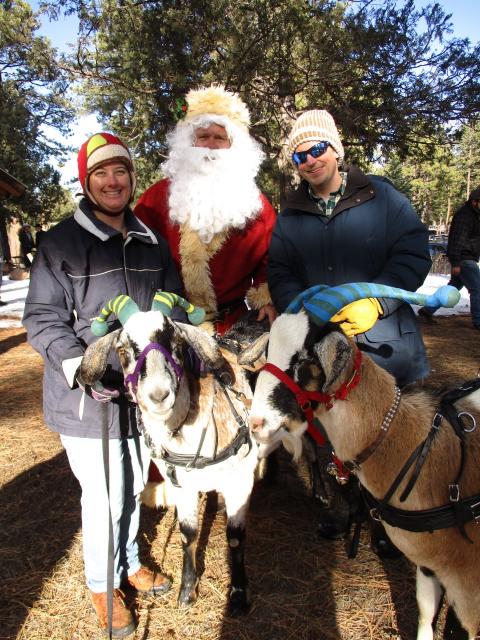 Sputnik was a champ. He put up with a lot of kids today and only got flinchy near the end of the day. This little boy was gentle and kind, but he was a bit persistent and eventually pushed Sputnik past his tolerance level. I told him to go pet Finn instead. At one point I looked over and saw Finn standing with his head down and his eyes closed as three kids hugged him and buried their hands in his fur. He looked absolutely blissful.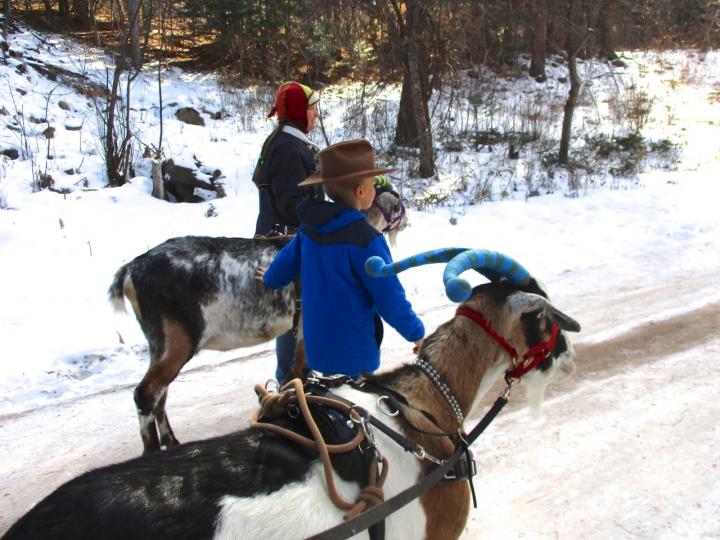 Then the head Woodsman gave us the rules, the trumpet sounded, and we were off!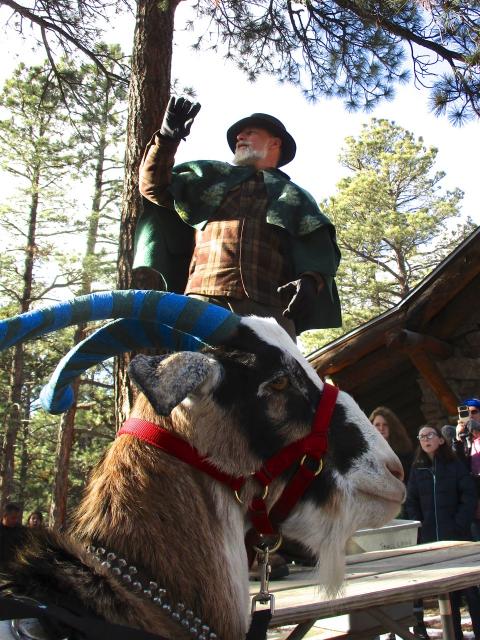 Sputnik and I search the woods for the elusive Yule Log.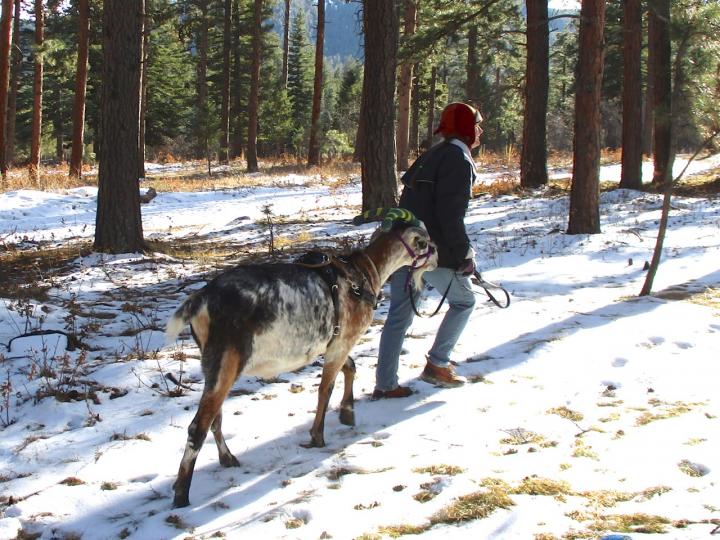 Finn says, "Is this it? Is this the Yule Log?"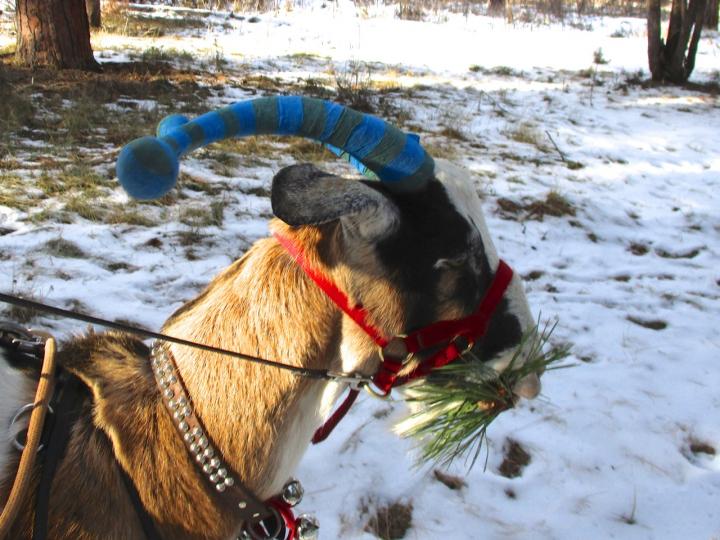 "I think I ate it!"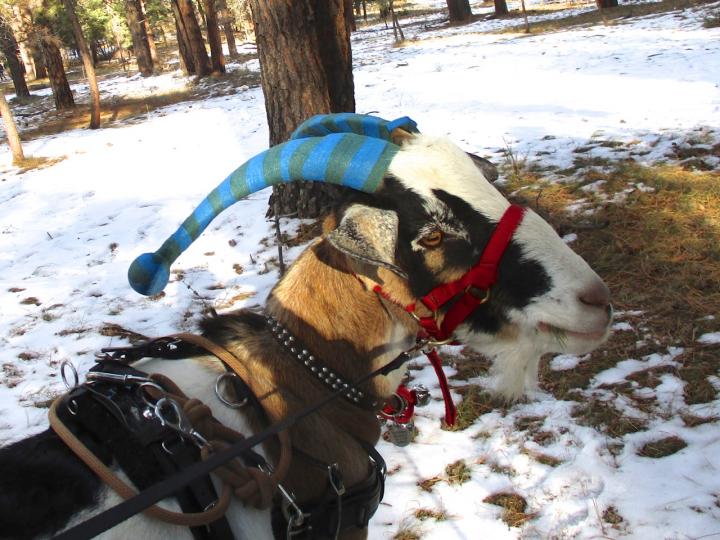 "Halueb!!!" The Yule Log was found and we were nowhere near it. But we joined the jolly crowd to help pull it back to the lodge. Finn and Sputnik had the honor of pulling at the front of the line this year!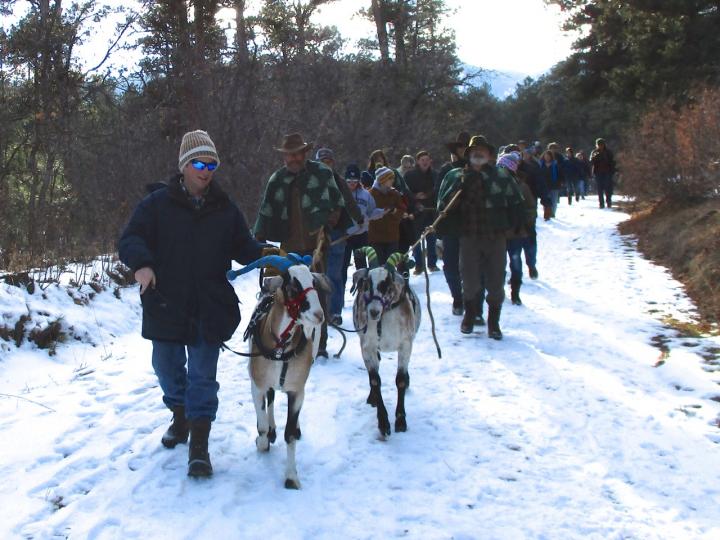 The boys didn't just pull–they pulled HARD! There were a few times when I thought Sputnik was going to pull me over and drag me as well as the Yule Log. It wasn't until we started uphill that he settled down for a steady pull.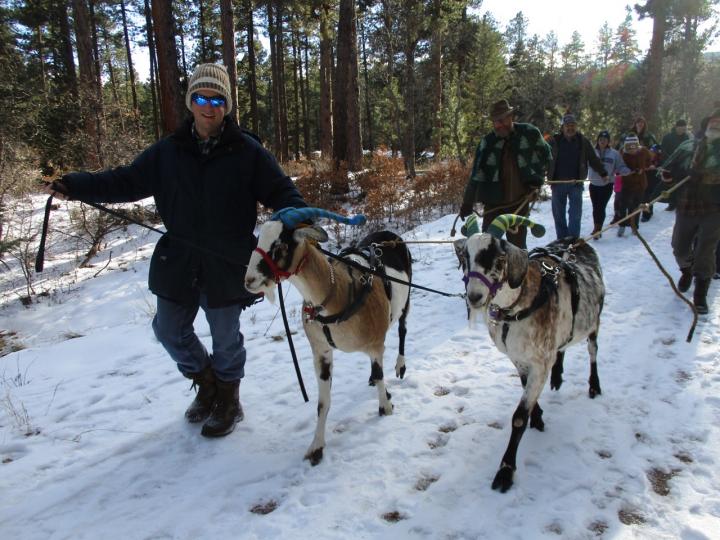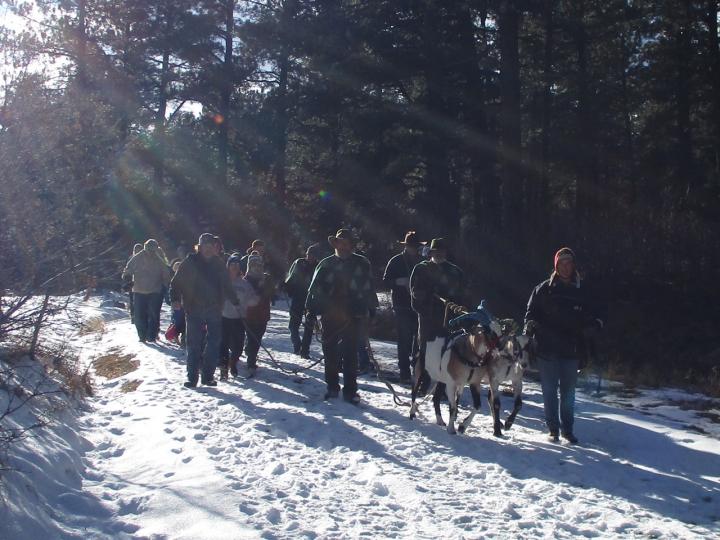 It's blurry, but there's the Yule Log with the lucky finder and his friends riding on it.

This little boy was the proud finder of the Yule Log.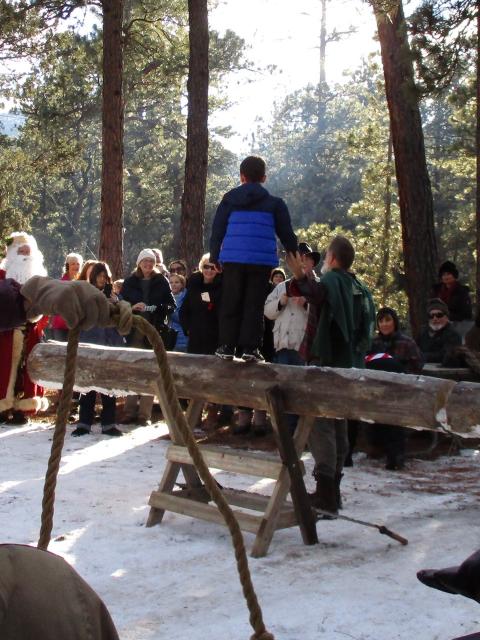 He helped cut a piece off the end to take home as a souvenir of his big day.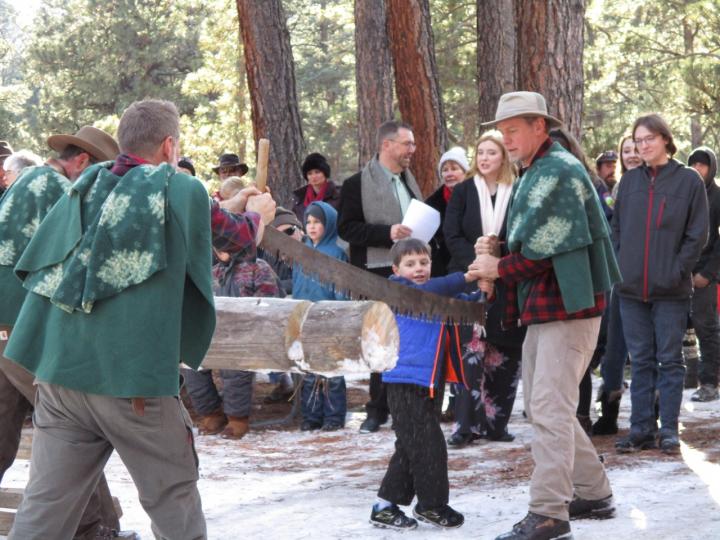 Afterwards we had wassail and cookies. We shared quite a few cookies with the goats. Finn's favorite part of the Yule Log Festival is getting fawned over by hundreds of strangers who come every year for the express purpose of adoring him. Sputnik's favorite part is COOKIES. "Gimme cookies!! Gimme cookies NOW!! Nom! Nom! Nom!"