Our big packgoat "meet 'n' greet" day dawned foggy and wet. We were joined early in the morning by Kim Fox, another fellow NAPgA member, but no other members showed up. Bad weather kept most of them home, but our spot near Ratcliff Lake was good for stormy weather. It was humid and there was drizzle, but the rain and lightning mostly stayed away until that night so we had some good workshops. The FS put up flyers telling people to come learn about packgoats and a few brave souls ventured over. None of them had ever heard of a packgoat before!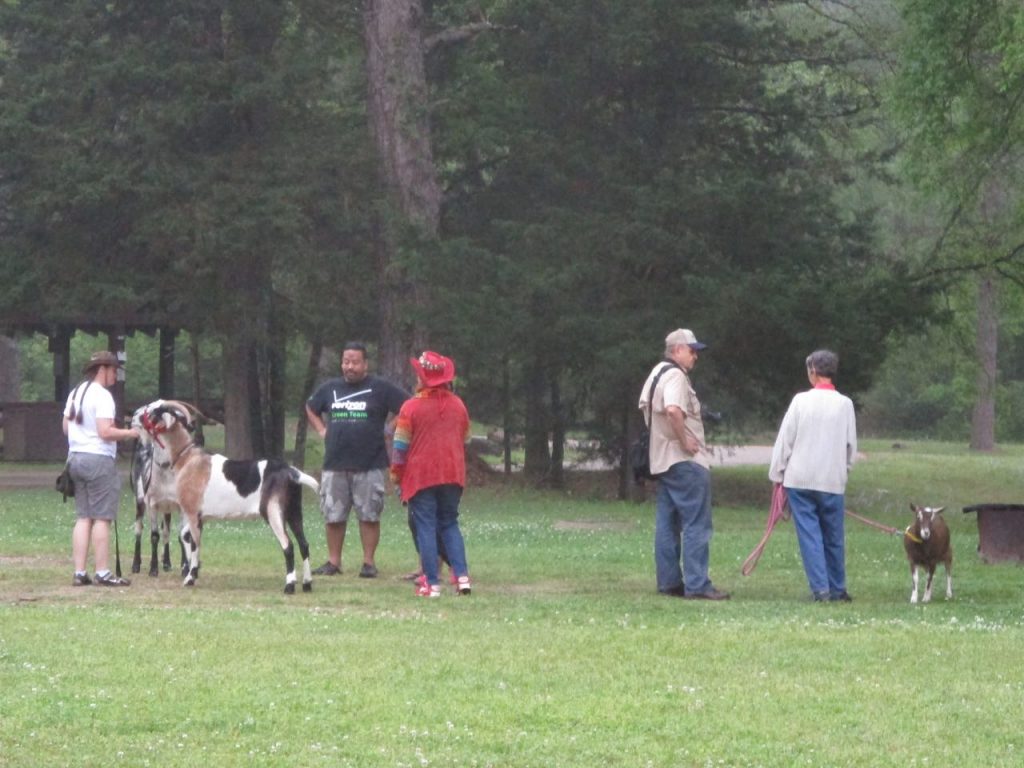 The FS gave us access to the covered pavilion, so we stayed dry even when the rain came. 
The pavilion even had electrical outlets and lights, so it was a great spot on a wet day! Sputnik showed everyone how packsaddles work. He was a funny boy. When I was done using him for demonstrations, I tied him up  where I thought he would be no trouble. WRONG! He's a goat, isn't he? Sputnik kept reaching over and pulling down the equipment draped over the rail. I scooted the saddles further and further from his reach, but he simply reached further each time. When I finally managed to get everything out of his way, he started hunching his back and attempting to spray like a buck (unsuccessfully, thank goodness, but these displays are always rather embarrassing!). I slapped his rump a couple of times to make him stop, so he got up on his hind legs and began gnawing on the beams of the pavilion and then clacking horns with Finn. He was really quite full of himself and was determined to remain the center of attention. I did eventually bring him back onstage so he could show off his tricks and he was immensely pleased to be once more in the limelight. What a ham!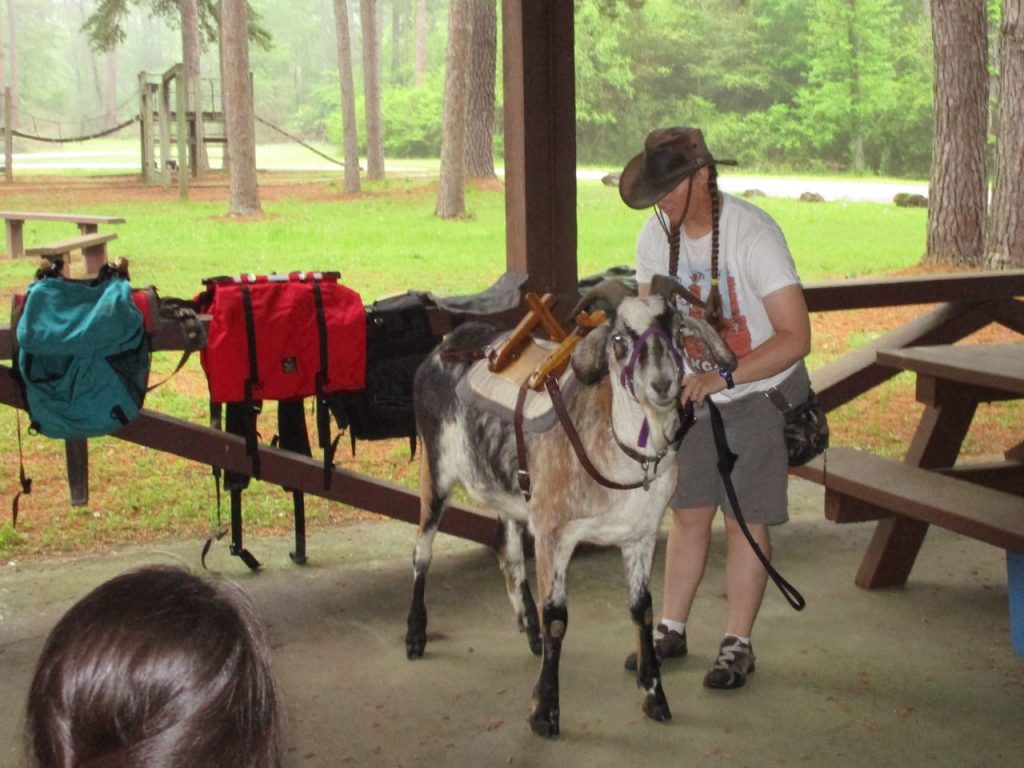 After the packsaddle demonstration, I hitched Sputnik to his cart and everyone took a turn at the reins. Fellow NAPgA member, Connie Losee, may have had the best time of anyone. Just look at that grin!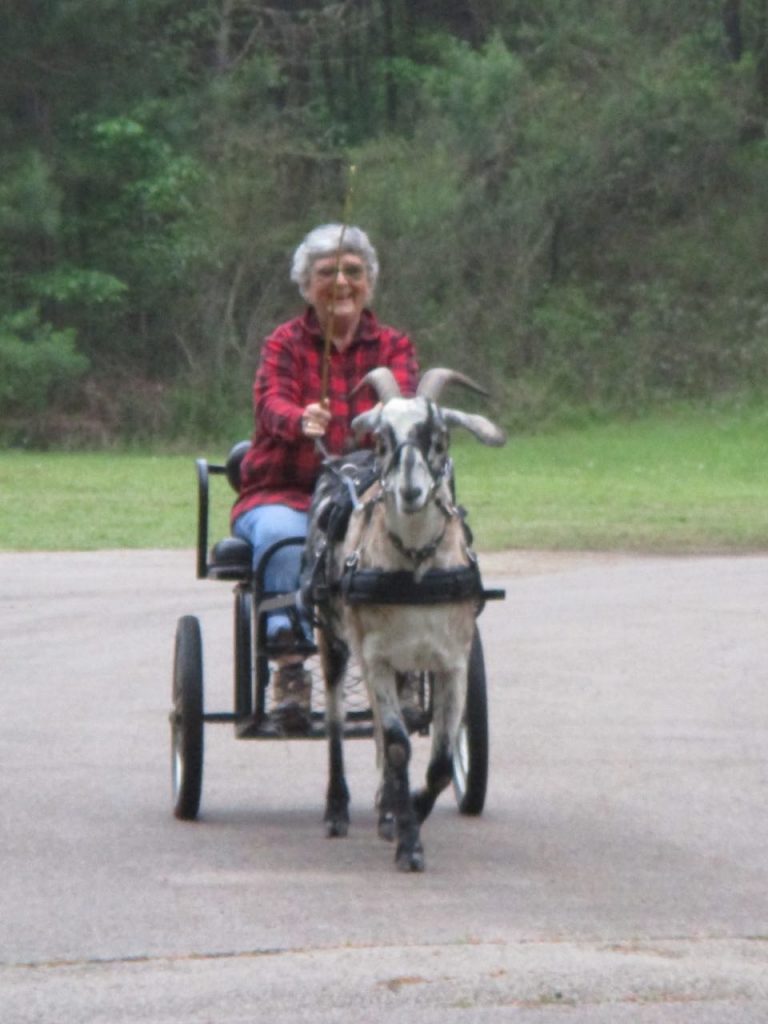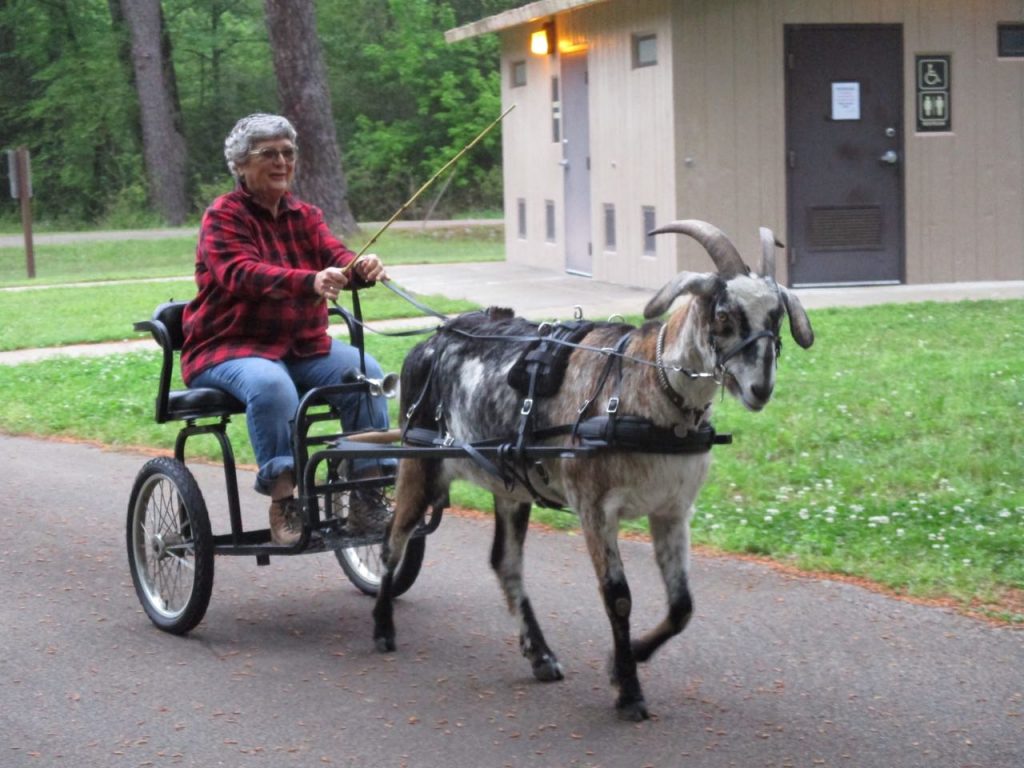 Connie's husband Robert drove trotting horses on the track at Belmont back in the day. I felt I was in the presence of a real expert.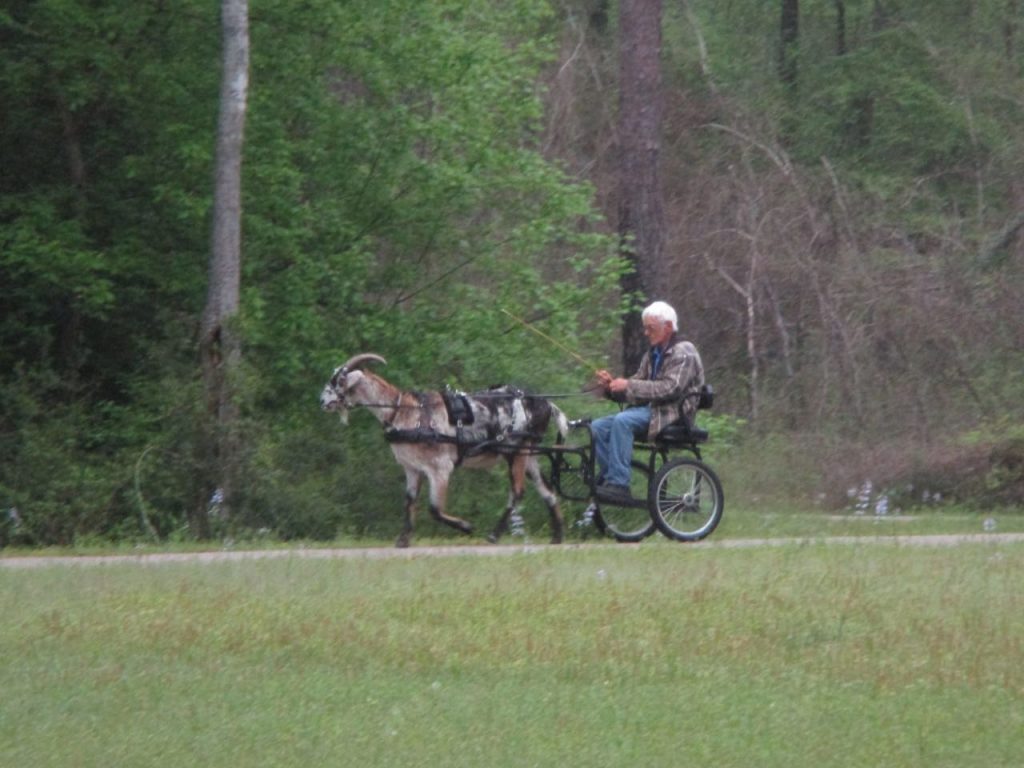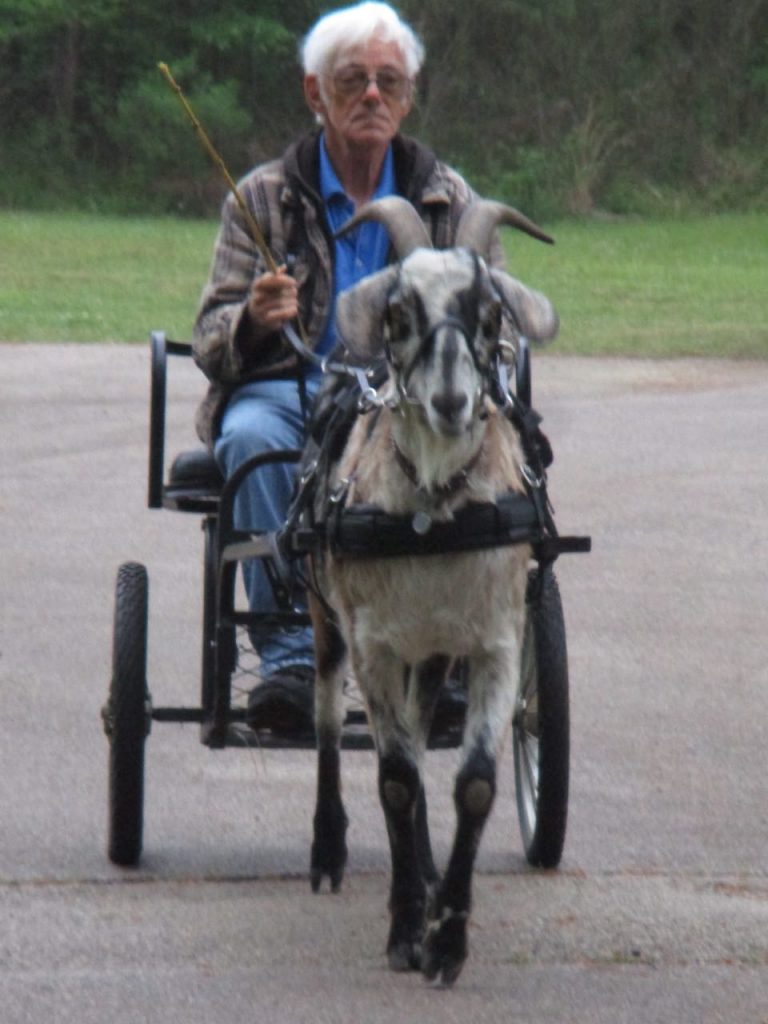 Last but not least, Kim Fox took a turn just before the rain started and sent us all scurrying for shelter and some lunch.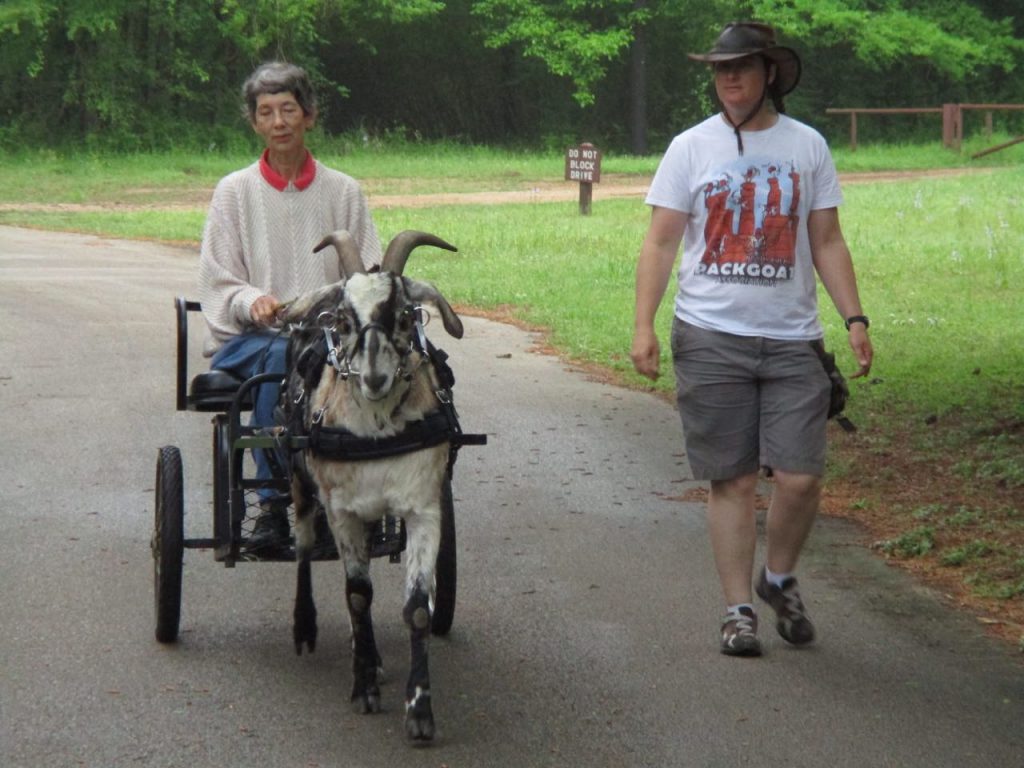 We spent the afternoon trimming hooves, fitting and comparing pack saddles, and jawing about goats. Finally, Phil broke out his fiddle and played us some tunes. Sputnik and Kim's Toggenburg wether, Lucas, were both intrigued.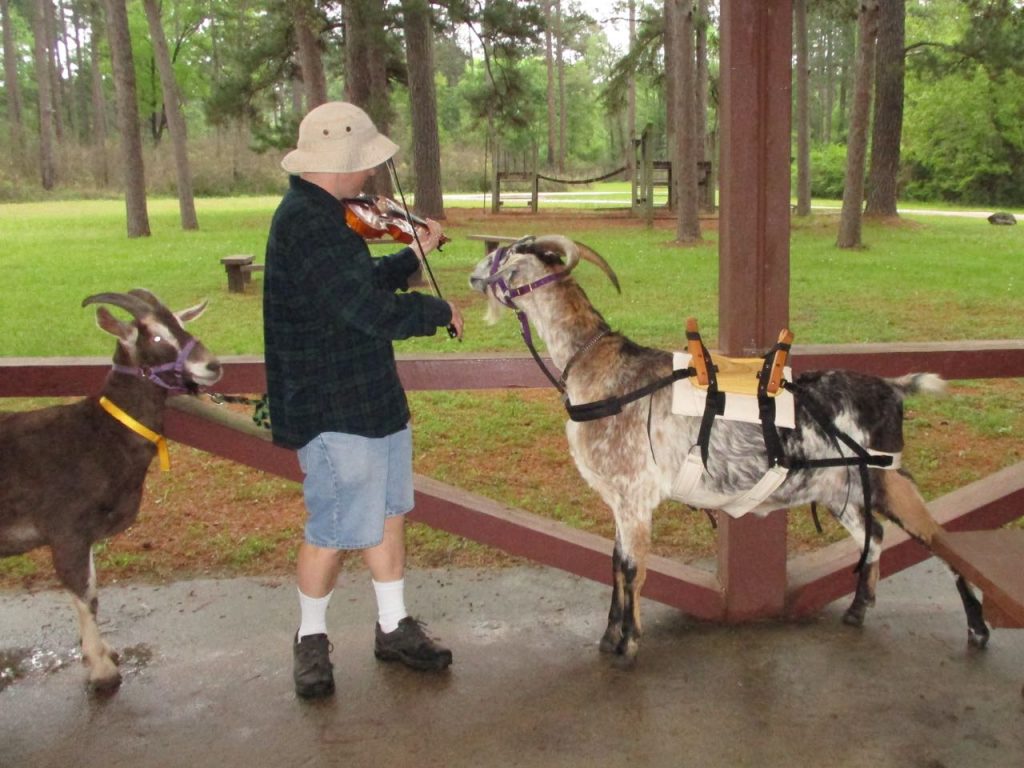 Well, Lucas was intrigued. I think Sputnik was a little bit afraid.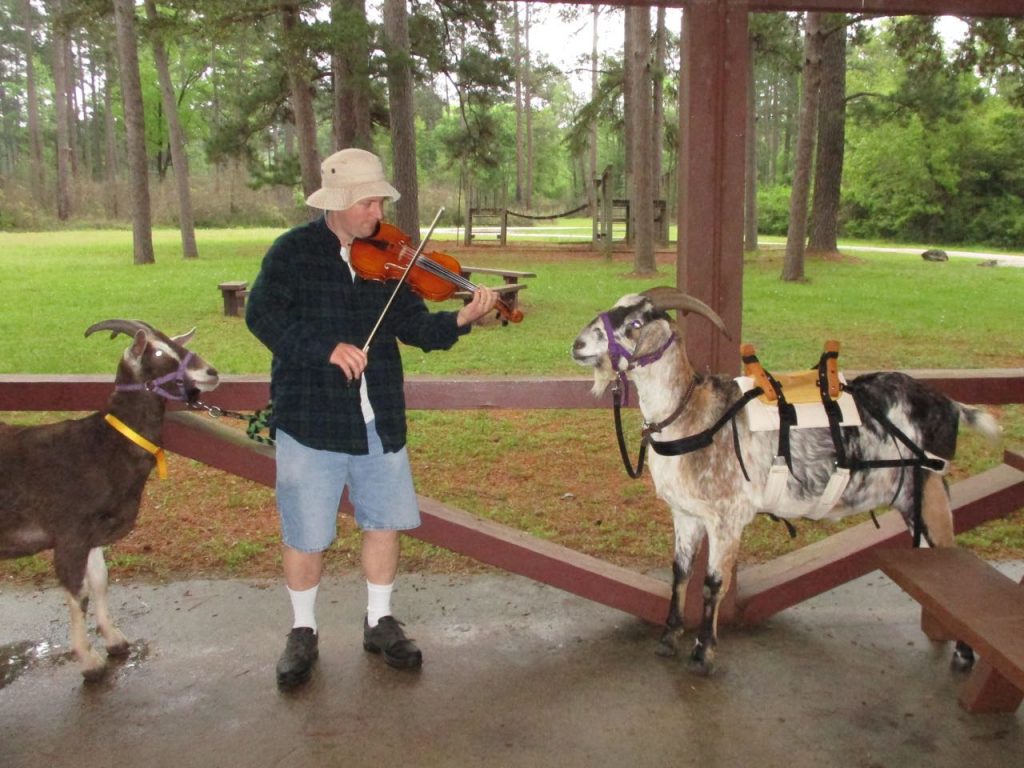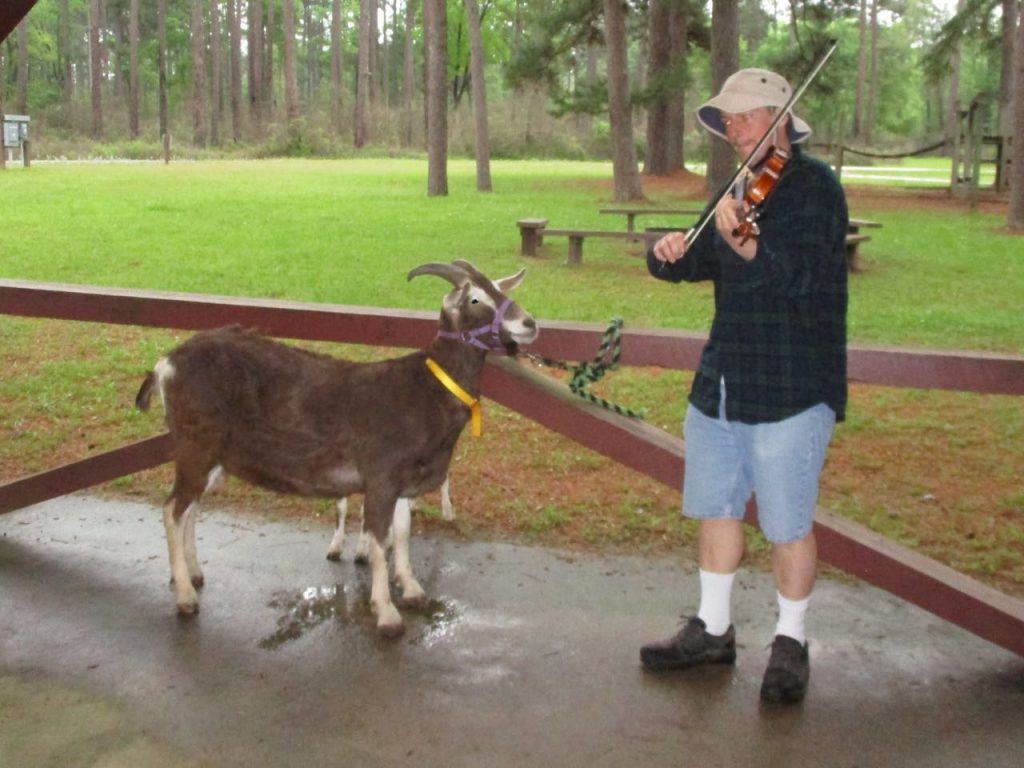 Finn got exiled to an outside picnic table about halfway through the afternoon after he disgraced himself by butting heads with another goat while Connie was in the way. He grazed her with his horn in passing and while he didn't hit her hard enough to hurt, it startled her and made me angry. I gave him a thorough dressing-down and dragged him outside to stand by himself at the picnic table for the rest of the afternoon. He was quite upset at being left in timeout, but he must understand that he cannot spar with other goats if there is a person in the middle!