Phil and I celebrated our 17th anniversary by taking our entire herd of goats for a stroll around our property where we took waaaaayyyy too many cute baby goat pictures. I was planning to share some of them last night but we got sidetracked by an unexpected visit from the stork.
Jezebel kidded this tiny little morsel last night around 8:30. He couldn't have weighed more than 4-5 pounds soaking wet.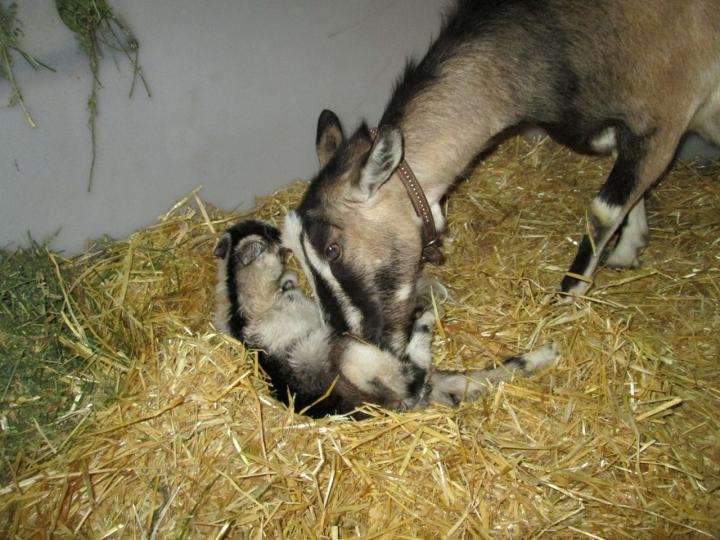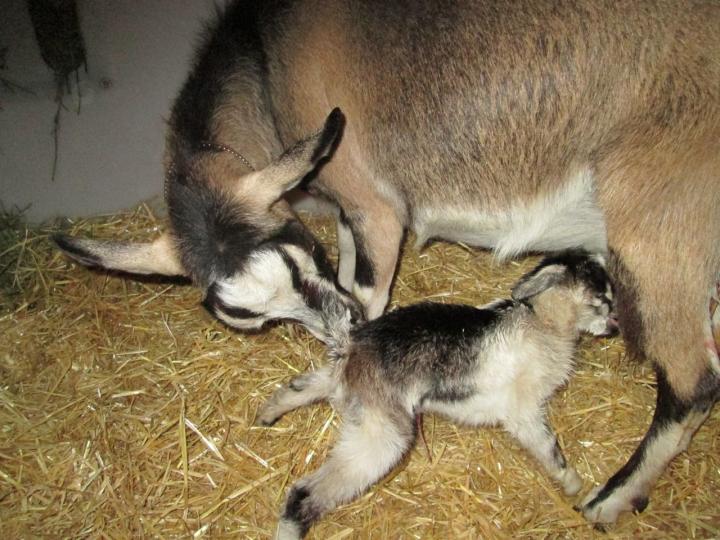 Jezebel had me worried because she had absolutely no udder whatsoever and only a few days till her due date. Then yesterday morning I noticed there was a little milk starting and her tailbone was sticking up. I spent the day cleaning sheds. The kidding shed was soaked so I stripped it in the morning and left it bare till late afternoon so the ground could air out. Jezebel looked very worried about it. She had been nesting in there that morning before it was cleaned and when I stripped it she kept going in and out and giving me pointed looks as if to say, "Check-in time is 12:00 and my room is not ready!"
Phil and I had an early dinner at a friend's house and when we came home Cuzco had taken over the kidding shed and Jezebel was nowhere to be found. Phil went to look for her and discovered her hiding in a corner behind the house. I think she was horrified that we had left her in her time of need. As soon as we got all the goats put to bed in their proper pens and got everyone else out of her shed, Jezebel went straight down to business. She had waited till we got home and could attend her during the birth. And it was quite an easy birth. She barely pushed at all and then took a long break while the baby was in the birth canal. I got tired of waiting for those little hooves to make progress so I finally reached up and grabbed one. The second I gave a soft tug on that little toe she shoved him right out. She was just waiting for help. She was convinced she couldn't push him out by herself and insisted that I do a little pulling. But with a baby this small there was really no need for assistance. I think she wanted moral support more than physical help. She was remembering Tigerlily who was five days late and twice this size. Tigerlily needed to be pulled. I think Jezebel kidded this one early on purpose so it wouldn't be so big!