After a good rest on Friday night, we got up early (but not too early) Saturday morning to begin our long hike down Wild Horse Canyon. First things first, though. There being no toilet facilities at our primitive campsite, Phil came prepared. Many thanks to Aunt Marianne and Uncle Steve for providing this handy little item.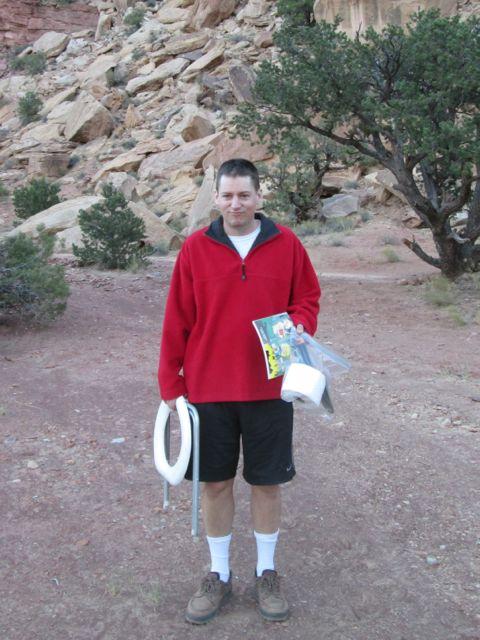 Pac-Man carried our food and water on this hike and he did an admirable job. He never complained, and he only tried to scrape the pack off on boulders for the first hour or two. Cuzco did not have to do anything except look noble for the outbound trek, and he did an admirable job of this.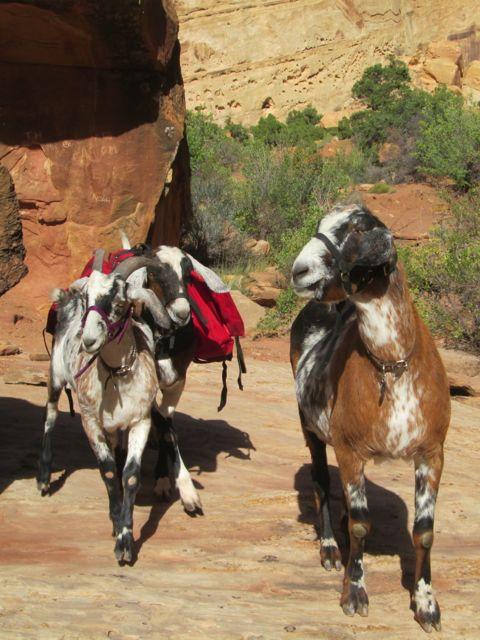 One of the most enjoyable parts of Wild Horse Canyon was right near the beginning where we encountered this lovely playground of unique boulders and miniature arches. I could have played here with the goats all day!

Besides looking noble, Cuzco also kept an eye on Larry. He thought Larry looked very suspicious with those walking poles. And since Larry described himself as a "cranky old curmudgeon" on more than one occasion, it's possible Cuzco thought he had found a kindred spirit.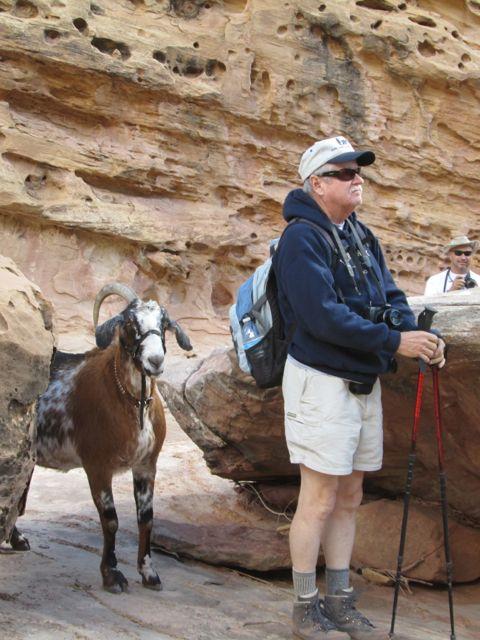 Cuzco really enjoyed this opportunity to micromanage Larry's activities: "You should point the camera a little more left!"

Phil and Cuzco both loved this rock.

This was another favorite rock:

I love how goats like to go right up to the edge and peer down as though they are going to jump, but you can see their nervous posture when they're not sure where the bottom is. We skirted around this little slot canyon and then backtracked up it.

Naw… Finn hasn't learned to pose for the camera at all… not at all.

It was a tight fit in some spots.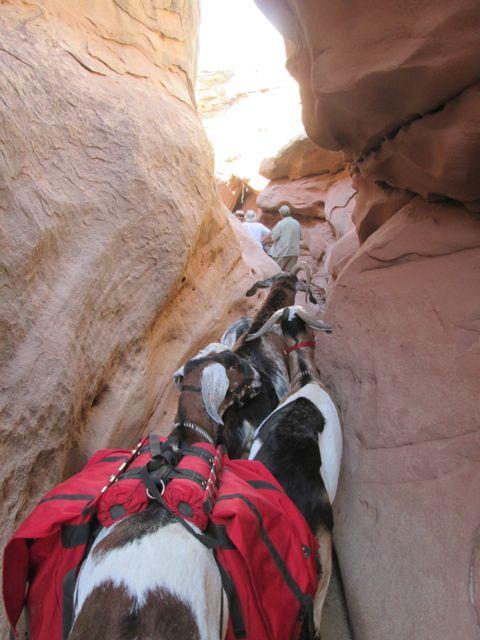 Finn and Bacchus going at it. This was one of their few altercations. It seemed that my goats and Herb's goats were content to stick mainly to their own herds during this trip, so there was very little fighting.

One might think I wear bright colors to match my goats, but the truth is that I breed goats to match my love for bright colors.

We stopped for lunch at this lovely, shady little rock shelf. We had been in the sun for a while at this point, so this was a cool and relaxing spot for everybody, human and goat alike.