Tonight Phil and I participated in the Beulah parade of lights with Cuzco and Pac-Man. Phil dressed as Santa and drove Cuzco and the cart all decked out in lights!

I led Pac-Man, who wore a packsaddle for the first time tonight. He wasn't particularly pleased about it, but I think he was more upset about the lights and noises and strange people than anything else. He eventually settled down. This is the first time I've gotten to use my new Northwest packsaddle and Acid Rain panniers! I stuffed the main panniers with crumpled newspaper to make them look full, but the side pockets were filled with candy to throw. The goats enjoyed some chocolate before the parade.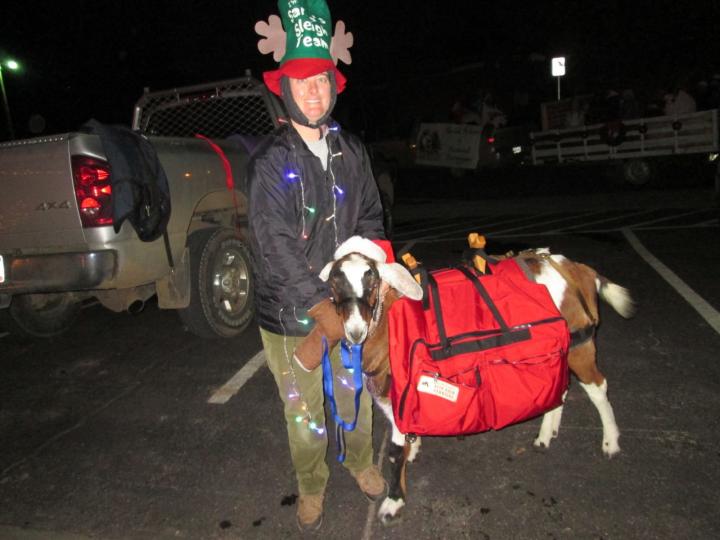 Cuzco was full of fire tonight! He nearly pulled Phil's arms out the whole time. He was adamant that he was supposed to LEAD the parade! We made him stay behind me and Pac-Man. There was a pretty steep hill at the beginning of the parade and Phil asked me if he should get out of the cart and walk.
I said "No! Stay in there and make that goat work off some steam!"
It didn't help. I think he'd have needed about three more people in the cart to make any difference. 

 Because Phil was holding Cuzco back so strongly, he looked magnificent. He practically danced over the pavement. His feet barely appeared to touch the road he was so light on his feet as he pranced! Cuzco got a ton of compliments from the people as he went by, and afterwards Phil was told he and Cuzco were the highlight of the evening.

Pac-Man was awesome for his first time out. He never once balked or dragged at the lead even though he was clearly nervous about the flashing lights and noises. I fed him a lot of cookies to convince him that we were in a nice place. Not only did he eat a lot of cookies and some candy, he also helped himself to my Christmas lights! Just as we arrived back at the staging area after the parade my light string went out and I looked down to see if the switch had gotten bumped. Instead, I just saw a pathetic piece of wire about a foot long hanging out of my pocket. Pac-Man had chewed my string cleanly in two, the little stinker!