We put up our tree the other day, and I realized I never shared a photo of this ornament or the story behind it: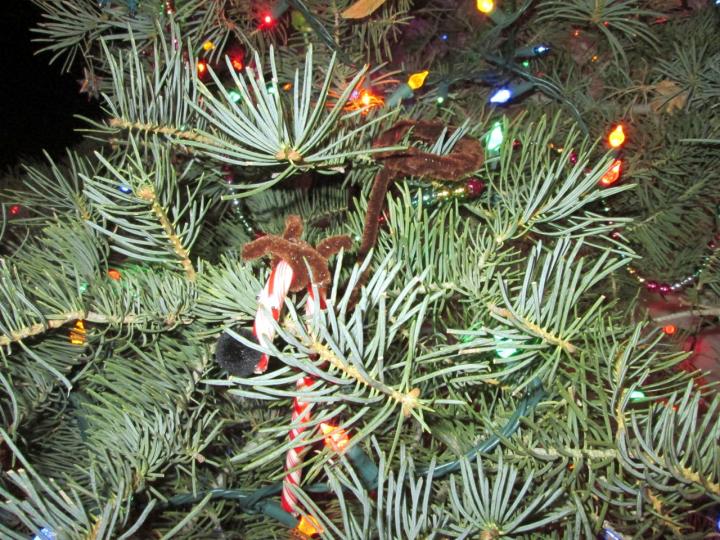 I apologize for the lousy photo. I'll try to explain what's in it. This is a candy cane decorated as a goat. See the little eyes and the brown pipe cleaner horns and ears? This is Cuzco. Phil and I made this ornament at a college Christmas party twelve years ago. It's amazing it's lived this long! Now look behind the candy cane. You'll see it's trailing what's meant to be a tire. What inspired this?
Well, I must go back twelve years to Cuzco's first Christmas and recount a tale of an ignorant goat owner and a determined goat. We didn't own the barn where we boarded Cuzco and my horses, and the feed storage area was inadequate for keeping goats out, being just a section of the barn cordoned off from the rest with what amounted to a post-and-rail fence. Goats are greedy little creatures, and Cuzco became accustomed to helping himself to grain whenever he felt like it. We tried every way we could think of to reinforce the barrier and to lock the grain bin. I tried several different types of trash cans and strapped the lids down in about a hundred different ways. It never took Cuzco long to undo my best work and I would come in to find grain scattered everywhere and Cuzco greeting me with an innocent look on his face. Several times it made him sick and I would find what looked like cow pies spattered all over the barn floor. He eventually learned not to eat so much it upset his tummy, but he still helped himself to more than was good for him.
Finally, in desperation I resorted to The Tire.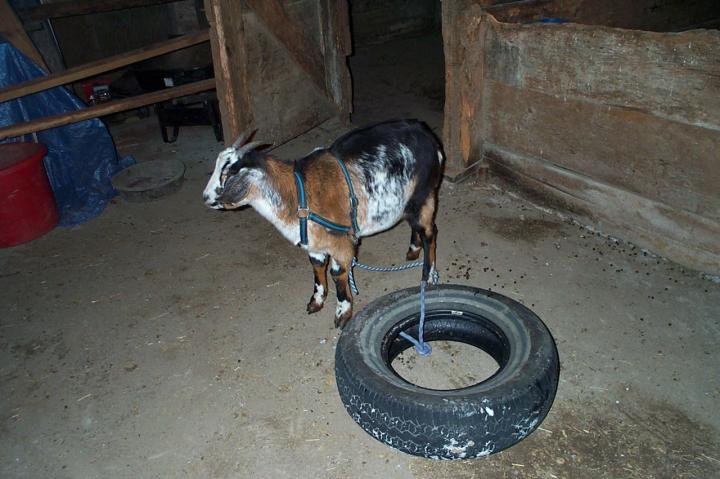 I found a discarded tire, dug out an old horse halter to use as a harness, and tied the goat to the tire with a piece of rope. My thought was that he wouldn't be able to drag the tire through the fence. Amazingly, it actually worked! But while the tire kept Cuzco out of the grain, it also made him quite miserable, and it was not uncommon for him to get hung up on fence posts and other obstacles. He spent one cold afternoon shivering outdoors because he went under the pasture fence and came back on the wrong side of a post. He stopped going out of the barn with his horse friends because he was afraid he wouldn't be able to get back in. All told l I think the tire lasted about three days. I don't remember how we eventually stopped the raids, but I think we may have simply given up in defeat and quit feeding the horses grain any more.