Our original plan for Day 6 was to hike to Williams Lake far above Taos. It was supposed to be a sunny day with temps in the 60's, but the morning dawned cold, foggy, and overcast with snow still spitting fitfully from the sky. The mountains behind our cabin had a dusting of snow, and I knew that above treeline it would be more than a dusting. We were not prepared for winter hiking, and the goats would have frozen on the long drive to the trailhead so we changed our plans. We decided to try one of the other trails within walking distance of our cabin. This one was called "Canoncita Trail" and sounded easy and fairly scenic in the description we found in our cabin. With the cold weather, we didn't plan a long hike and thought we would be back before lunchtime so we did not bother to saddle the goats.
The trail wandered along a creek in a wooded canyon, crossing back and forth many times as we climbed.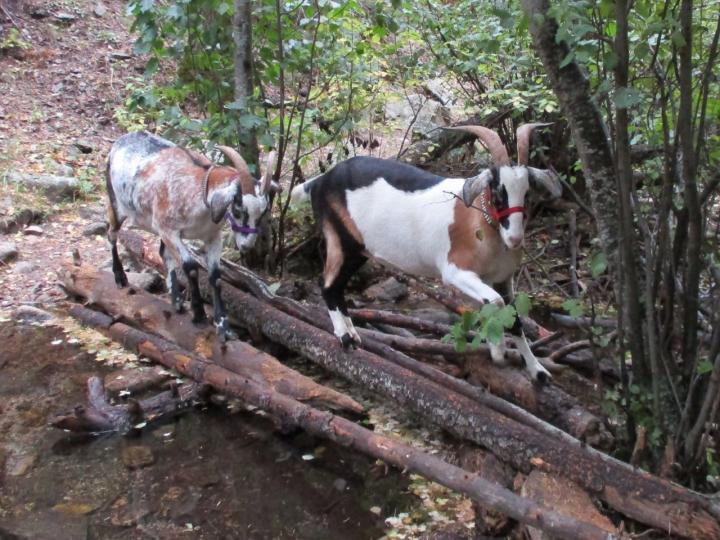 This hanging tree amused me. I wonder how long it had been suspended like that?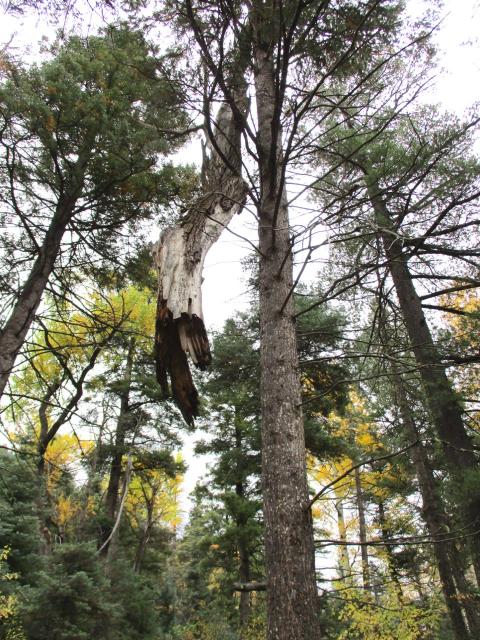 The goats enjoyed the zen circle.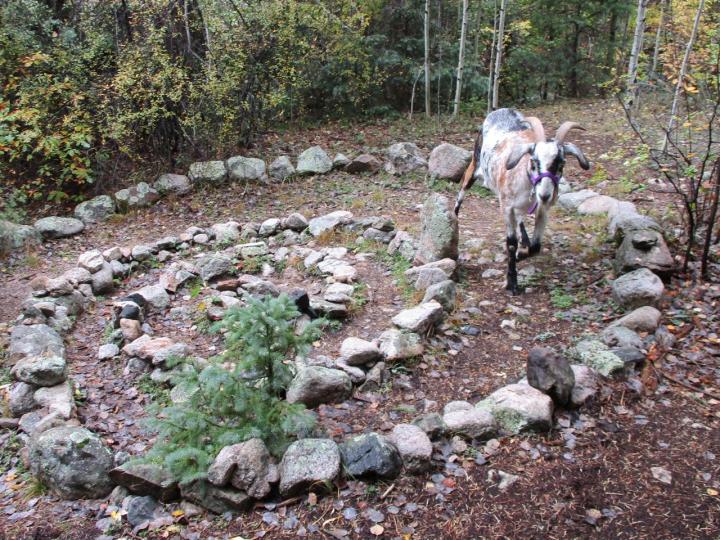 Huge, imposing rock towers rose up behind the trees.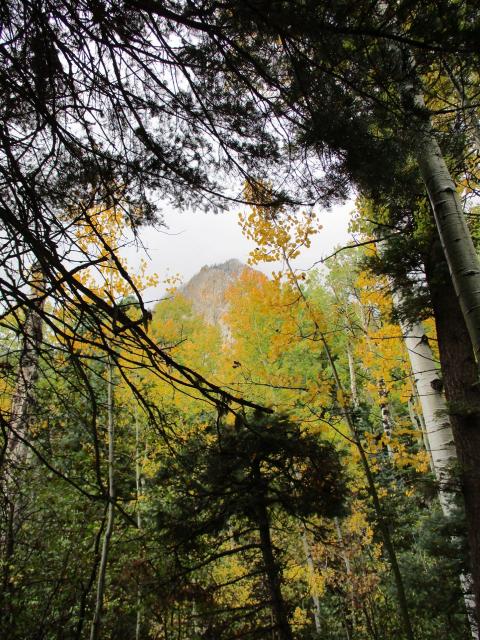 The creek was low, but it was beautiful. Crystal clear water tumbled down endless little cataracts, over ancient logs and mossy rocks. Golden aspen leaves looked like pirate treasure.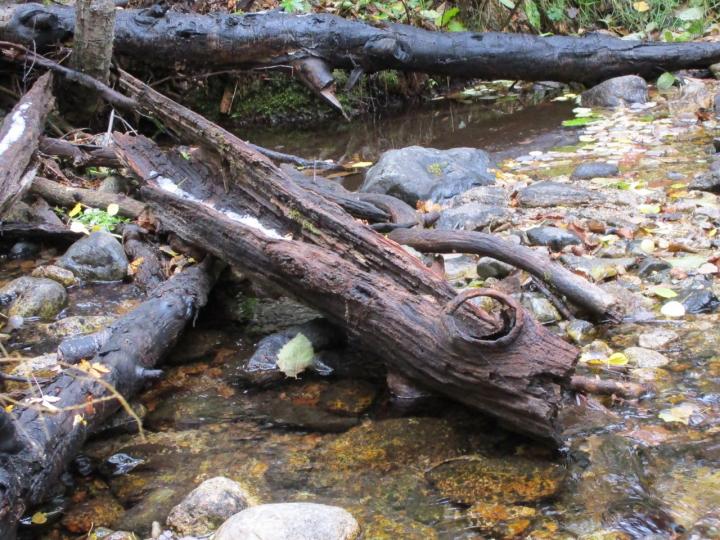 The trees got bigger as we climbed. Many of the aspens had carvings reaching back decades.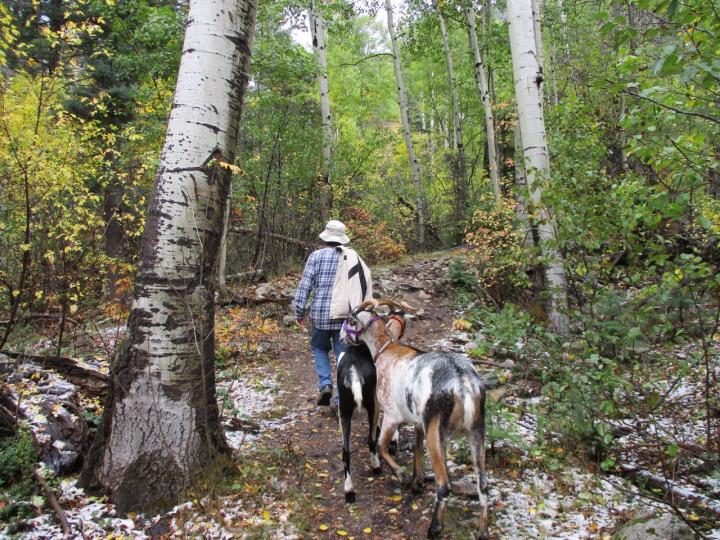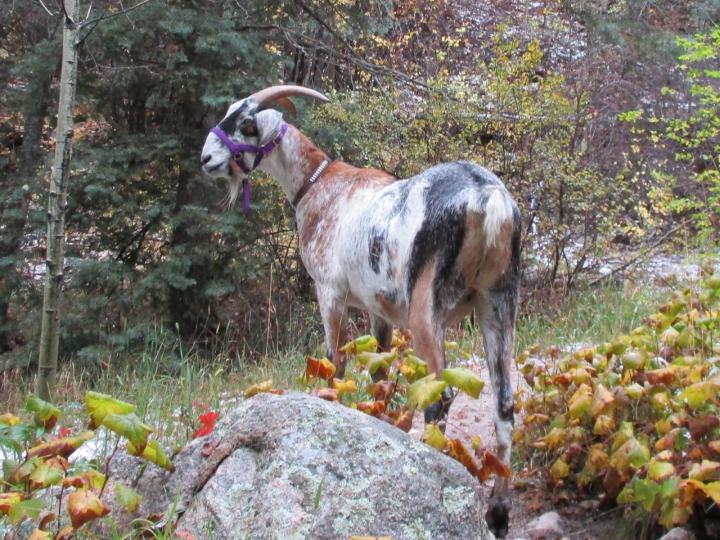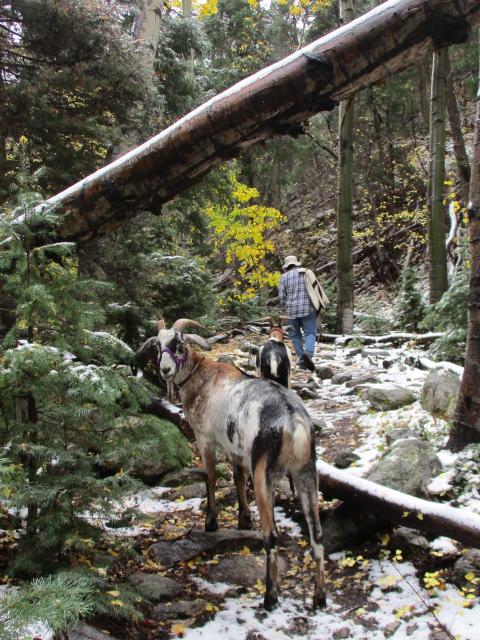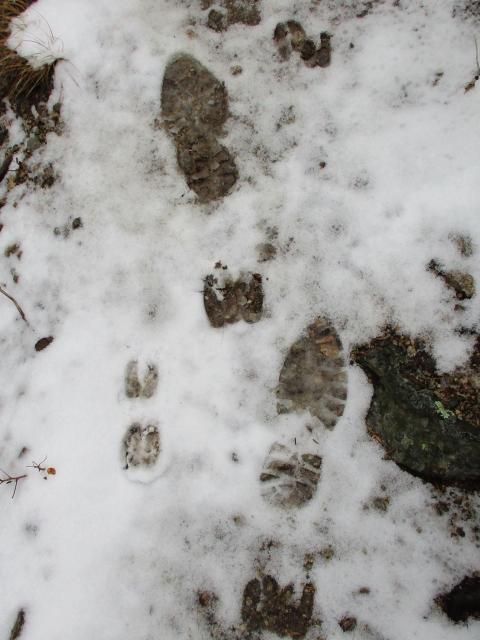 The canyon walls closed in as we gained altitude, and the temperature began to drop noticeably. There was more snow on the ground and we had to be careful not to slip at creek crossings.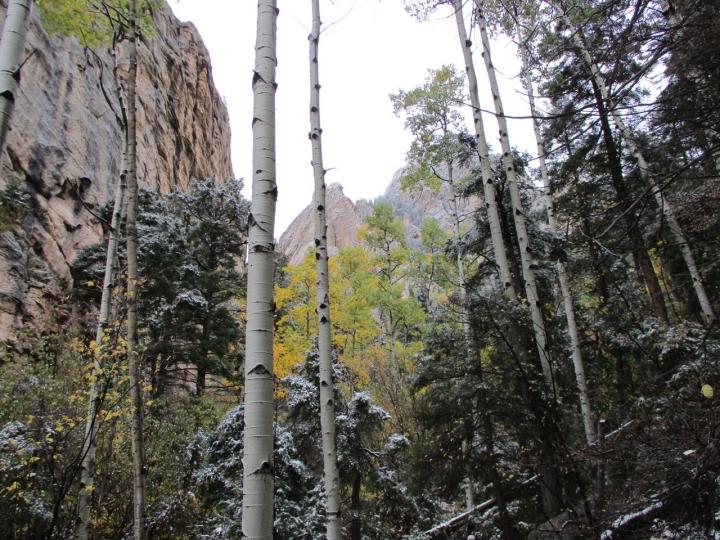 Even without the sun to ignite them, the blazing aspens set the forest on fire.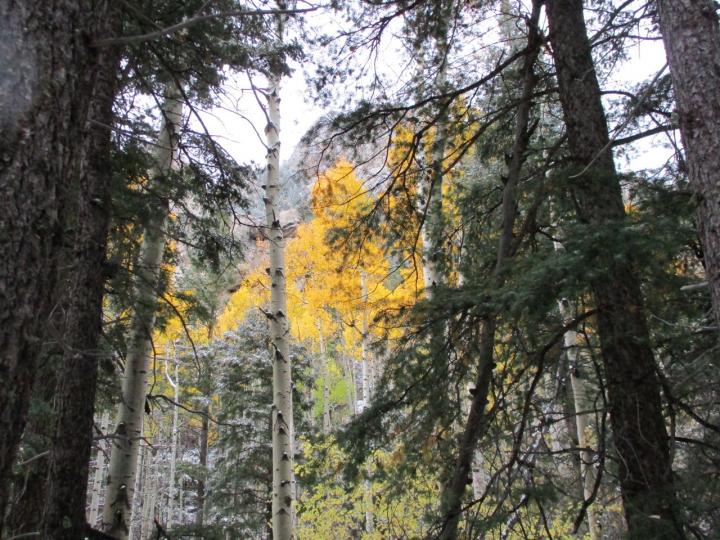 We came around a bend in the trail and stopped in our tracks. The air tingled. It was a Unicorn Wood.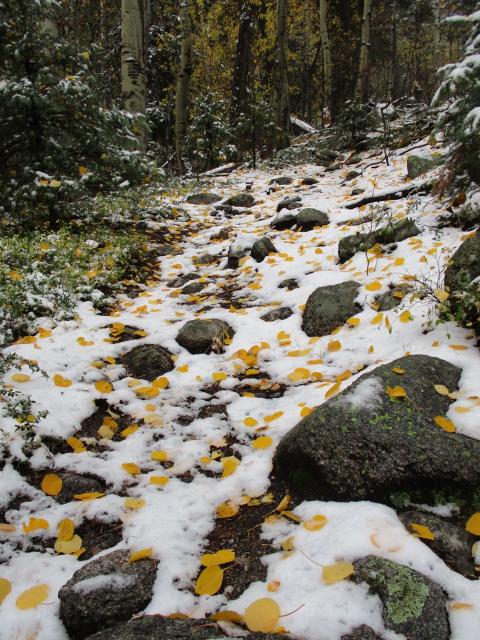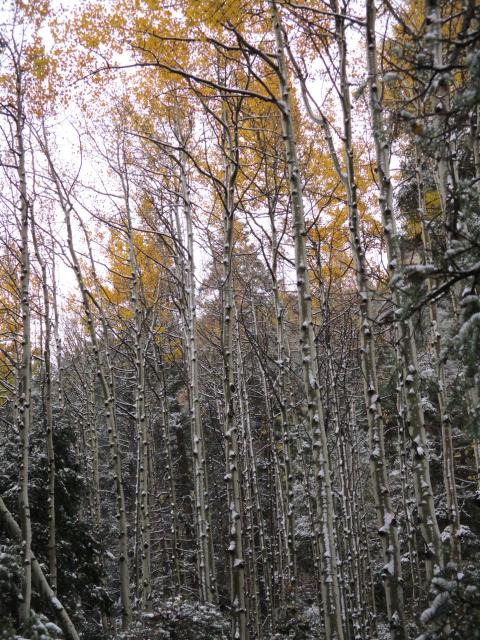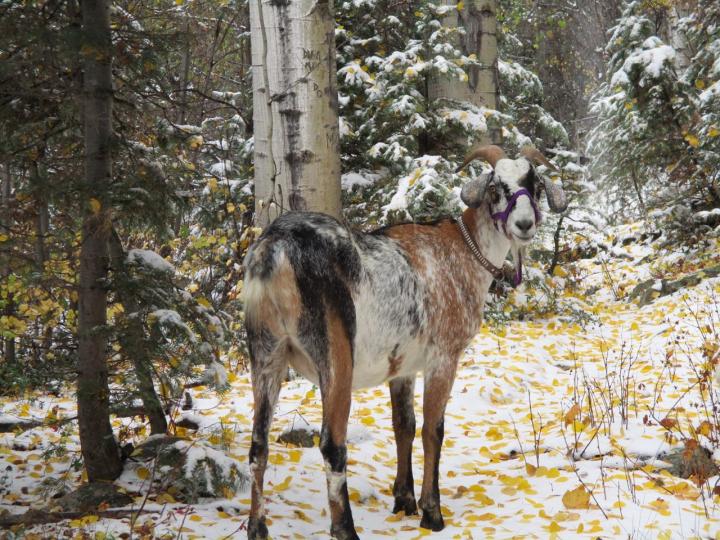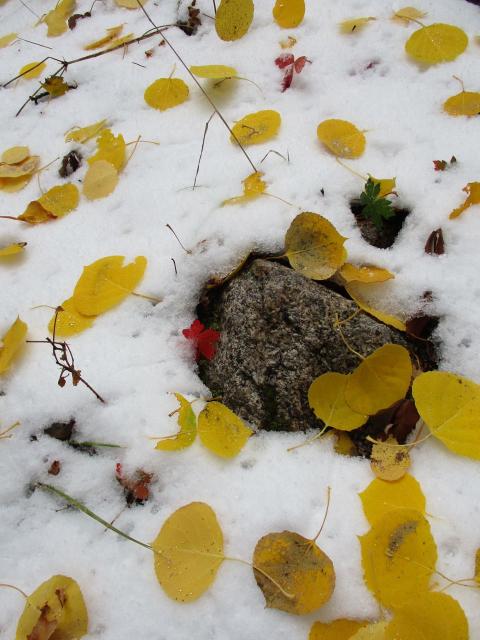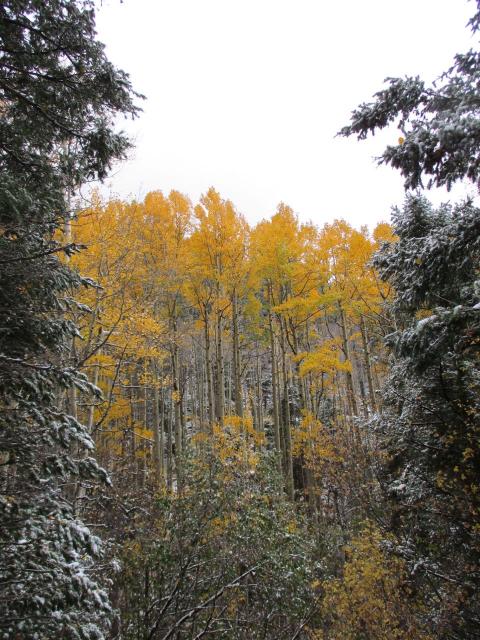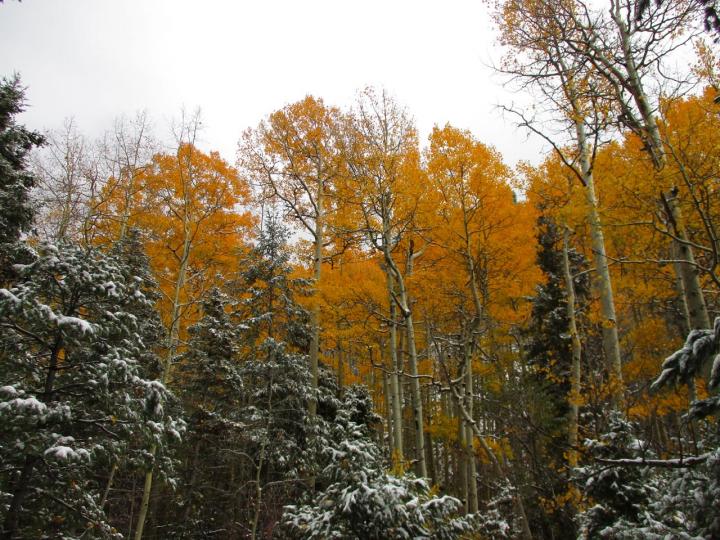 I've never before been privileged to see this many freshly fallen aspen leaves on snow and I know I shall never forget it.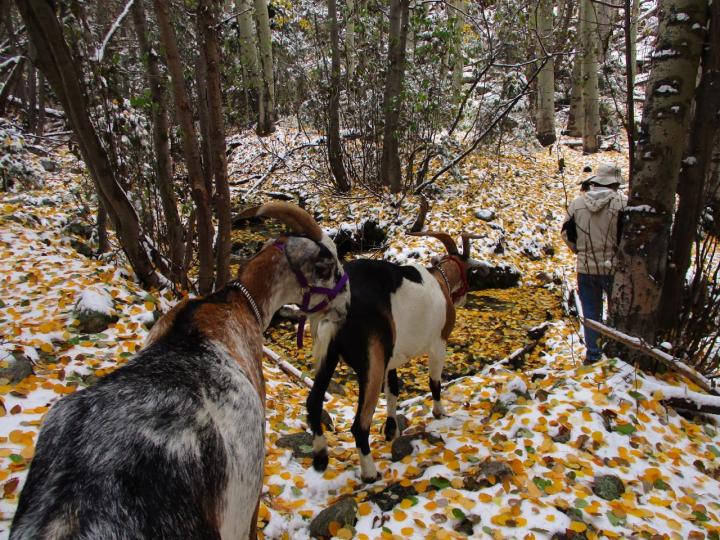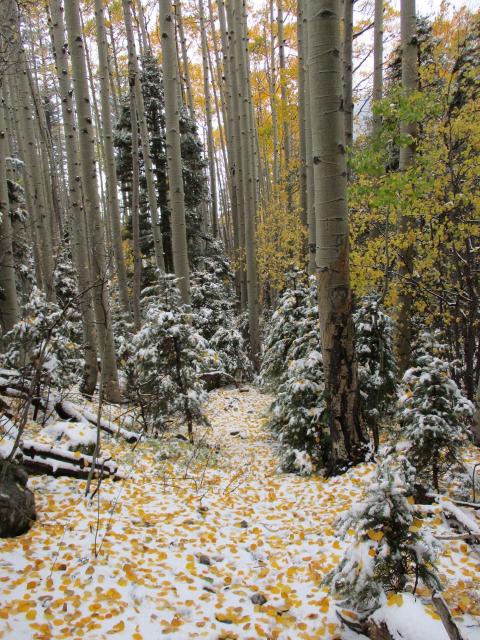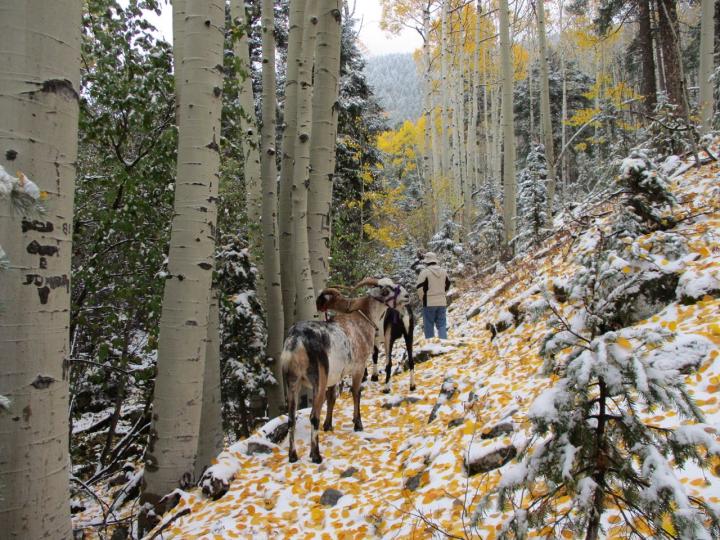 We found squirrel tracks, but nothing else was astir. The woods were still and silent. The aspens gave way to a dark spruce forest, and solemn gray boulders lined the trail.

Finn found a stone throne and immediately claimed it. How lordly he looks!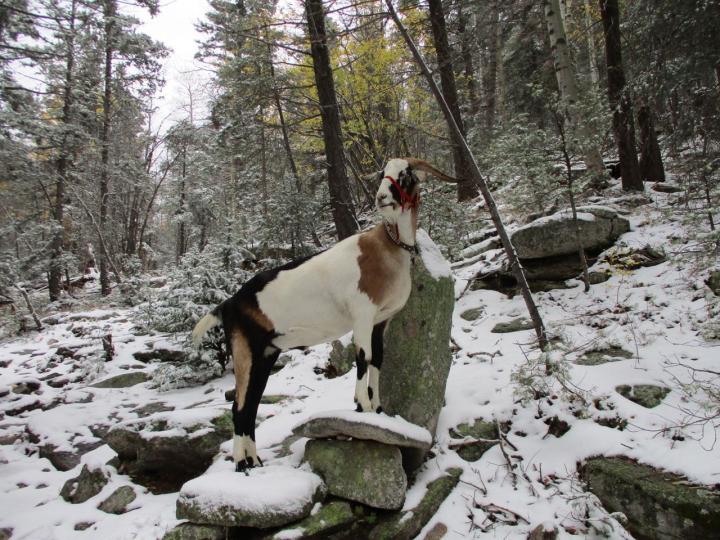 If Sputnik wanted to hide, this would have been the perfect place. If he'd gone off among the evergreens I would never have found him again!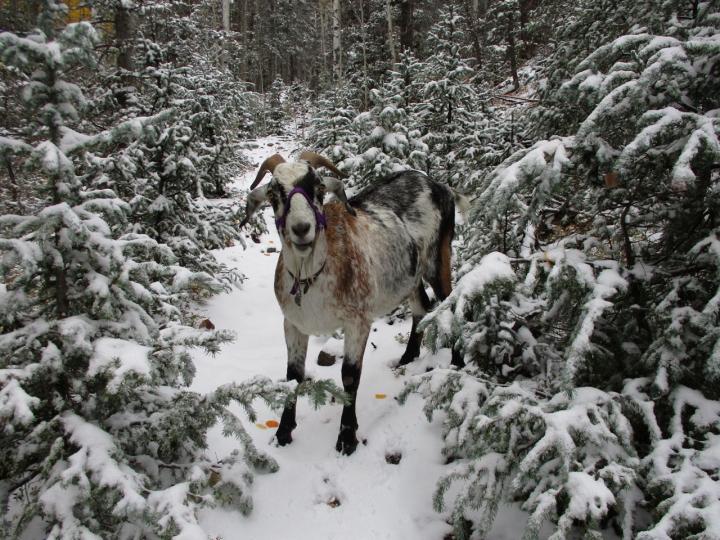 Pieces of eight.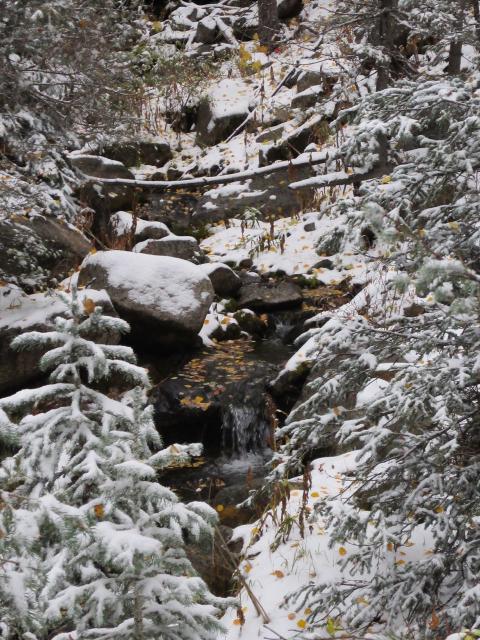 Though the aspens were fewer, they were perhaps more dramatic against the dark spruce and fir.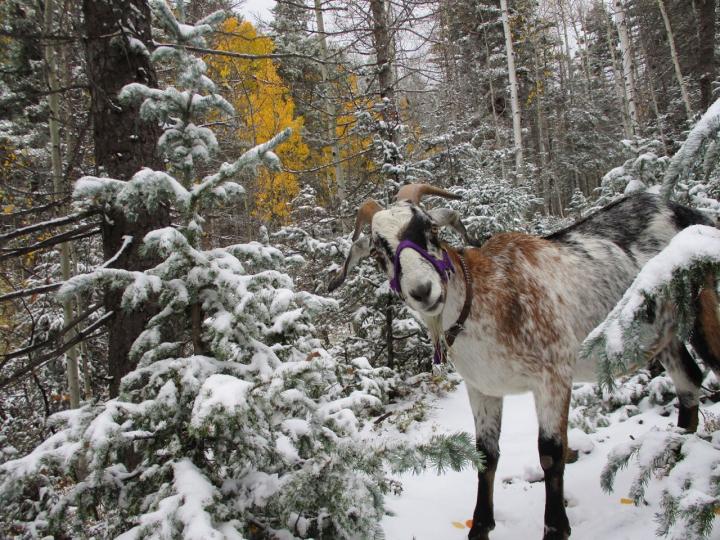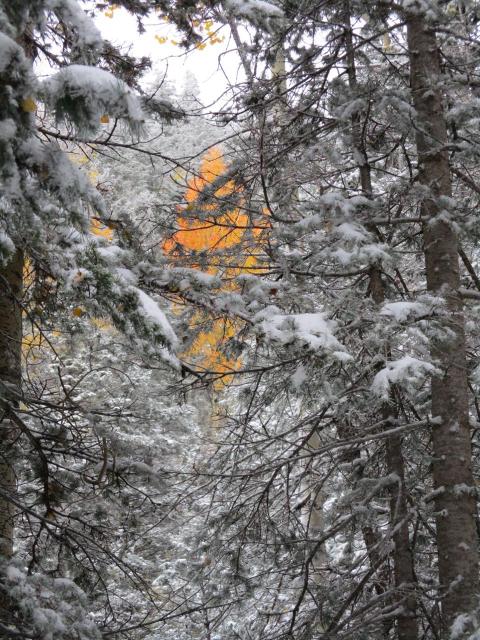 The day was getting cold and the snow was getting deeper. Our shoes were wet and our noses chilly. Phil and I had no idea how far we'd hiked, but it was long past lunchtime and we were hungry and our legs were tired. Nevertheless, the enchanted wood drew us on as if casting a spell. We made up our minds to head back when we reached the next creek crossing. When we finally got there, the forest tempted us to keep going, but we resisted the enchantment and did not cross. We stood on the bank and watched the water gurgling over rocks and logs. Finn took the opportunity to snuggle up to Phil for some loves.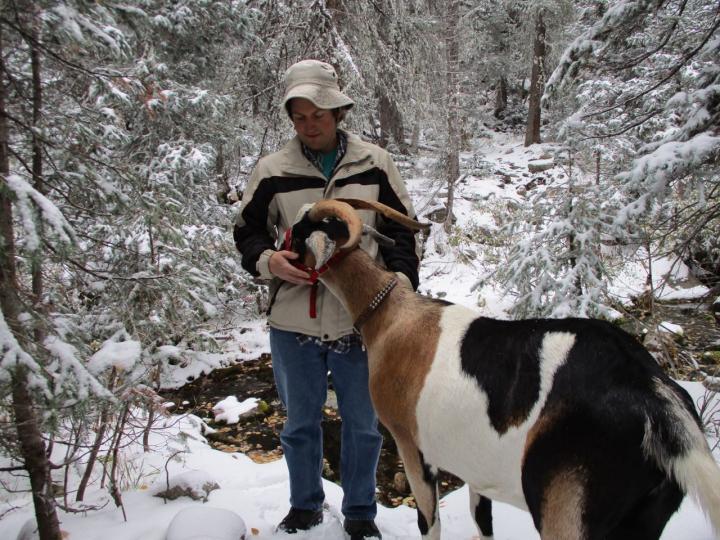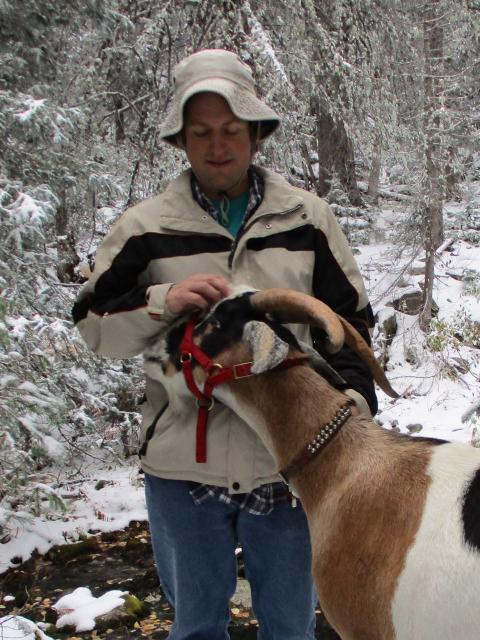 Fresh snowflakes began to fall, settling on Finn's black back, and we knew it was time to head down. The most beautiful forest quickly loses its magic in a snowstorm!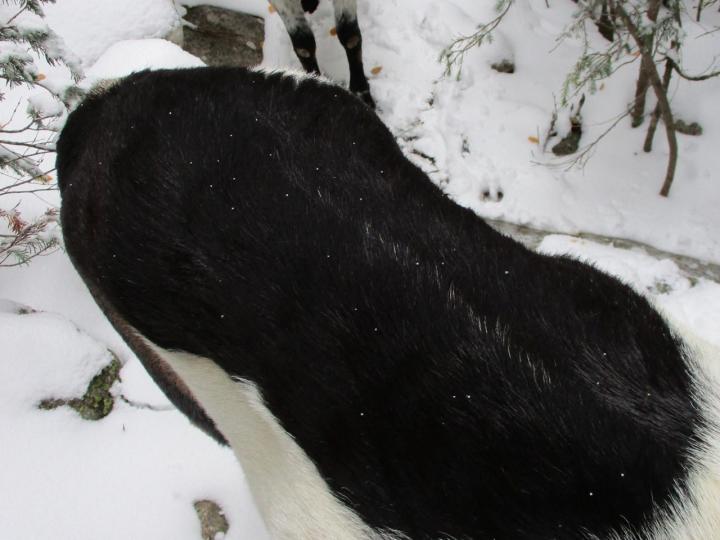 But it doesn't lose all of its magic. I stopped to catch snowflakes.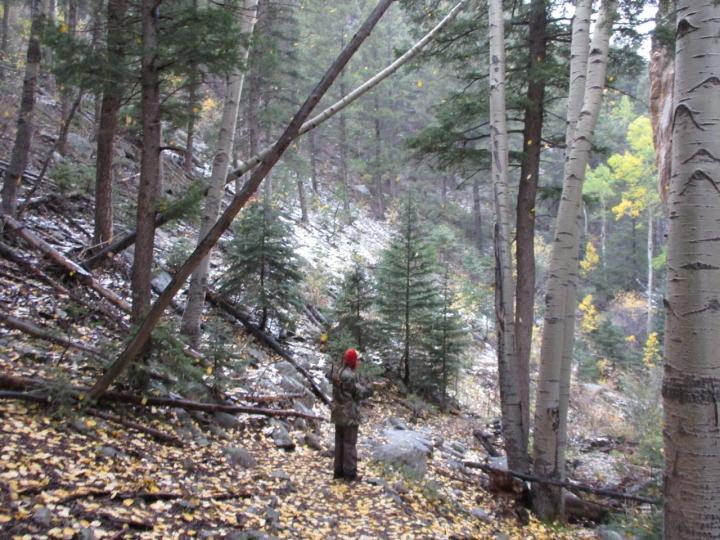 We turned a corner in the narrow canyon and found sunshine for the first time all day.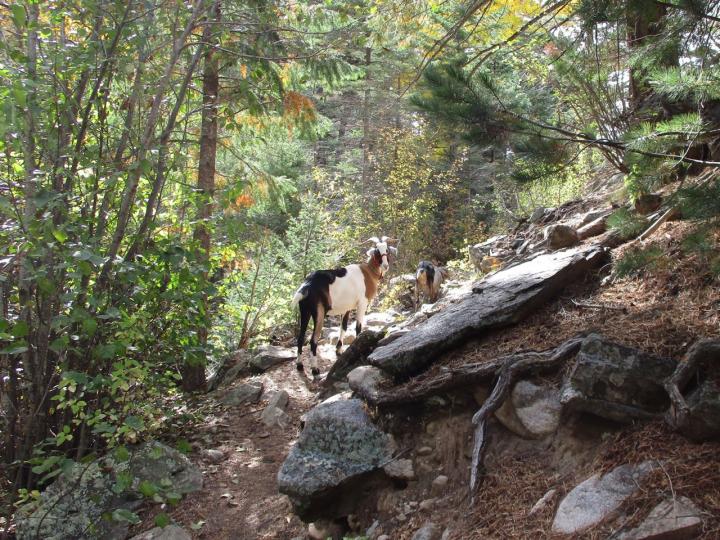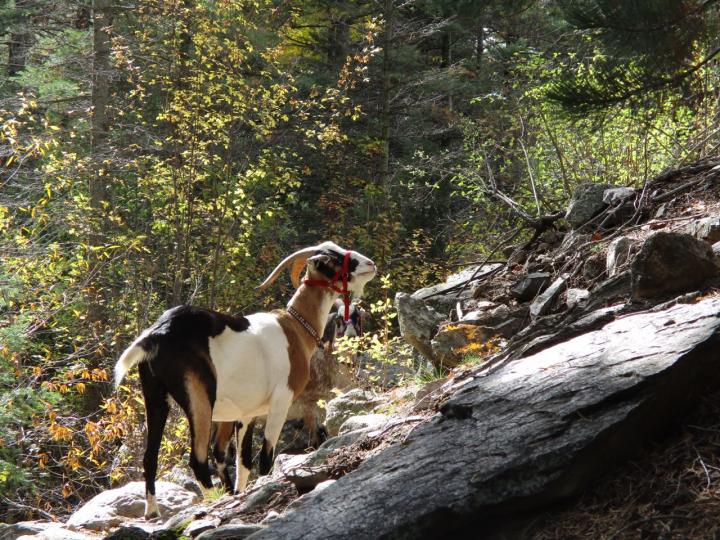 It was late afternoon and we were all hungry when we got back to the cabin. Finn and Sputnik gorged themselves on fallen apples.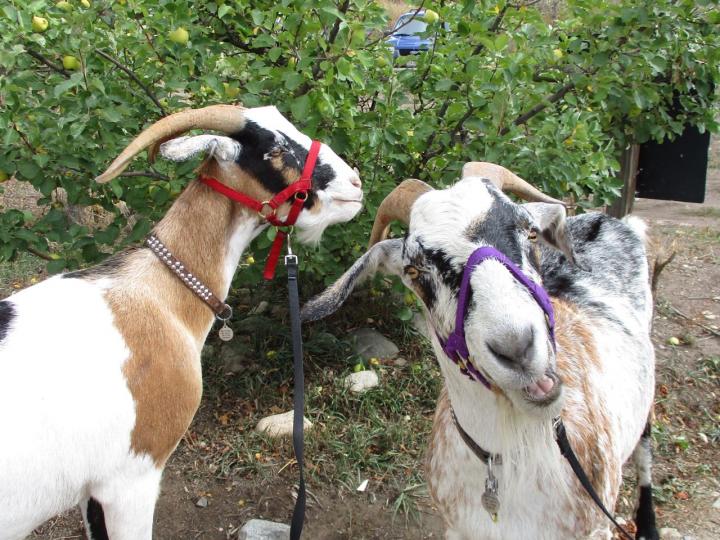 Next morning we packed up and headed home to Rye. This was our coldest goat vacation so far, but we still found adventure and beauty on the trail. I would not trade that last hike for anything. It may be one of my favorites ever. Photos can't come close to doing it justice and I will never forget it.