Yesterday was a fiasco. You know… one reason I didn't have children is because I didn't want to get barfed on. I don't do well with barf. For me, barfing is a group activity and once someone starts I have a hard time not participating.
Last year we somehow managed to escape the dreaded projectile vomiting that seems to strike one of our goats in April. But this year it was Rocky. Phil and I were taking the goats for a walk and I noticed Rocky was making a lot of noise. He was making a soft, grunty "baa" nearly every time he took a step, almost like he had hiccups. Every now and then he would make a louder baa-aa, but he was keeping up fine and didn't seem distressed. About halfway through the walk, Rocky burst into a run right next to Phil, and as he passed by an enormous explosion of green goo shot from his mouth and nose. It covered the ground around us, splattered Phil's pants, and (of course) my face. It was horrifying.
We got back to the house and I swilled Rocky's face and chest with water from the garden hose. I wasn't about to try medicating him as long as he was covered in that slimy green putrescence! First I gave him a shot of C&D antitoxin. He was surprisingly well behaved for the injection even though I had to give him 10 cc's.  Next I filled a drenching gun with activated charcoal, straddled the now wildly struggling little monster, and tried to force the nasty black stuff down his gullet. It was a rodeo. Rocky backed, bucked, plunged, threw his head, knocked me into walls and gates, bit my finger, and finally, as a last resort when I wouldn't get off his back, sent a rocketing cascade of vile, rancid, green slime all over my hands, my pants, and my shoes. I needed help. Phil held Rocky's backside in place (and got a painful scrape down his calf from a protesting hind hoof for his trouble) while I got the goat's head back and plunged the charcoal down his throat. A lot of it ended up on my pants and hands and on the goat's face, but he swallowed some of it and I'm sure it did him some good. At least, he stopped baa-ing pathetically after that and had a good appetite for his dinner. He was right as rain this morning. I'm not sure my pants or shoes will ever be quite the same. I hosed myself down before venturing into the house. I don't like things that barf on me. I avoided joining in the activity this time, but Rocky should be careful. If he ever barfs on me again I might return the favor!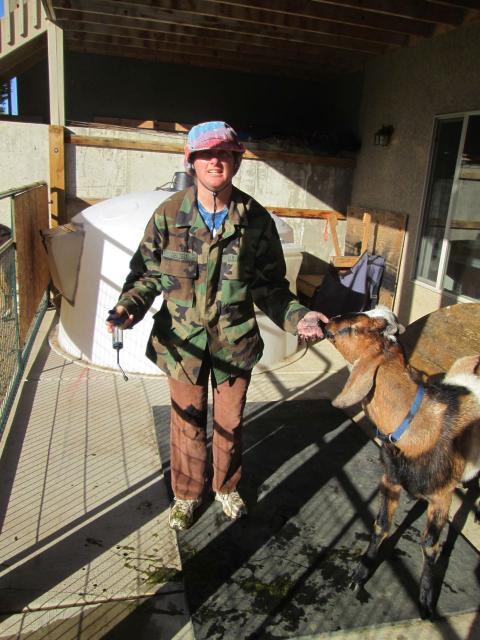 Little stinker…