I still don't have the video or photos of the chariot race and cart rides in Millington, so I'll skip ahead to Sunday when we drove back into Arkansas for the actual goat packing part of our trip. Laundry snafus got us off to a late start, but we were in no rush.
The gas prices in Arkansas were phenomenal.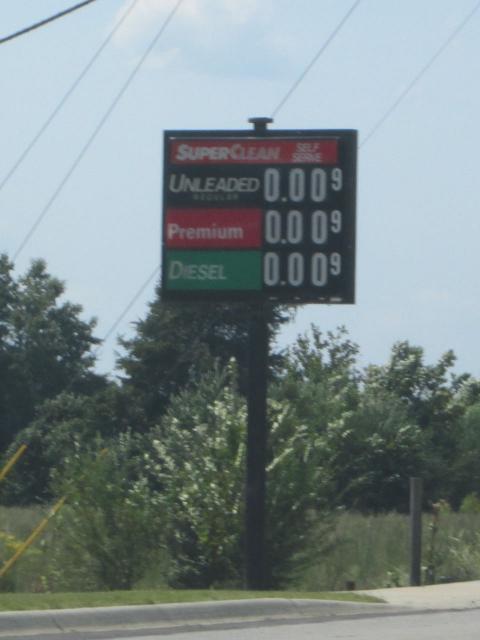 Our photo, alas, cannot capture the sheer grandiosity of this enormous American flag. This display of patriotism pretty much dwarfed everything on the horizon, including several billboards. I'm pretty sure this bank does not need air conditioning because of the shade cast by their flag.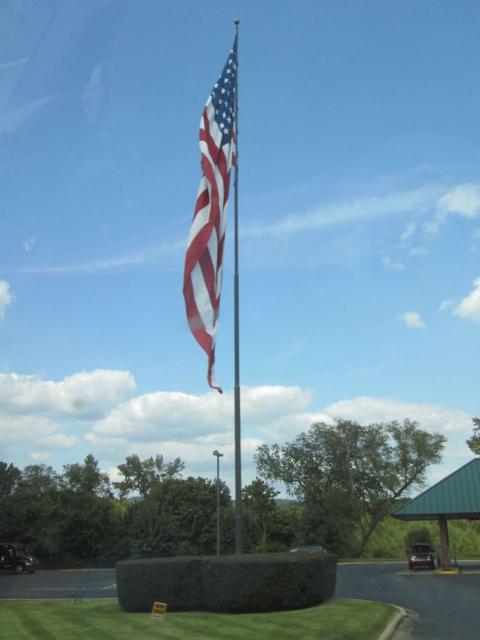 Late in the afternoon we stopped to stretch our legs at a trail near Marshall, AR which was part of the Buffalo National River system. This homestead was built in the 1930's and the goats were rather suspicious of it.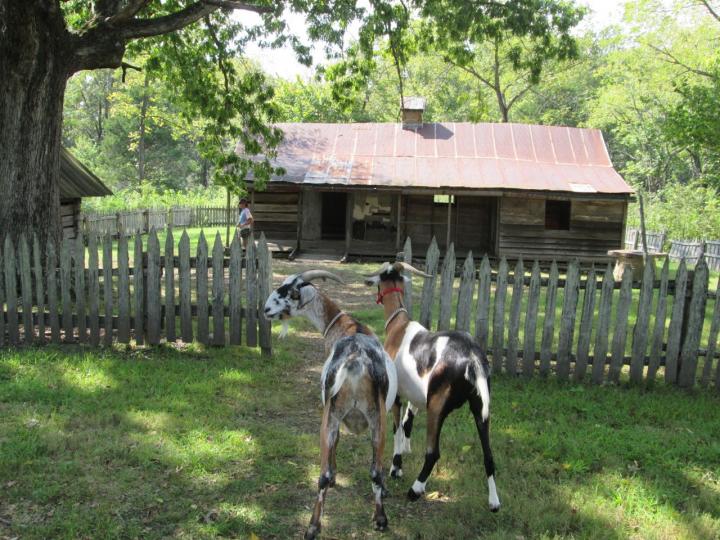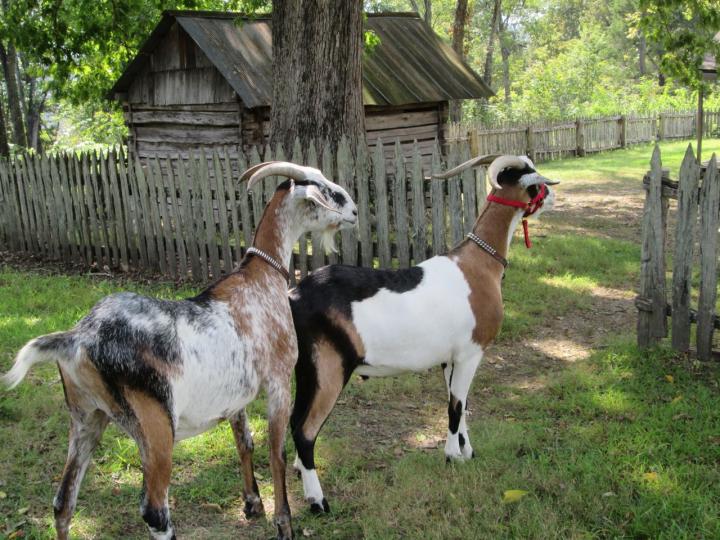 A short hike took us to an overlook where we enjoyed a lovely view of the Buffalo River valley. By the time we got back from our hike, both goats were completely covered in burrs and they weren't happy about having them removed. This was the first lesson we learned about Arkansas: There are burrs everywhere and they come in all shapes and sizes. The only thing that was fairly efficient at removing them was a stiff-bristled brush I had in my tack box. That brush came with us on all future excursions.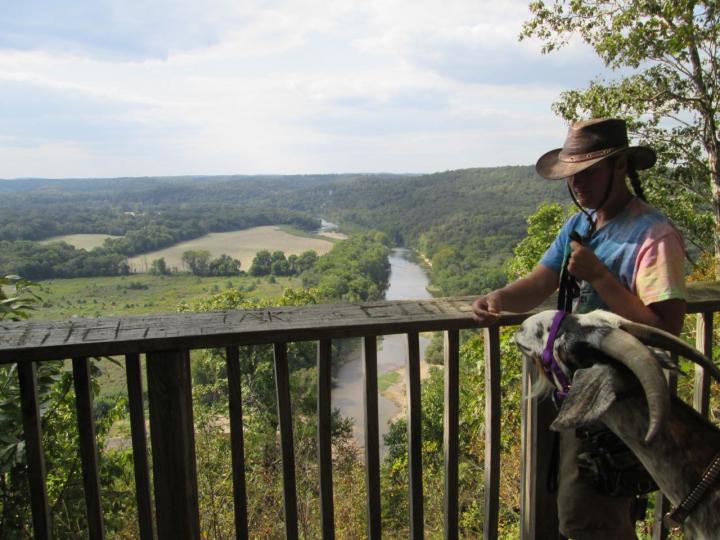 We got to our cabin early in the evening and the goats made sure to inspect the porch first thing. It met with their approval, but they were not allowed to linger. The cabin was surrounded by woods and undergrowth, so our boys were happy to be allowed to putter around sampling the various tastes of Arkansas.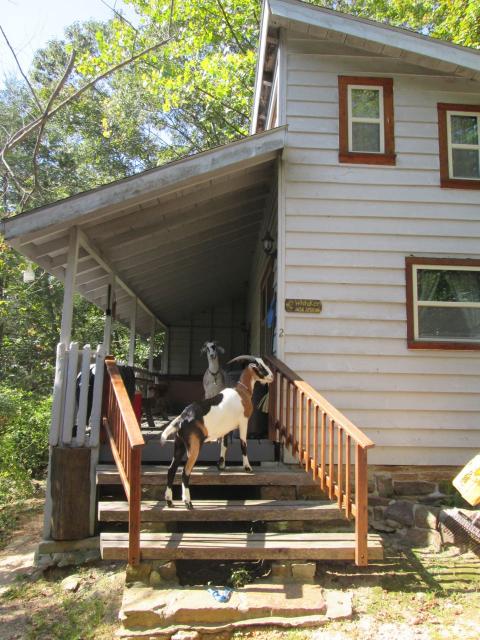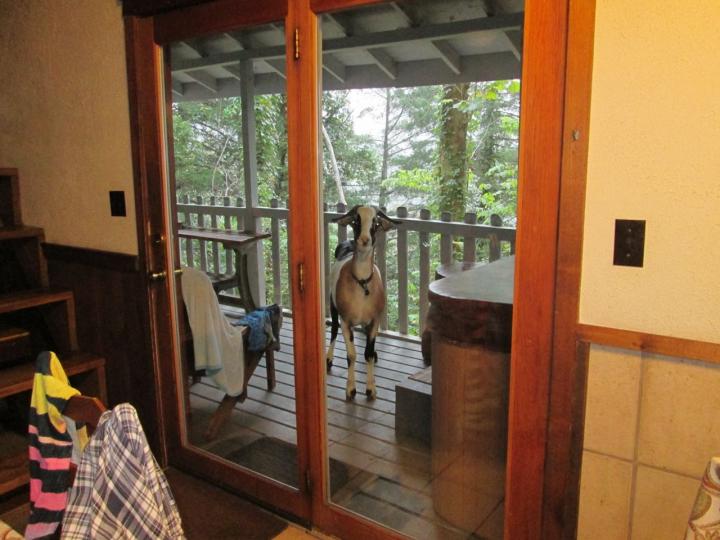 Finally, this photo can't hope to show anyone what it was actually like, but our cabin had a steep gravel driveway with a hairpin turn on it. We were advised to leave our trailer down near the country store, but stubborn Coloradans that we are, we had to at least try to park our trailer next to our cabin. Although our trailer has a lock and our goats would be just as fine 1/8 mile down the road as they would be outside our bedroom window, we hovering goat lovers feel better when our "babies" are within yelling distance. So I braved the driveway.

First of all, I had to put the truck in 4WD low to make it up the steep grade without spinning. In fact, the road was 4WD even without the trailer. The hairpin turn was interesting. We could just make it without having to back up, but the ruts in that section of driveway were almost too deep for our low trailer. However, we made it without scraping metal and then the real fun began. There is a nice flat parking area big enough for a trailer to back in, but backing in a bumper pull trailer with a long bed truck was a real picnic. The driveway turned off to the cabin, but the road continued its steep trajectory above and behind the cabin, so I pulled well up it, then cranked the wheel hard over and basically jackknifed the trailer to get it around the tight curve. We made it about halfway before I ran out of room to maneuver the truck. The trailer was now stuck in a sideways position across the driveway–right angles to where I wanted it. Had it been a fifth wheel we'd have made the turn easily, but bumper pulls are not so forgiving. I jammed down the parking brake and I got out so Phil and I could have a conference. If we unhitched the trailer, I believed I had just barely enough room to squeak past it in the truck. Then I could back down the driveway, turn around, and come up backwards to re-hitch and push the trailer into position from the downhill side. It was worth a try, and long story short, it worked! We had our goats snugly settled in their mobil home right outside our bedroom window at night, and our truck was unhitched so we could properly explore Ponca, AR.