It was a fun weekend at the Colorado State Fair. Phil and I took Nubbin and Petunia for the milking competition. I have high hopes that Petunia can get her milk star this year since she's been in lactation for so long (440 days or so at this point), but we'll see. Naturally the girls give less milk the moment they get to fair.
The most important event of the day was of course the costume class. As usual, Phil and I were the only adults competing. We did a group costume this time. I was Cinderedna, Phil was Prince Capricornicus, Nubbin was the Fairy Goat-Mother, and Petunia was a pumkin. There's nothing quite like shuffling through shavings and goat poo in high heels and a floor-length gown!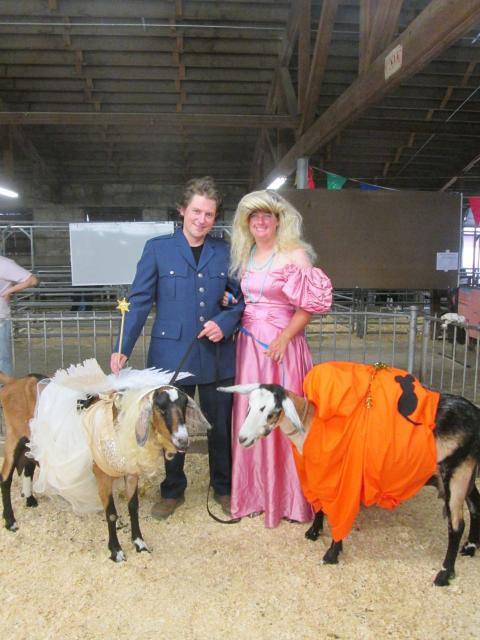 The highlight of the fair was when we saw the couple who bought Snickers, Sledge, and Hammer. The boys are doing very well and their new owners adore them. They've already taken the boys out hiking several times, including a pretty long hike with several water crossings, and they have nothing but good things to say about their new hiking companions. The boys follow them everywhere and come running for loves (especially Sledge). They agree with us that goats are therapeutic. They've hiked more miles now with the goats than they have in ages. They're even talking about taking them on a trip to Utah this fall. It thrills me to no end that the boys are happy and thriving with people who love them.