Phil and I headed back to one of our favorite goat packing destinations for our annual "goat vacation" this year: Utah! We started out near the town of Ferron, home of our friend Herb Flower who was the guide and host for the first week of our trip. In Ferron we met up with several other goat packing aficionados, including Taffy Mercer and Eldon and Debbie Otta from Washington state, and Robert and Connie Losee from Texas. All of us brought packgoats, so it was a quite nice-sized group!
For our first day, Herb took us out on the Morrison Formation. This is a barren, rocky area of open BLM land where very little vegetation grows, but it is rich with fossils and Indian artifacts. Everyone took away a few mineral specimens, and I even found a beautiful little white arrowhead!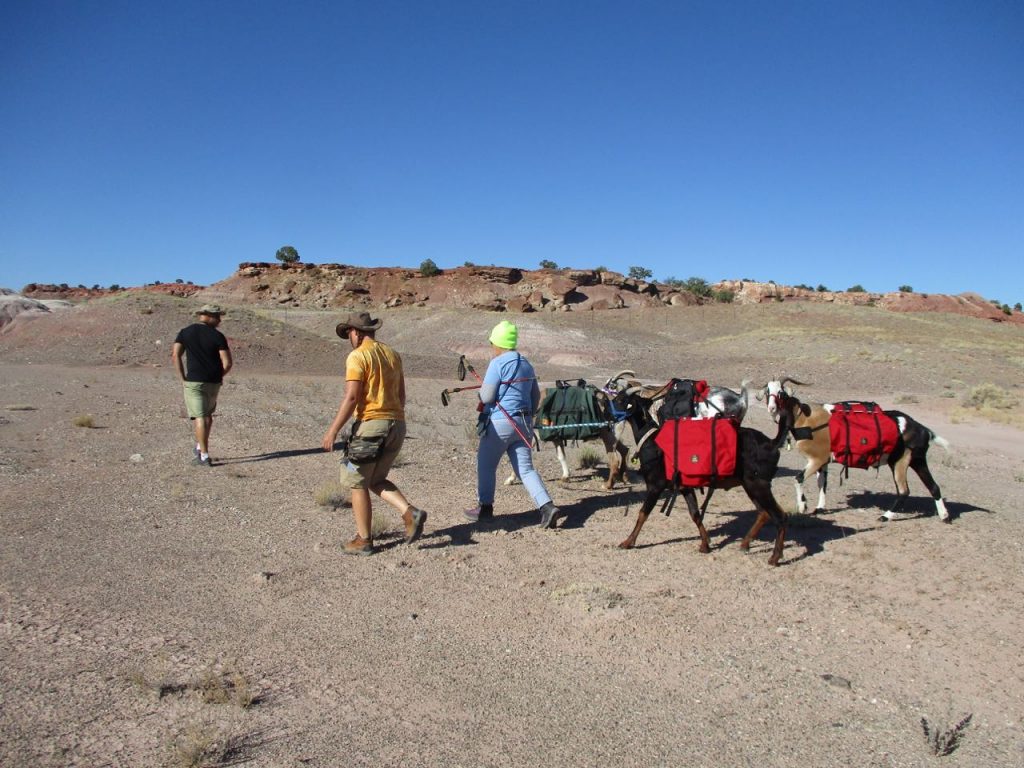 Most of us avoided the steep terrain, but Phil and Eldon took a detour and of course their goats followed them. A climb like this is nothing to a nimble goat!
Ahh… the top at last!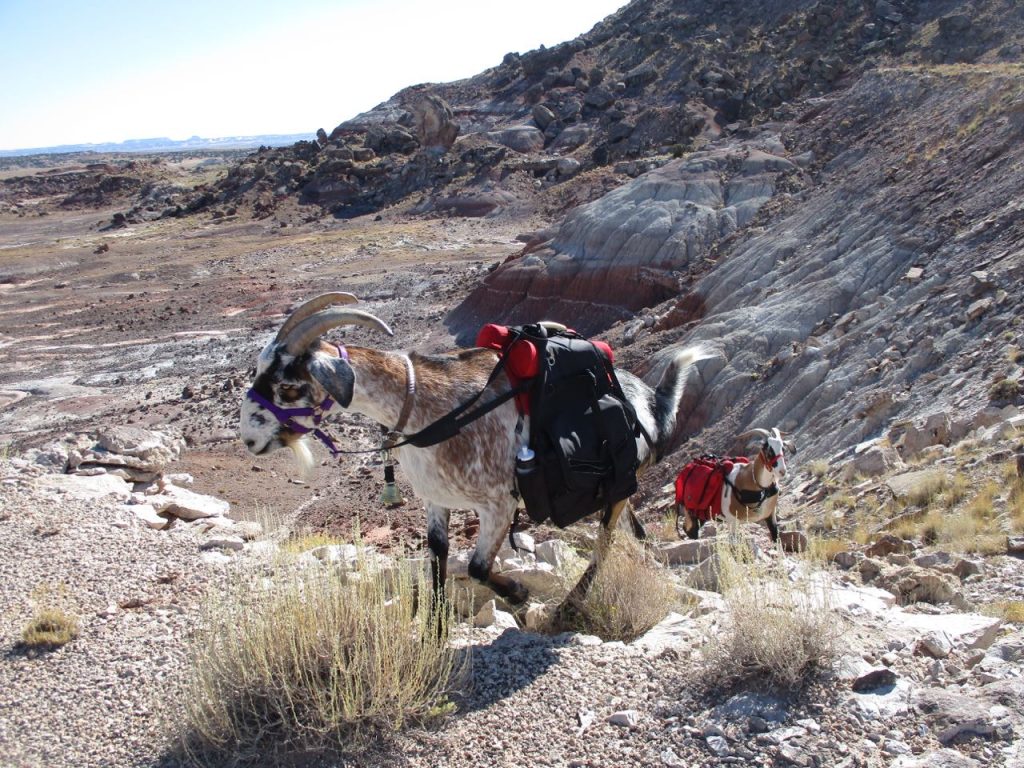 Eldon and the boys taking in the view.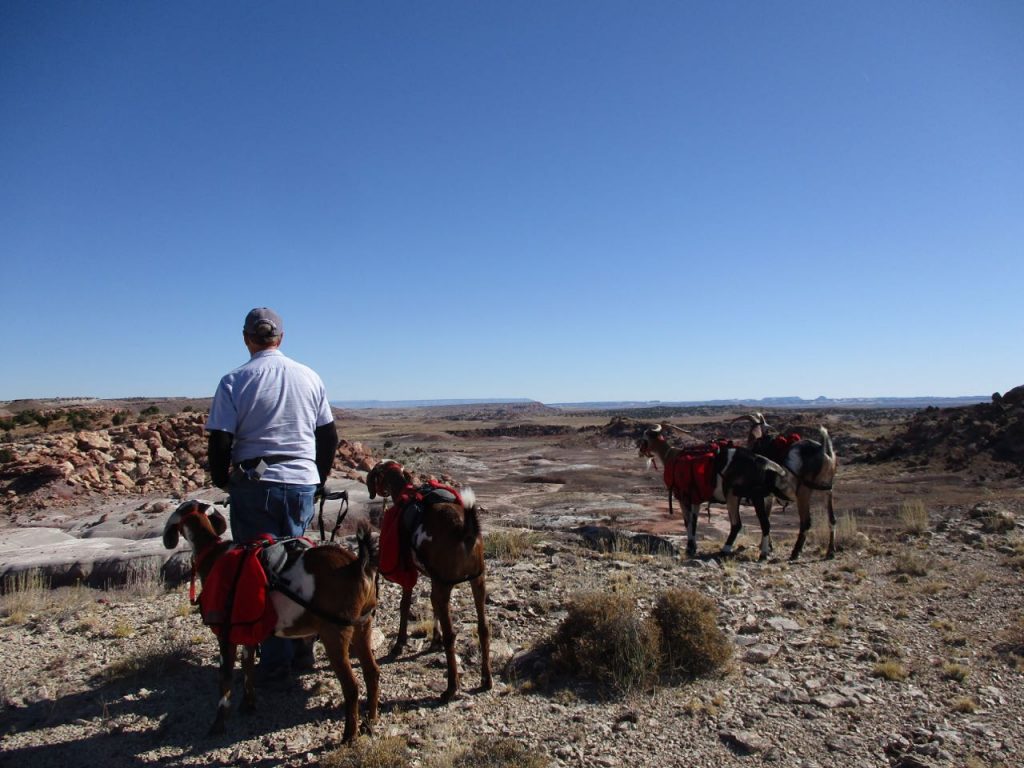 Eldon Otta is the man from Washington who met us in Utah to buy Pac-Man in 2015. Eldon loved Pac-Man, but sadly Pac-Man died untimely in December 2017 at only 4 years old. Eldon was heartbroken, but he regrouped and purchased a couple of little mini-Nubians with coloring similar to Pac-Man's. He named them Elliot and Hobbes. They will never be large packgoats, but they are exactly suited to Eldon's style of hiking.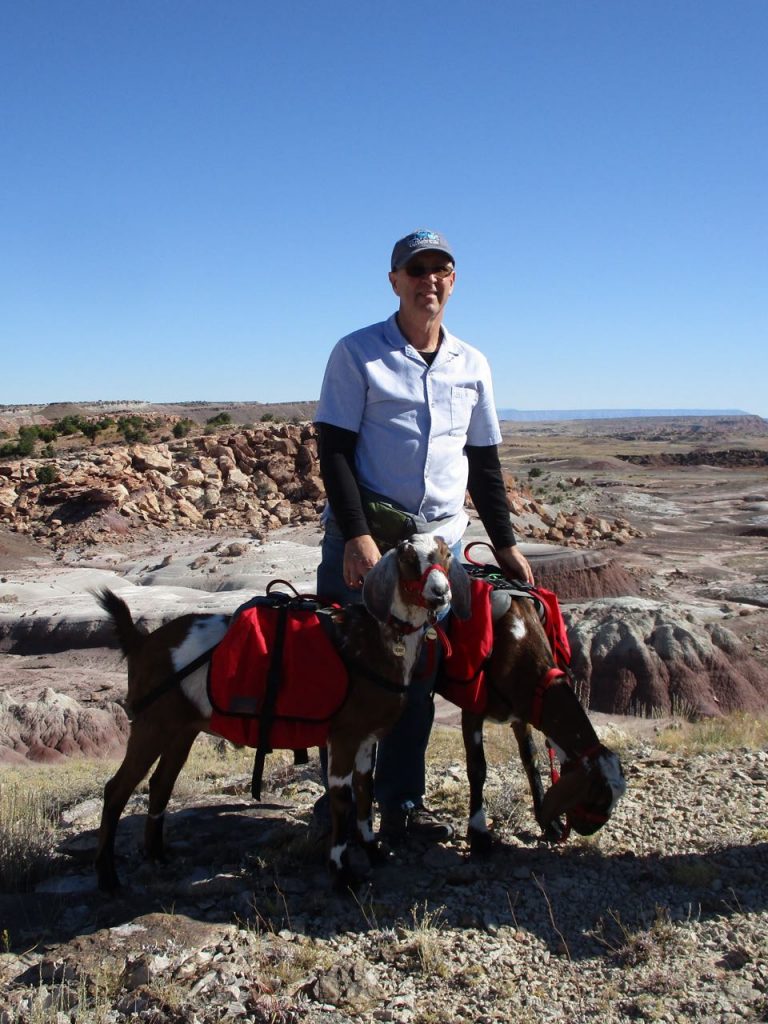 And here are the rest of us who were not ambitious enough to climb the ridge.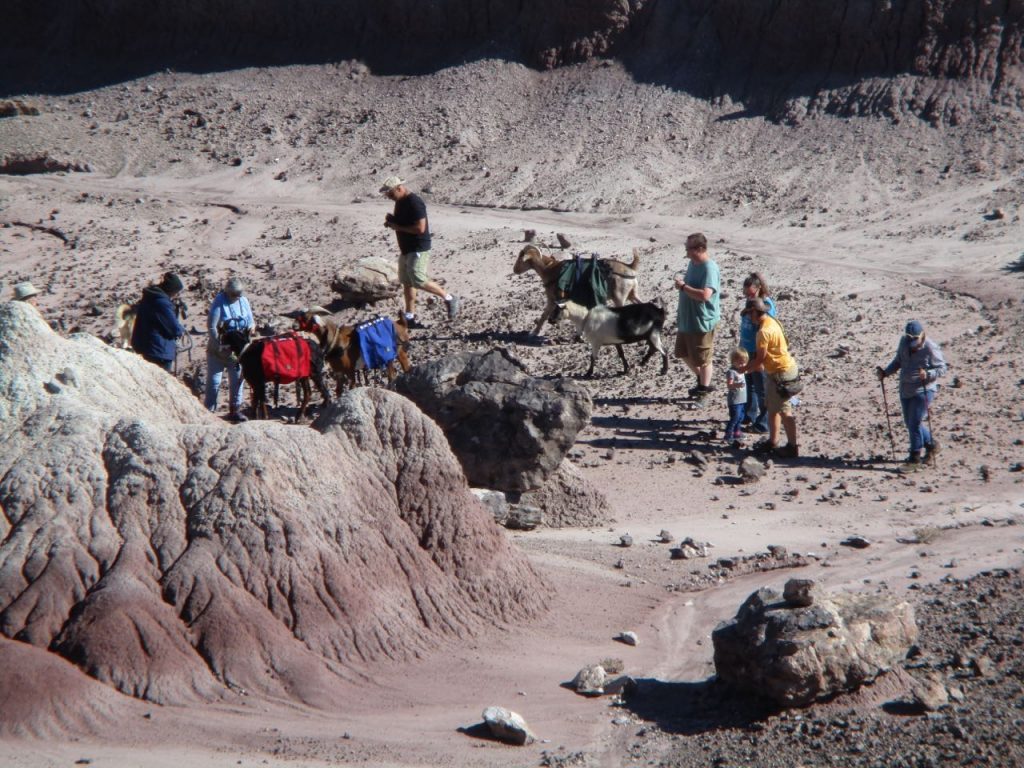 Nan and Taffy examine their treasures.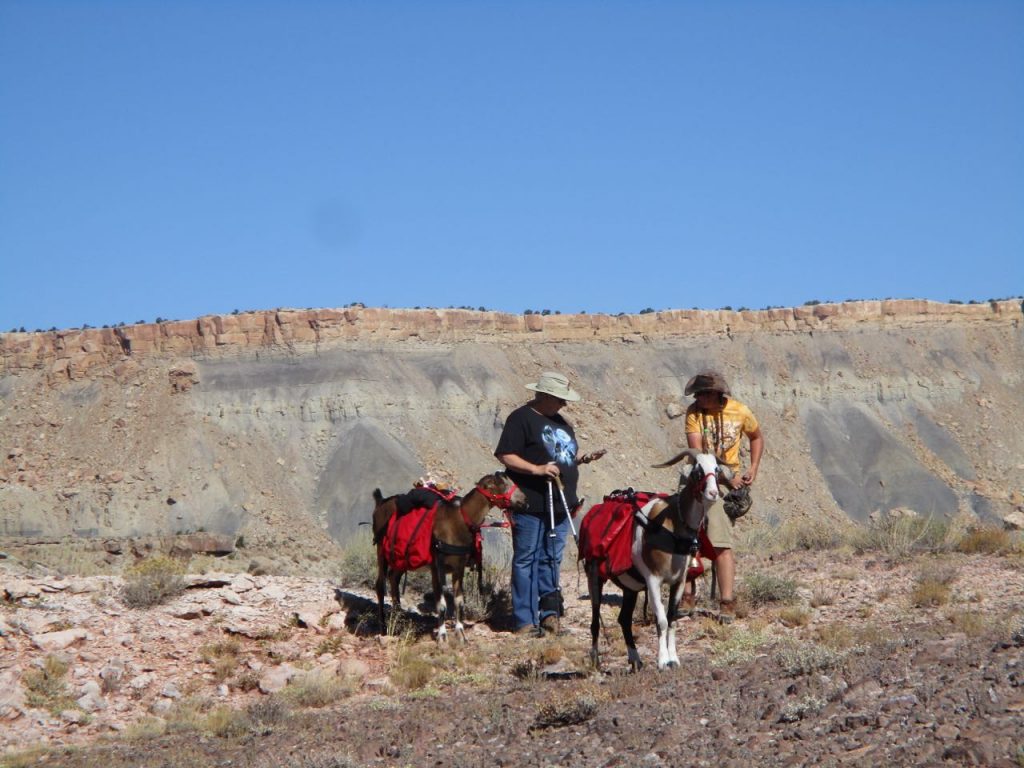 At some point, Robert and Connie's young packgoats got confused. They didn't like the two dogs that accompanied us, and they were also afraid of the big packgoats with horns. Phil and Eldon and their goats had gone one direction while the rest of the group went the other. I'm not sure Sprite and Blackie knew which way their own people had gone, so they set off on their own!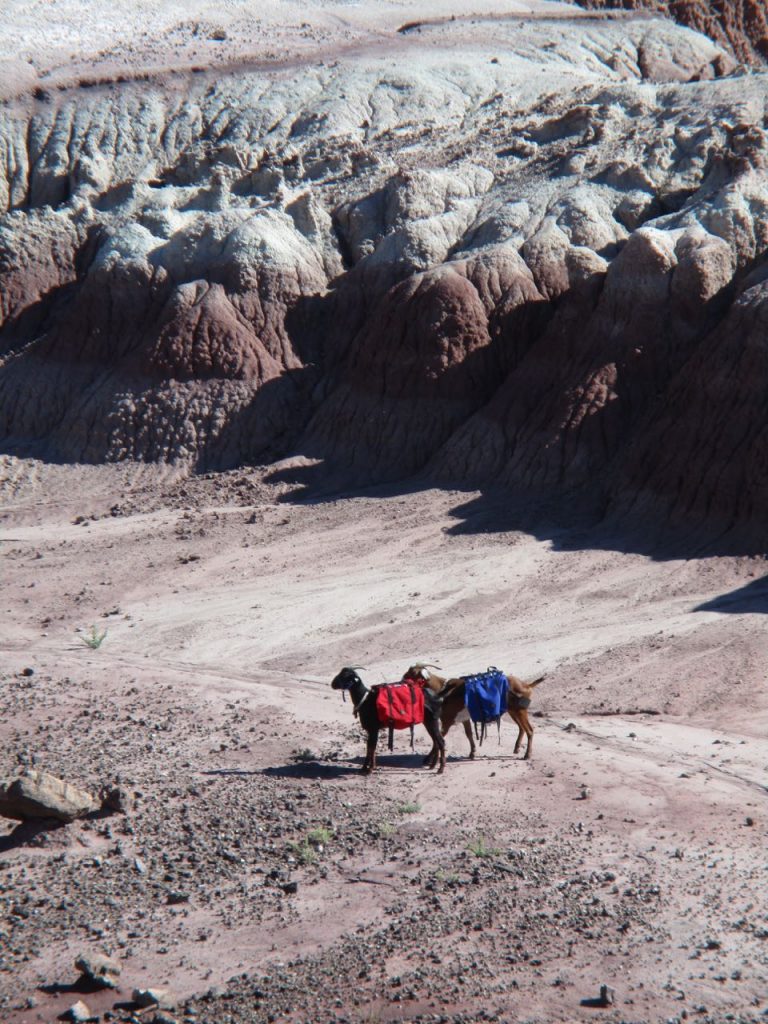 Sprite and Blackie disappeared up the ridge where Phil and Eldon had gone, but by then Phil and Eldon had circled back down and rejoined the rest of the group. No one was around, so Sprite and Blackie kept right on climbing! They disappeared over a high, distant ridge line so Phil and Herb went on a recovery mission. They found the two errant goats at the highest point they could reach, stopped at the edge of a cliff. Robert and Connie did not let them off-lead after that little adventure!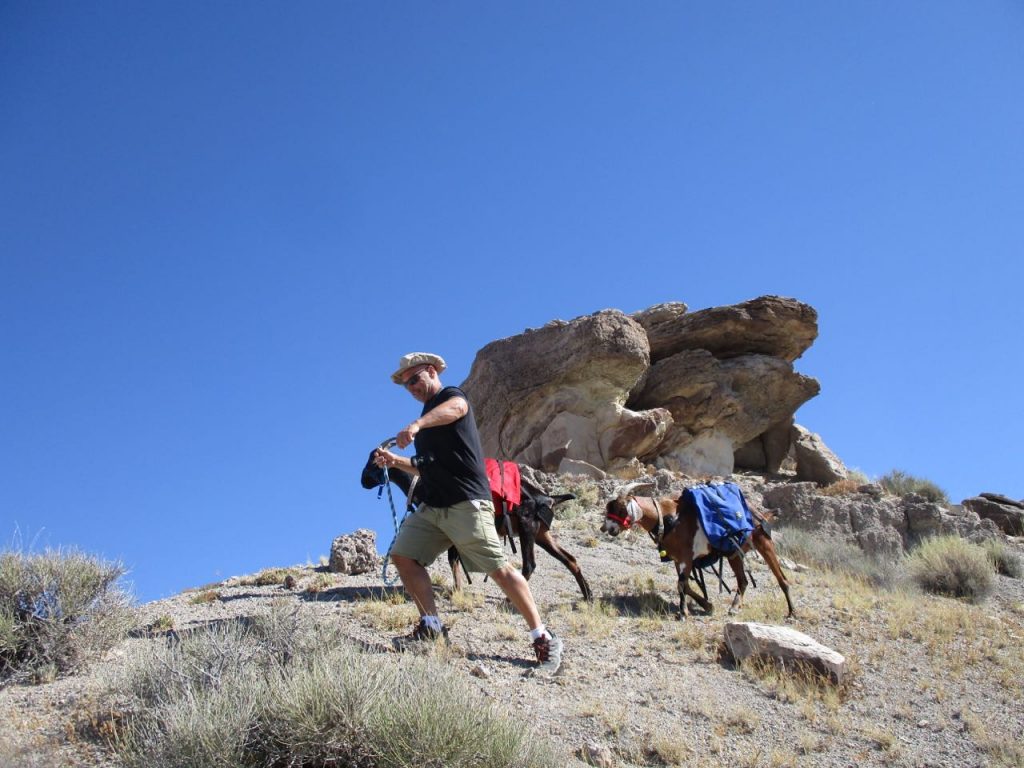 While up top, Phil and Herb found a partially exposed dinosaur skeleton. If you look carefully you can see traces of it in the soil. Herb plans to go back and do some more exploring.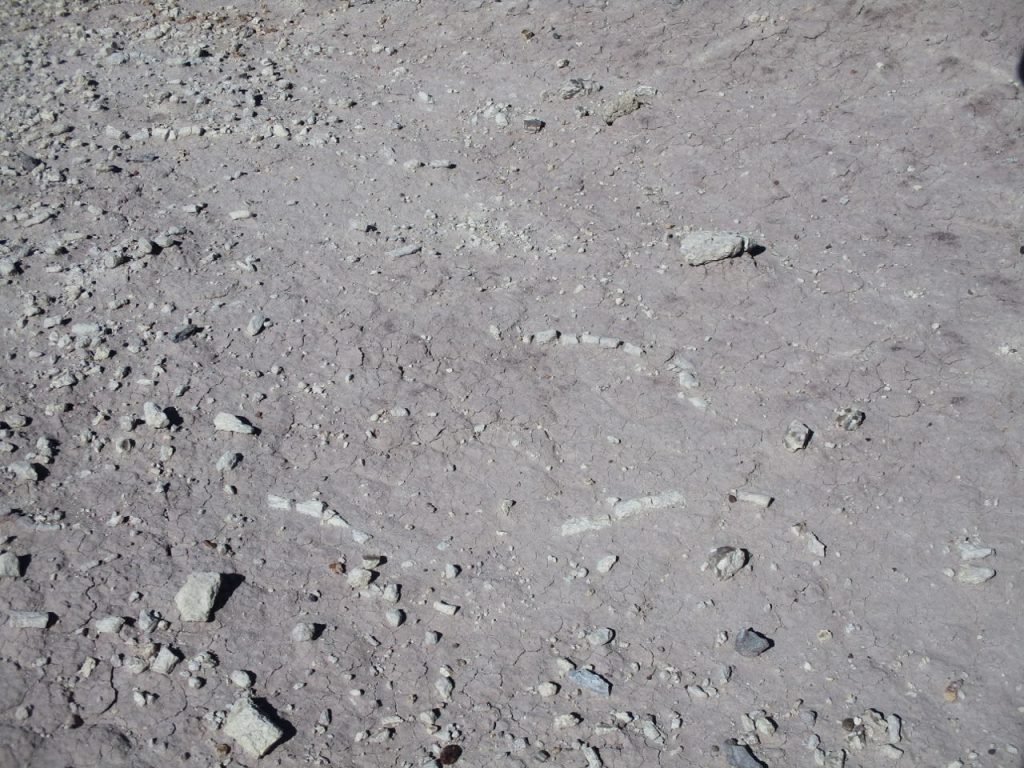 We ate lunch in the shade of some boulders.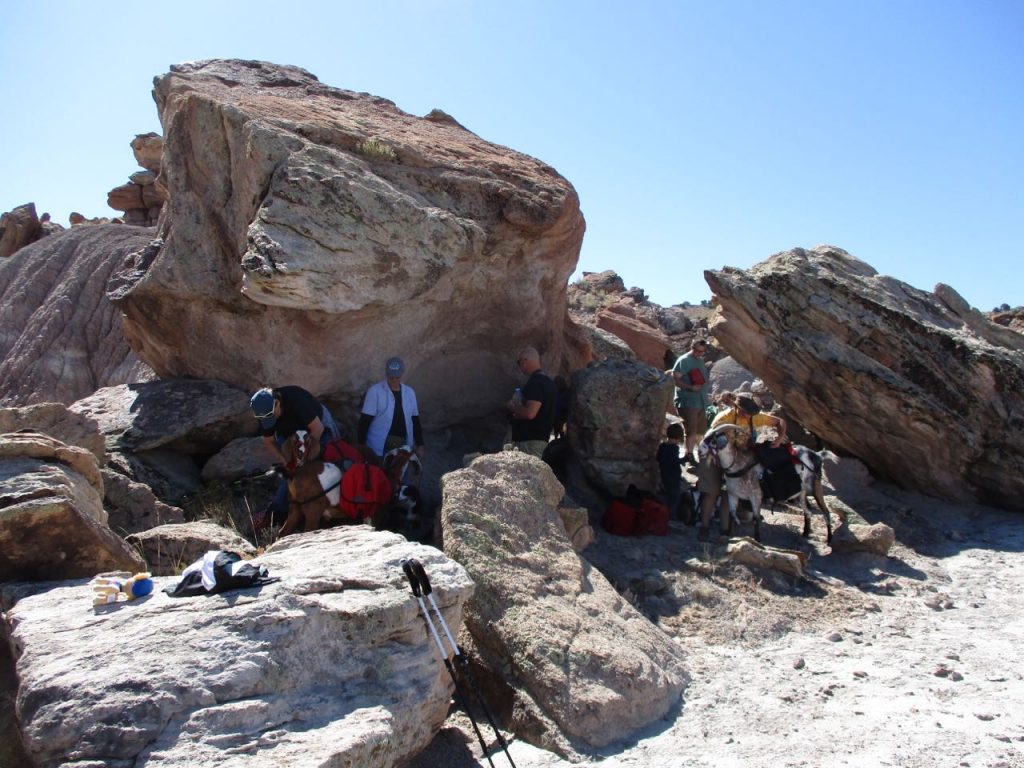 Herb took us to the outcropping of purple and gold rocks that Phil and I had visited on our last trip to Ferron in 2018. Sputnik's halter and my t-shirt were very appropriate for the scenery. It's always good to dress for the occasion!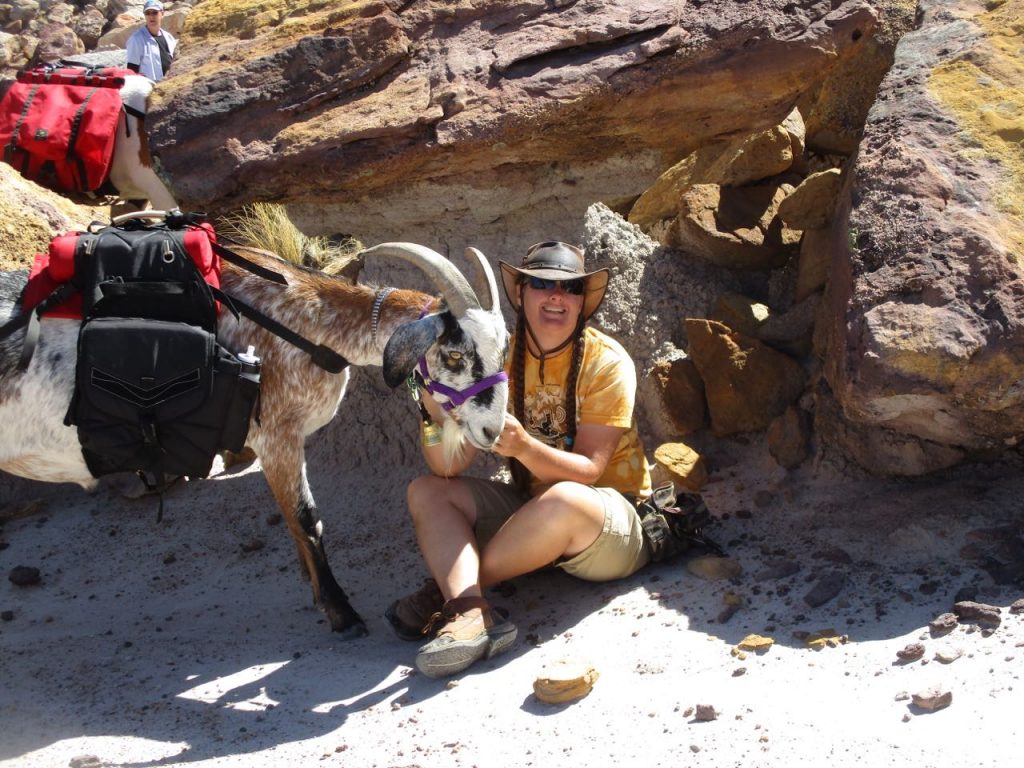 I liked this rainbow-like ridge of rock.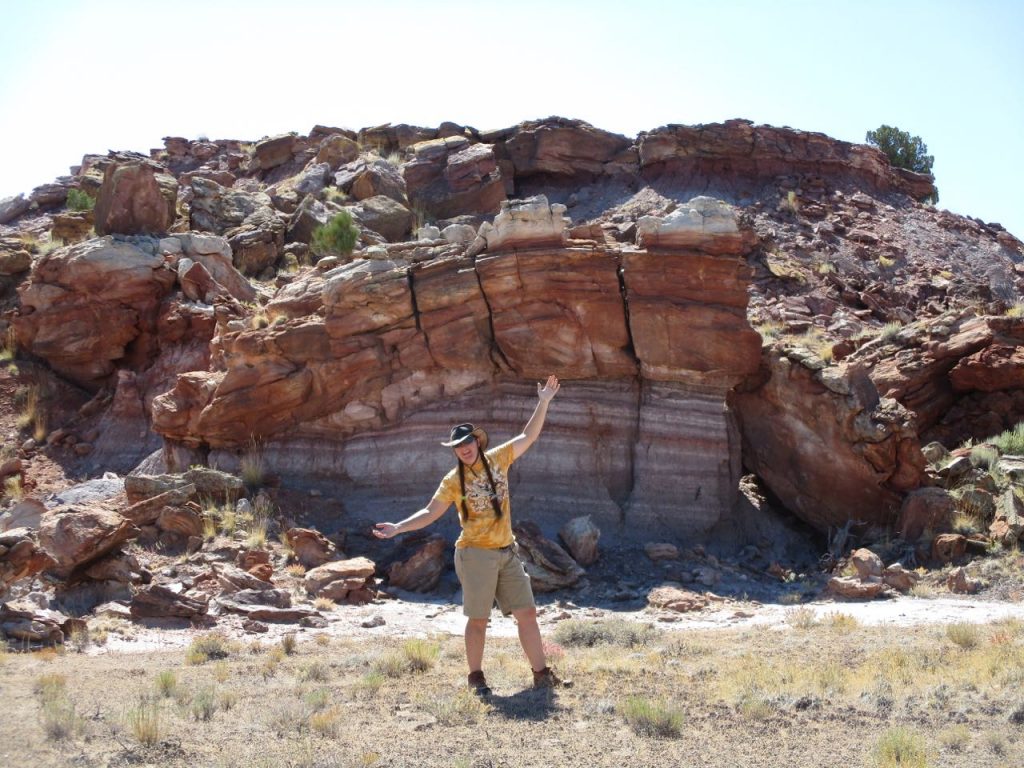 Mighty Warrior Woman Nan! With arms of steel, she splits rocks like pie crust!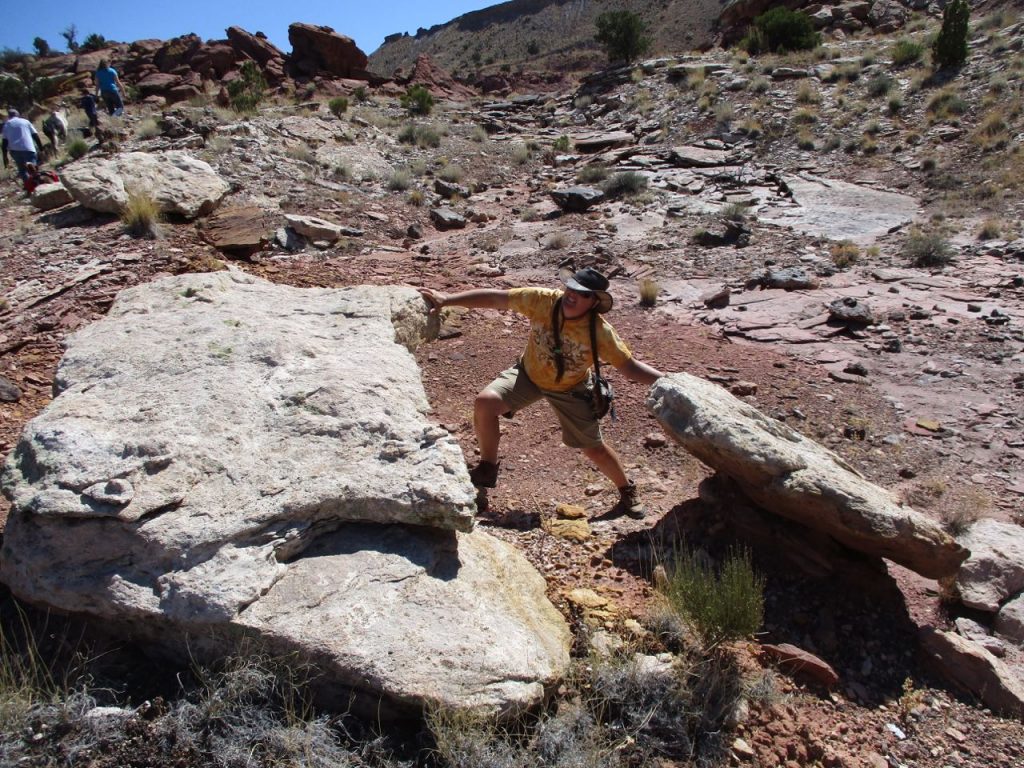 Sometimes the rocks disguise themselves as dinosaur skeletons.
On closer inspection, maybe it's a large desert caterpillar. See the dark eye and the antenna on the left? Phil and Finn better watch out!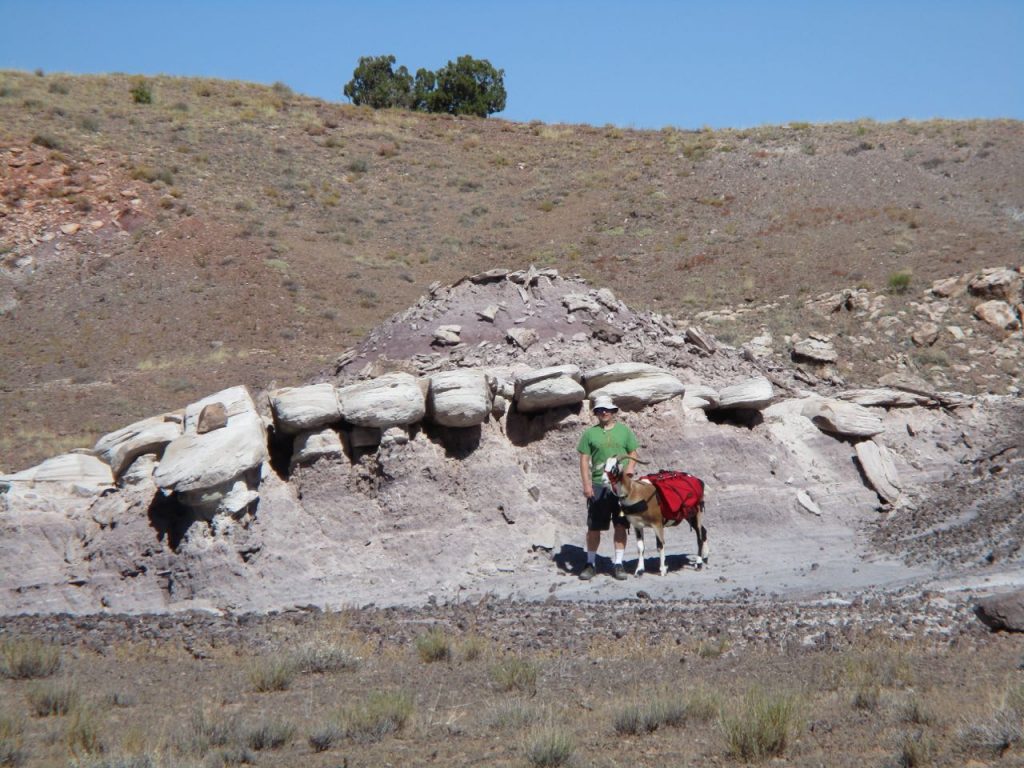 Eldon and his crew enjoy the bright yellow rocks.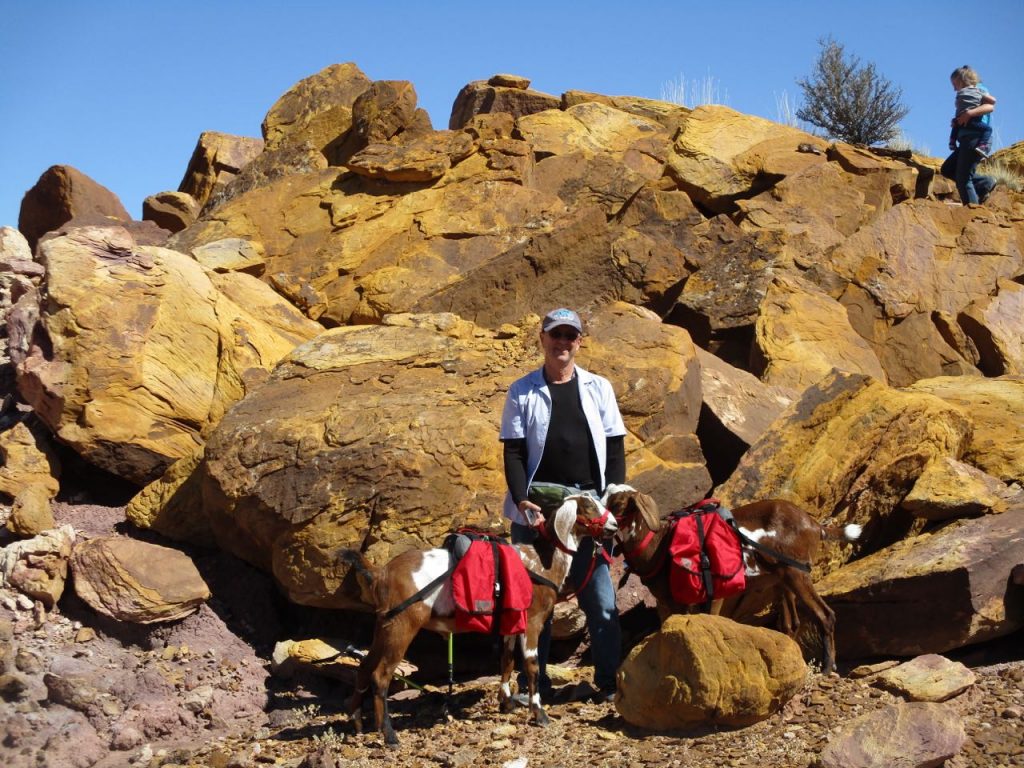 Taffy's goat, Bourbon, enjoys the few sprigs of dry grass he can find.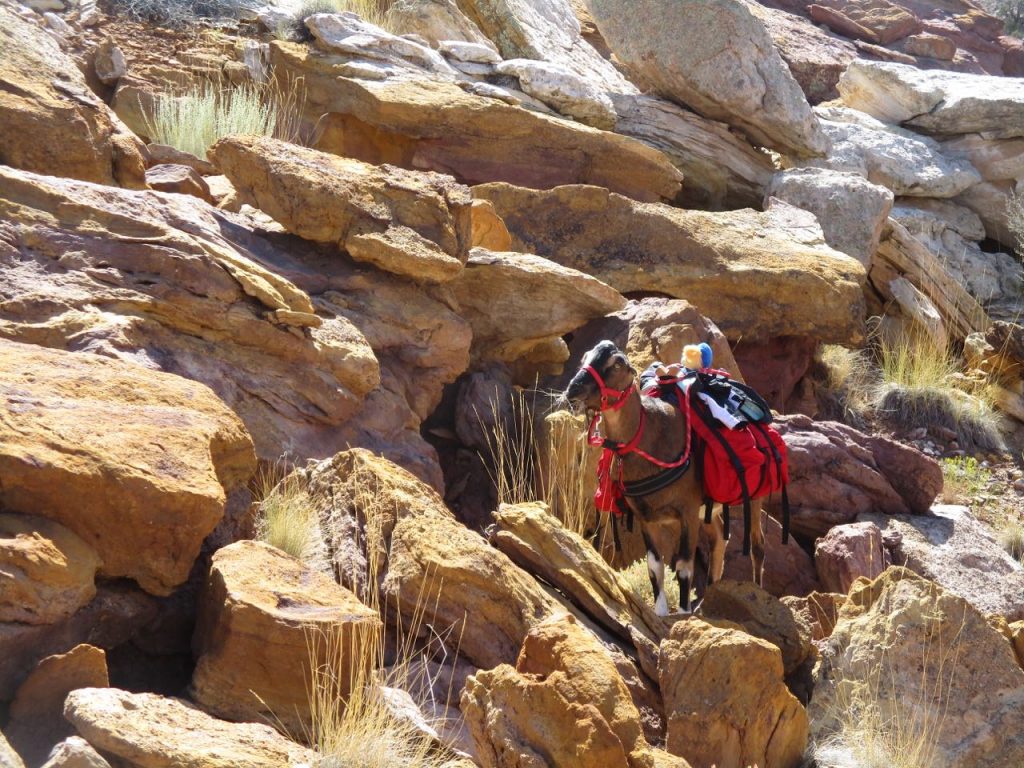 A beautiful wash of colors.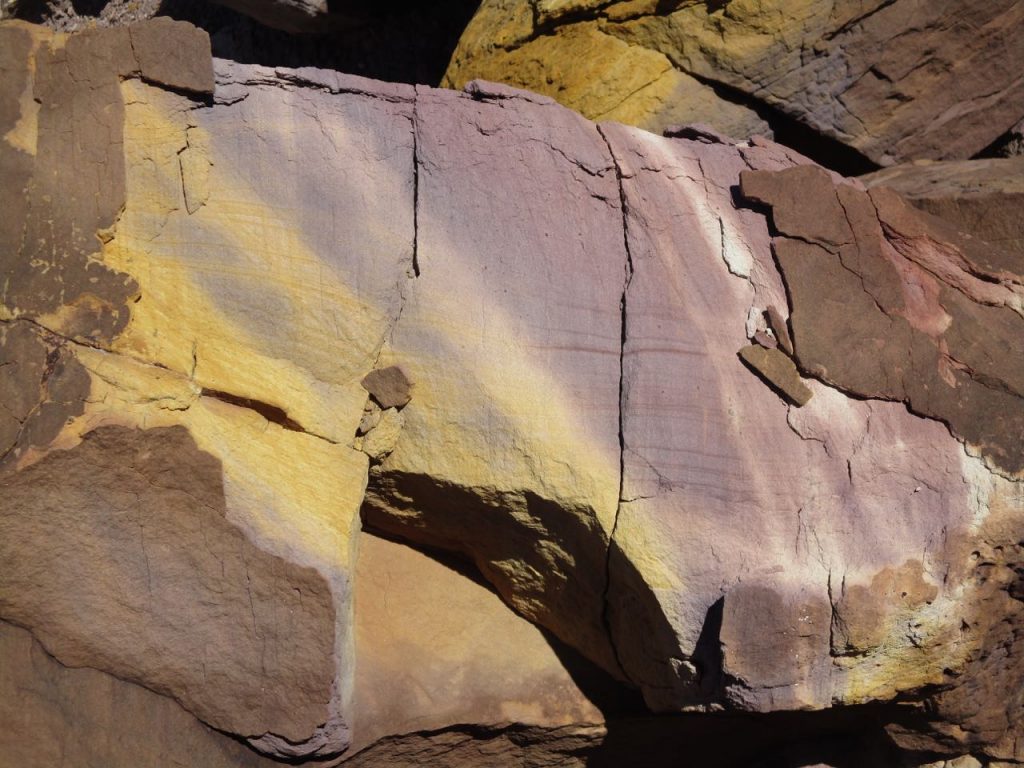 Contrasted with the lovely starkness of this whitewashed boulder field.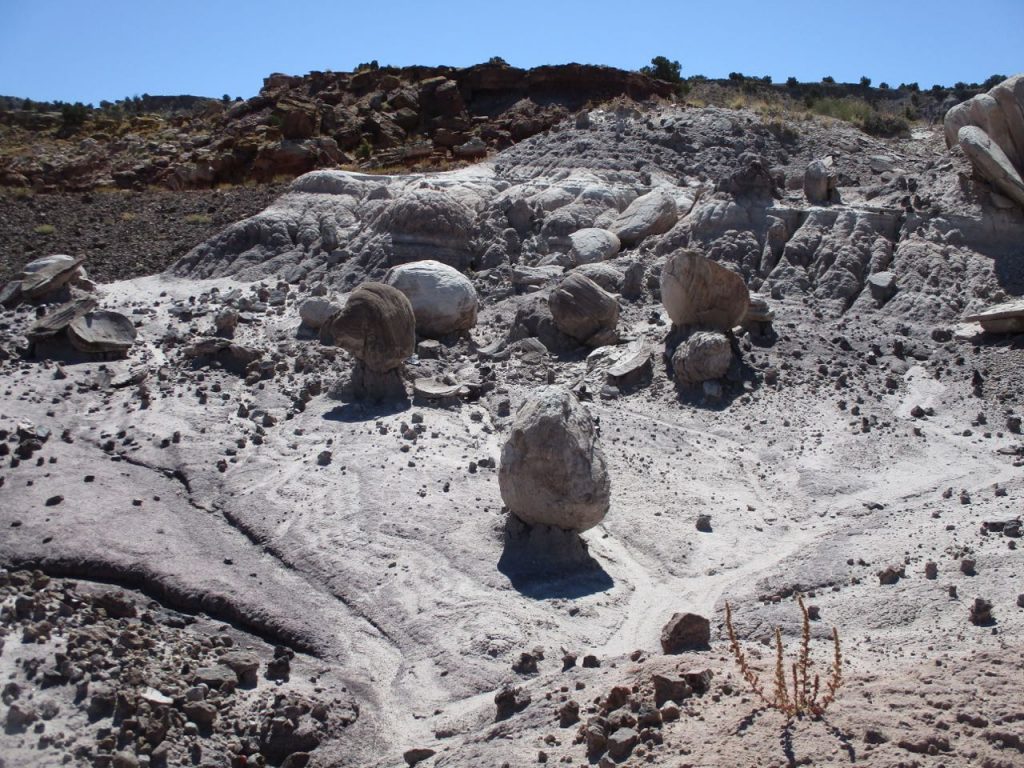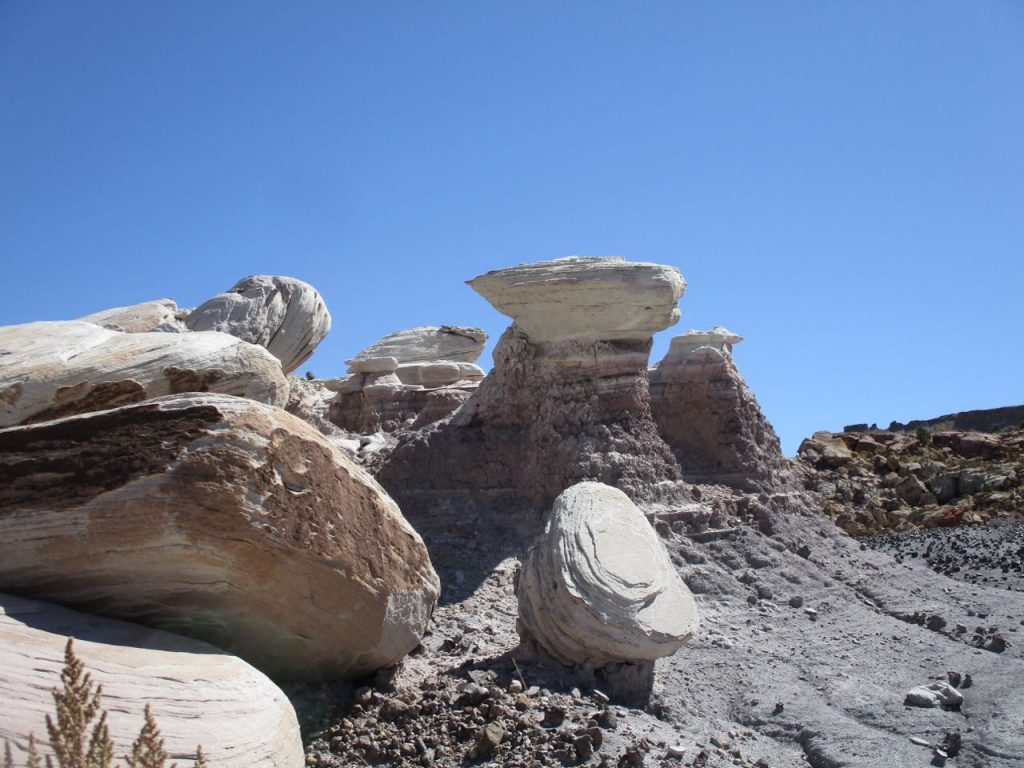 It was obvious from the soil that there had been quite a bit of moisture earlier in the year. The top layer been washed over, leaving a fascinating micro-replica of the larger formation. There were tiny "goblins" and pinnacles formed from the soil and pebbles.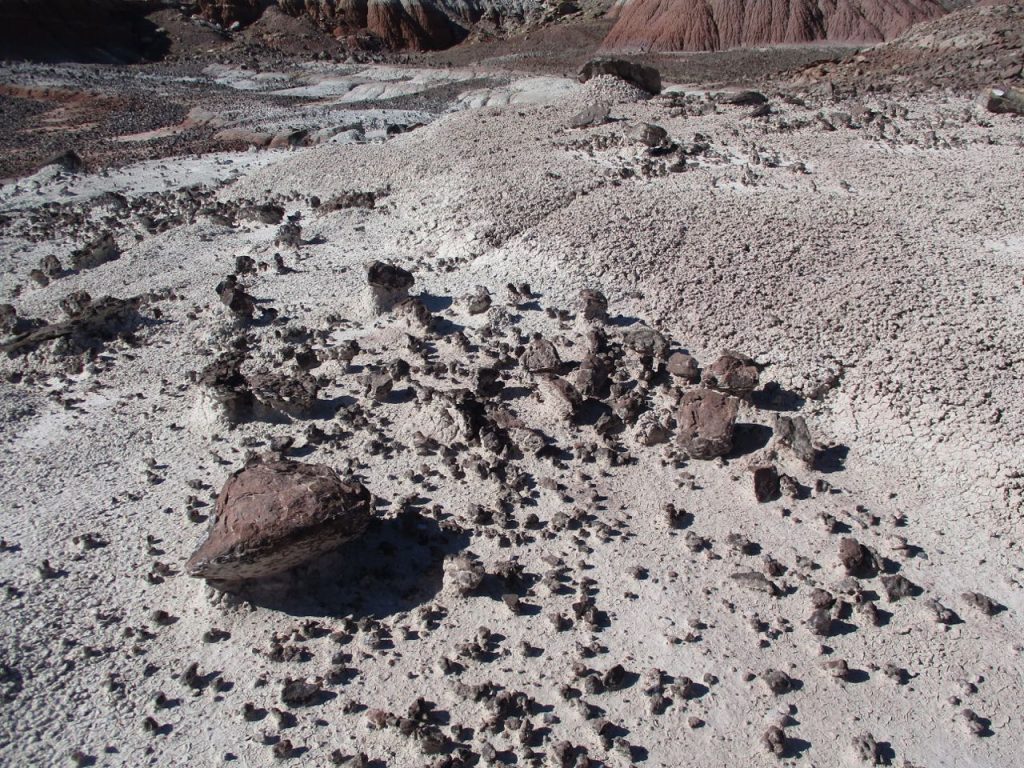 I loved this pinto-colored sandstone. It was fairly common in the dry river bottom. I brought home a couple of specimens, including one to decorate Jet's grave.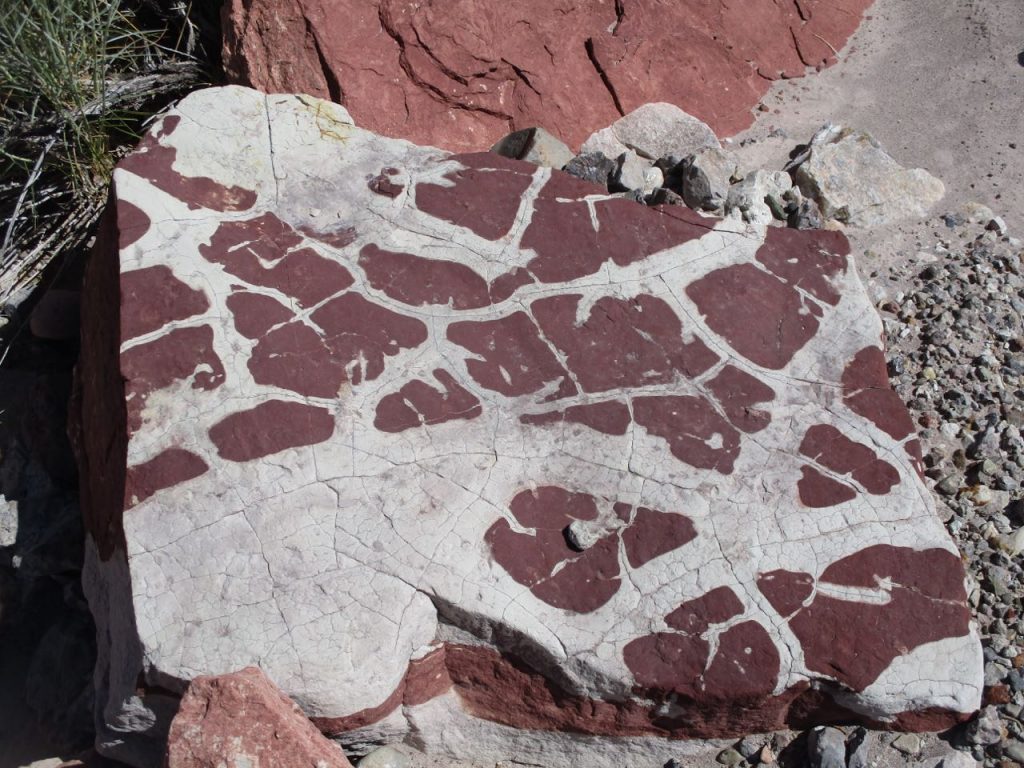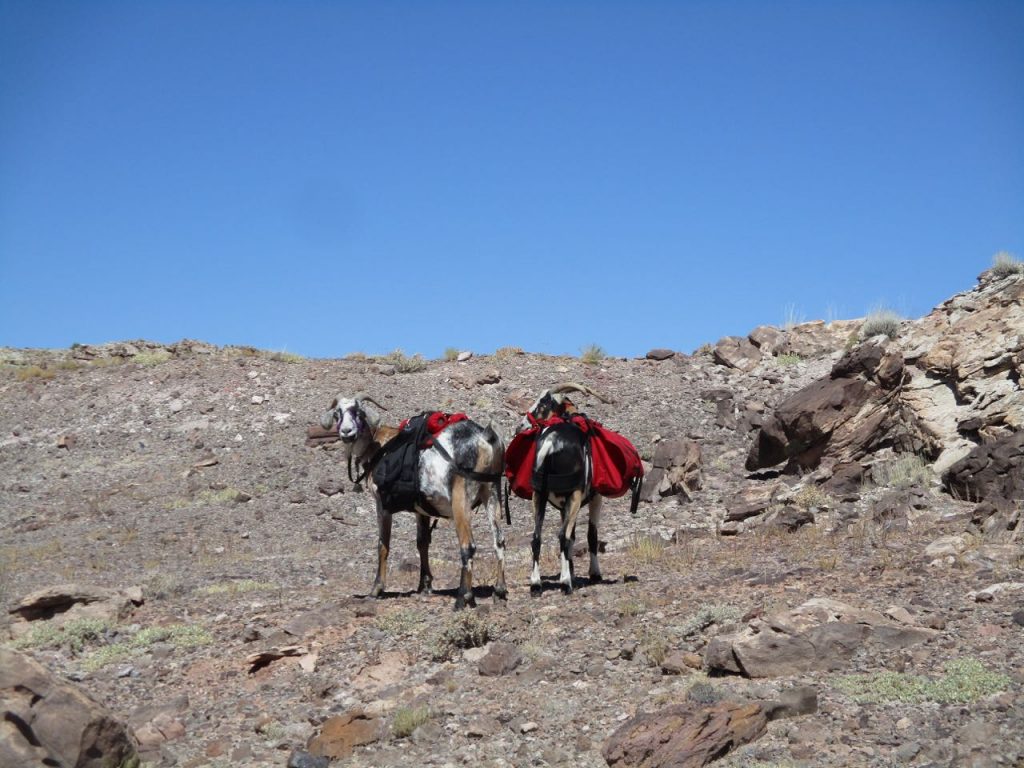 There was a large culvert we had to pass through on our way in and out. The goats were a little suspicious.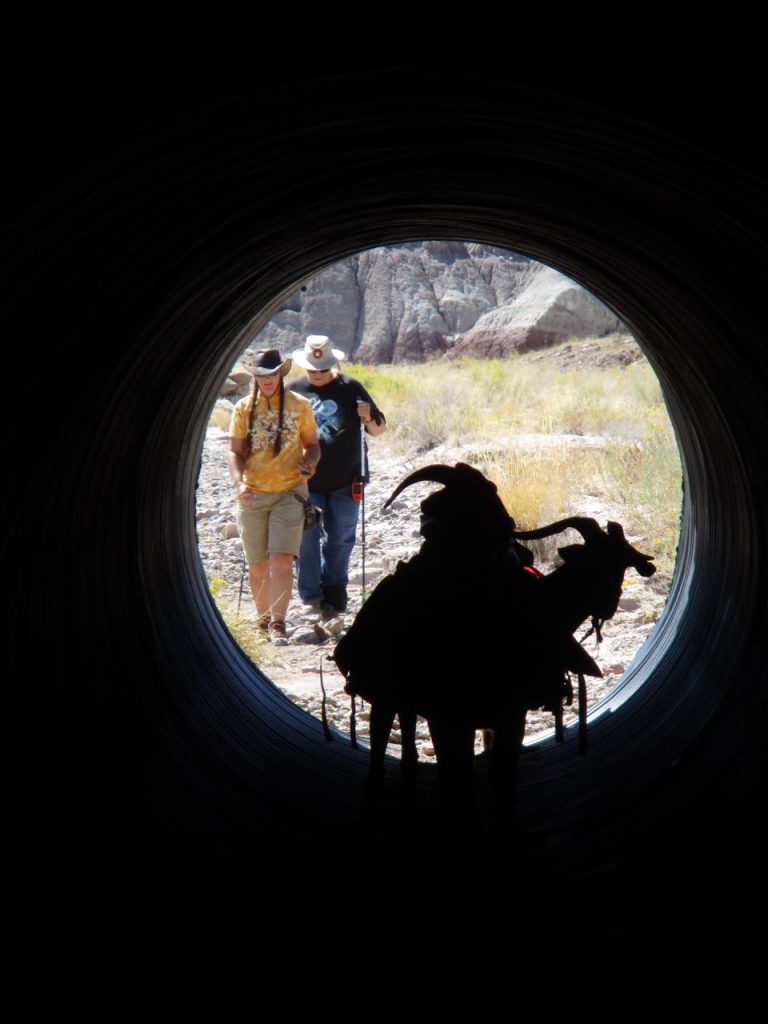 After exploring the Morrison Formation, Herb took us to The Wedge at Buckhorn Draw. It's also known as the "Little Grand Canyon" and I can certainly see why!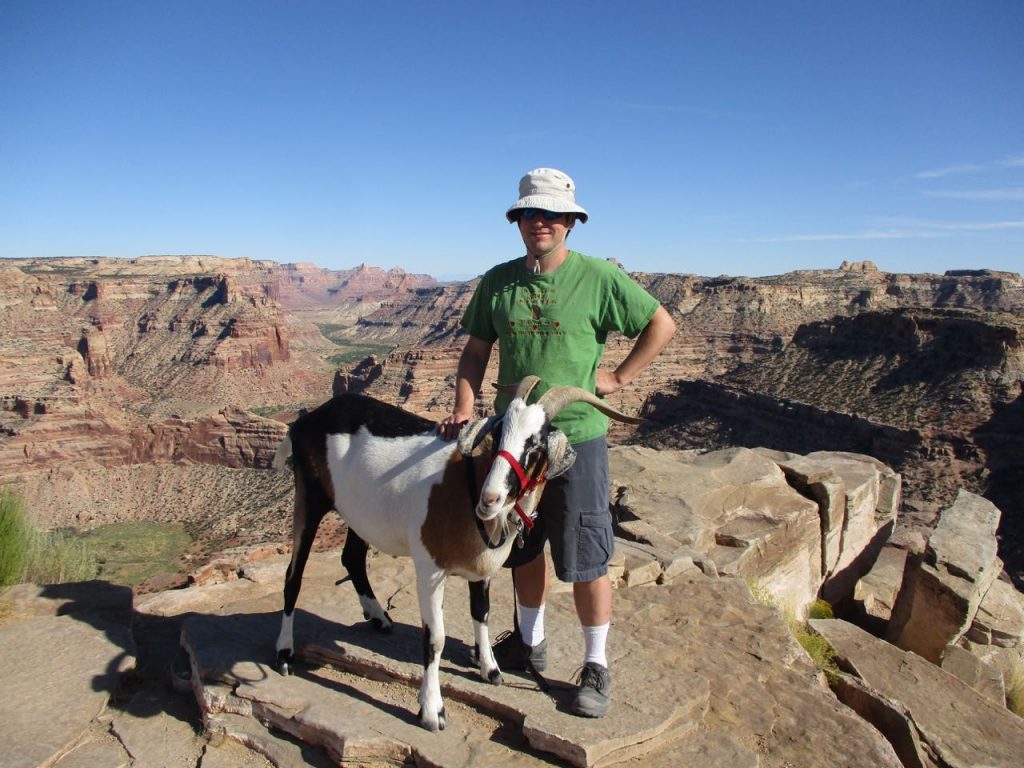 Herb and the rest of the crew spent the night here while Phil and I traveled back to Castle Dale so we could enjoy a cozy bed and breakfast. Their view was better for sure, but Phil and I love a hot shower!