On Friday morning we broke camp early. Eldon and Debbie caravanned out with Taffy. Herb had left late on Thursday night since he had animals to take care of in the morning back home. Phil and I weren't heading home but were on our way to Escalante for our own Utah "goat vacation" sequel. Robert and Connie had a little wiggle room in their schedule so they followed Phil and I to Little Wild Horse Canyon for a bonus hike that Herb had recommended. Phil and I had been to Little Wild horse four years earlier but we'd had to turn around because Cuzco couldn't make it over some of the obstacles in the slot canyons. We thought we could complete it with Finn and Sputnik. 
Robert and Connie only made it a short way into the canyon before they encountered obstacles that their goats weren't prepared to face. They were forced to turn back so we said our goodbyes in the canyon.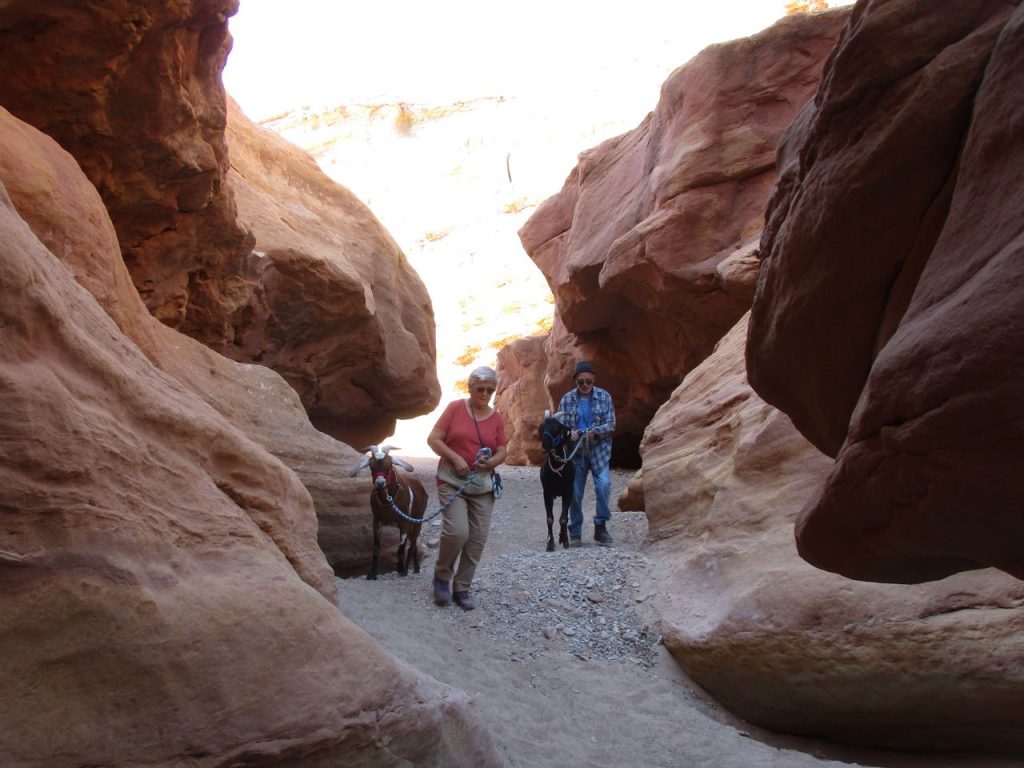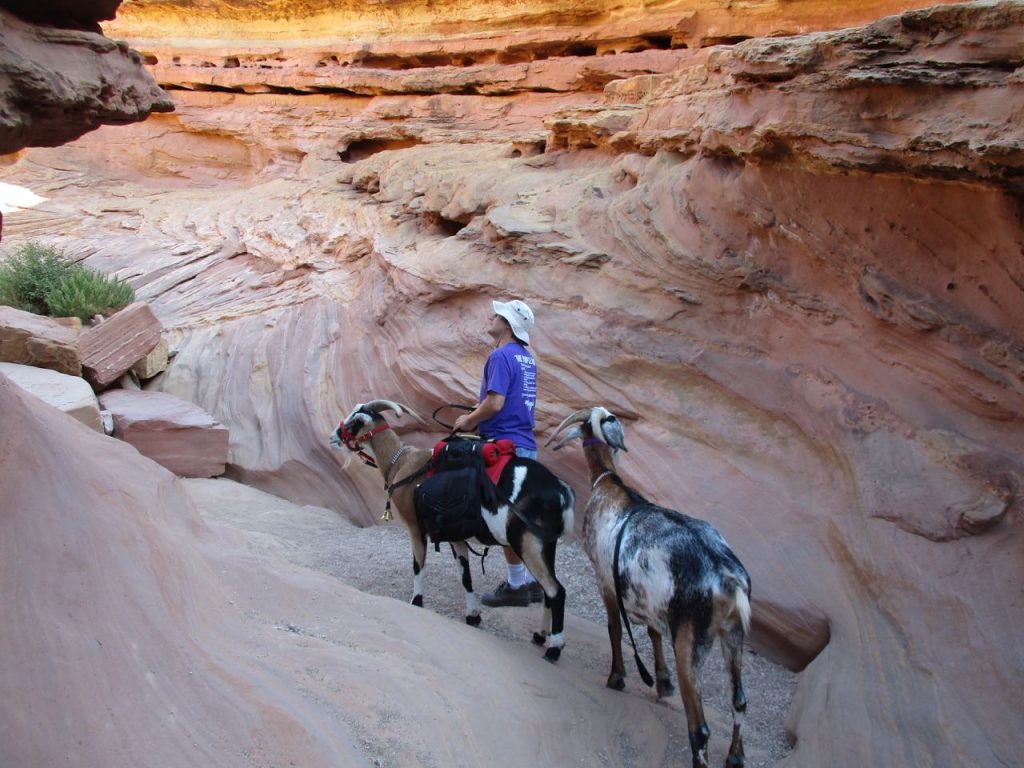 Usually Finn steals the spotlight, but this was Sputnik's day to shine. We generally kept Finn and Sputnik leashed since this is a popular canyon and we expected to encounter quite a few people. But since I had the camera, I let Sputnik go a few times to free up my hands. This meant Sputnik did all the exploring and wall-climbing. I'm sure Finn was very jealous.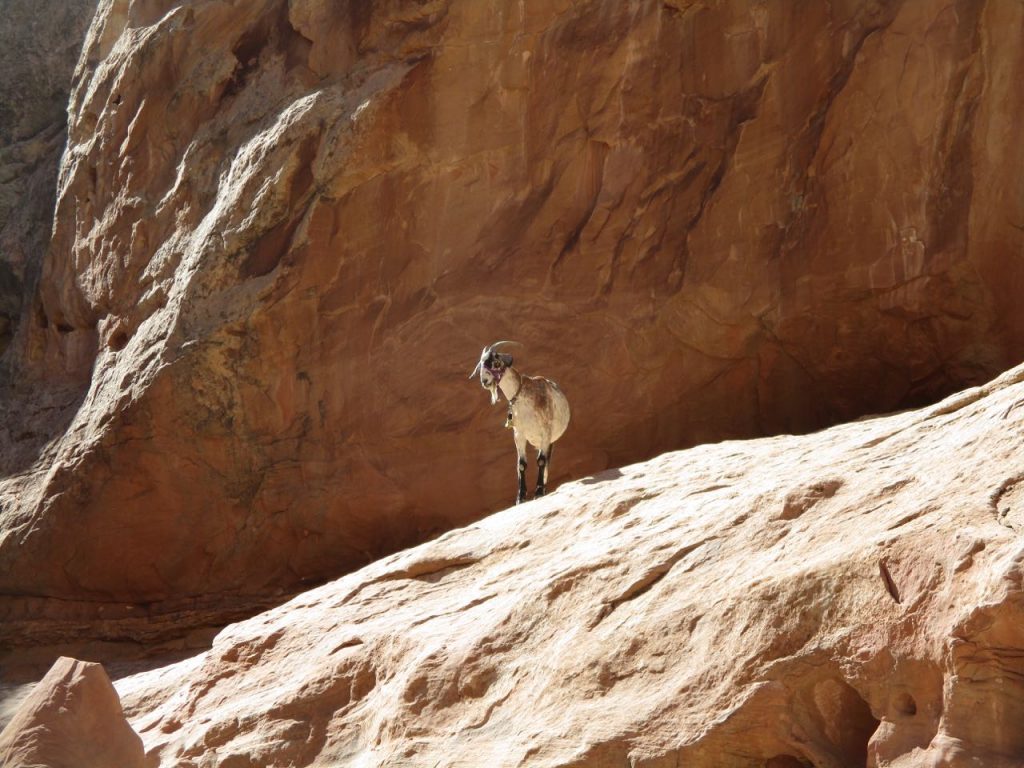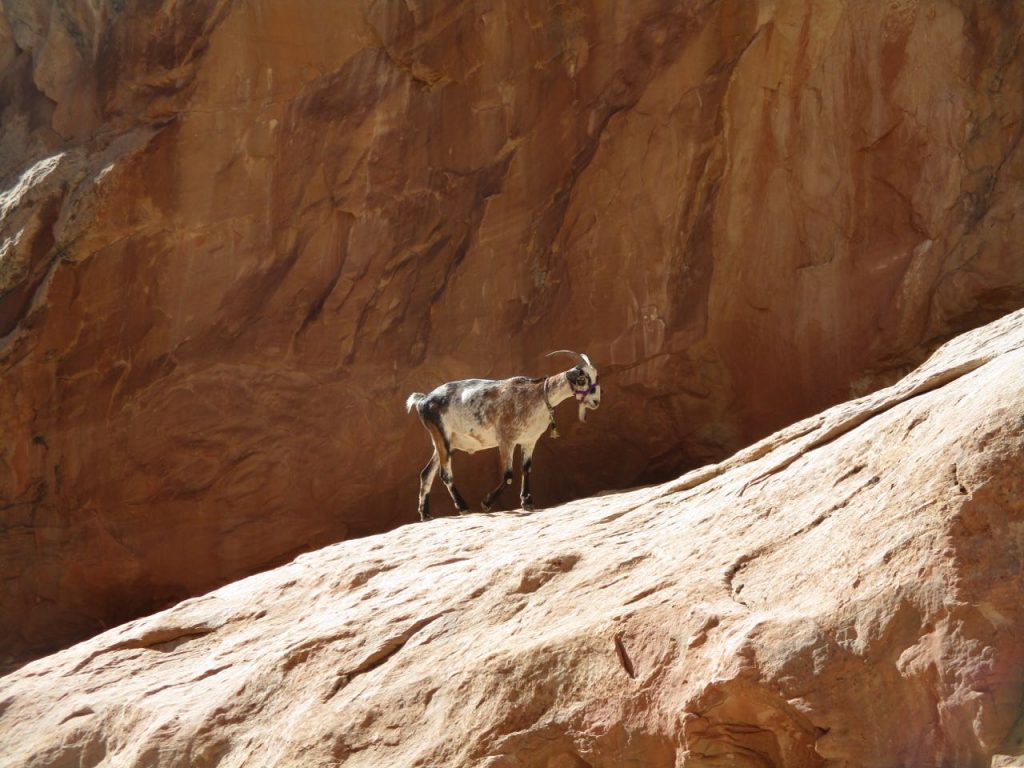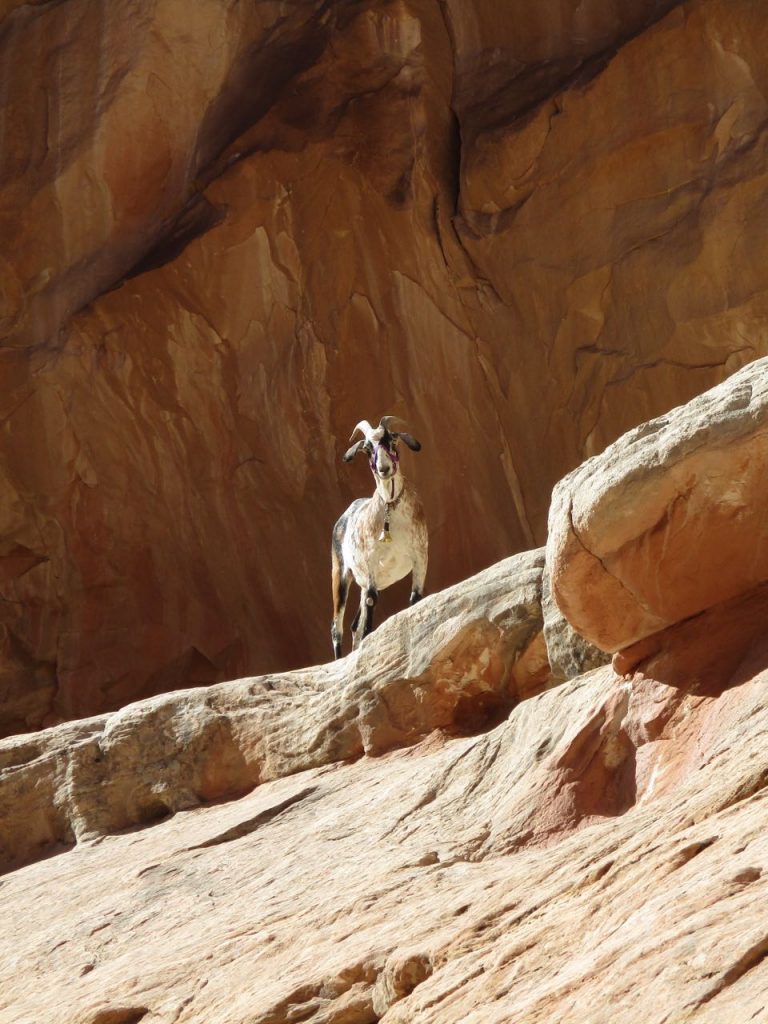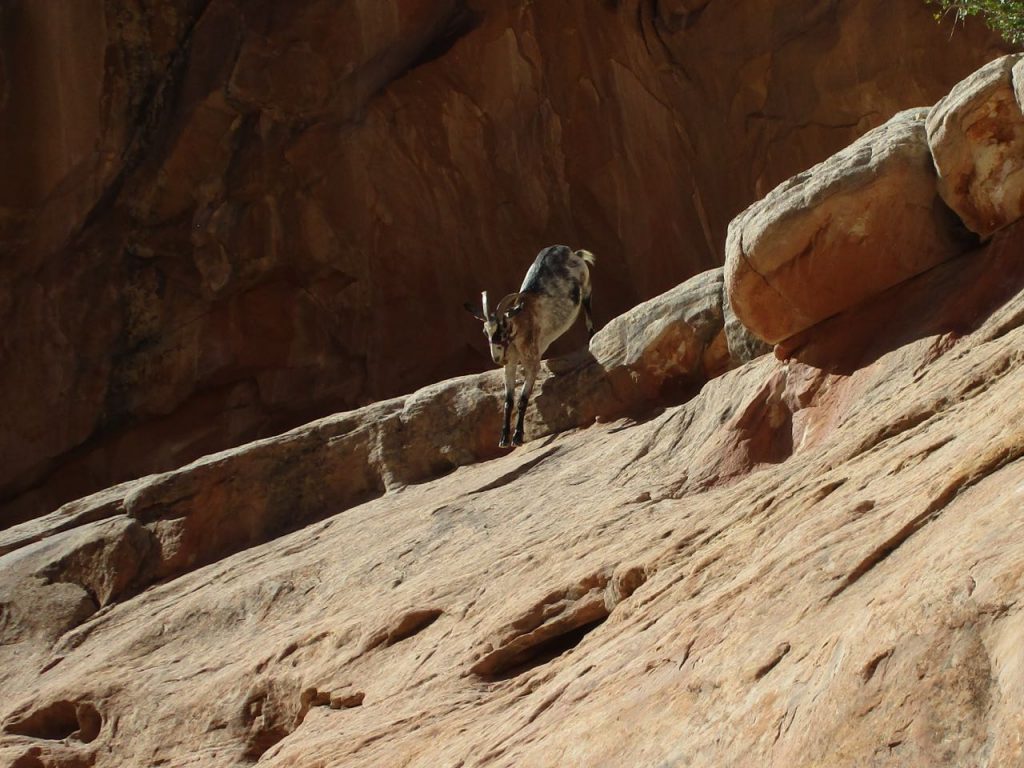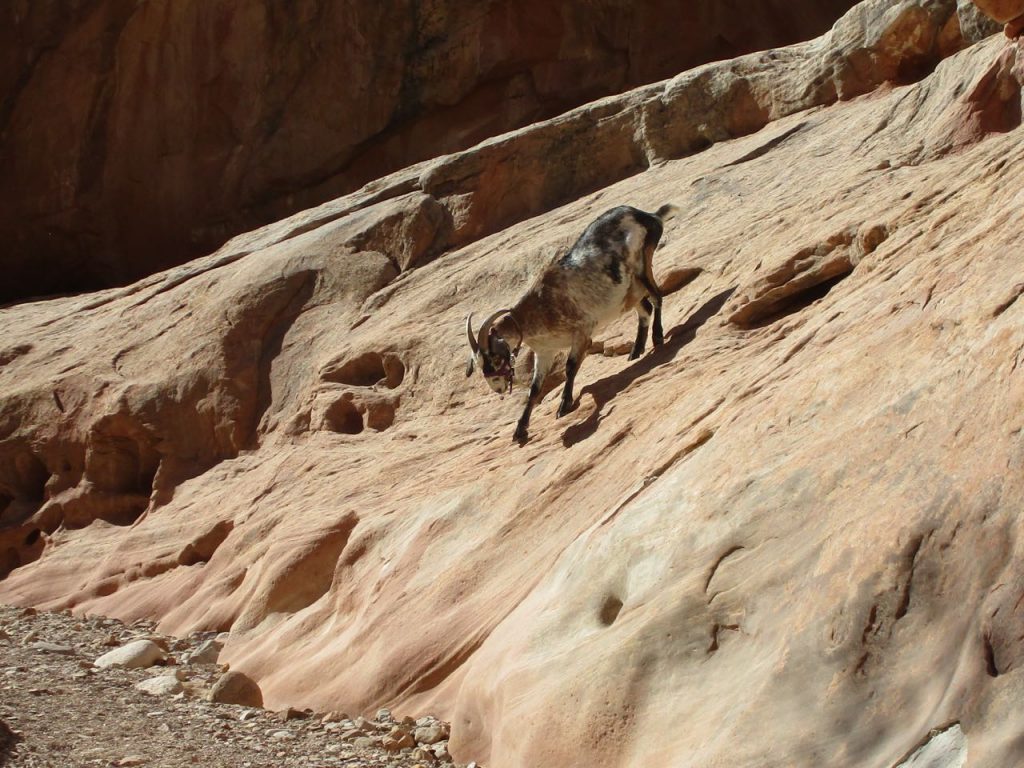 I love it when goats peer up the canyon walls. I don't know if they're trying to see how high it is, or if they're looking for a way out, or a ledge to play on, or just admiring the scenery like we humans do.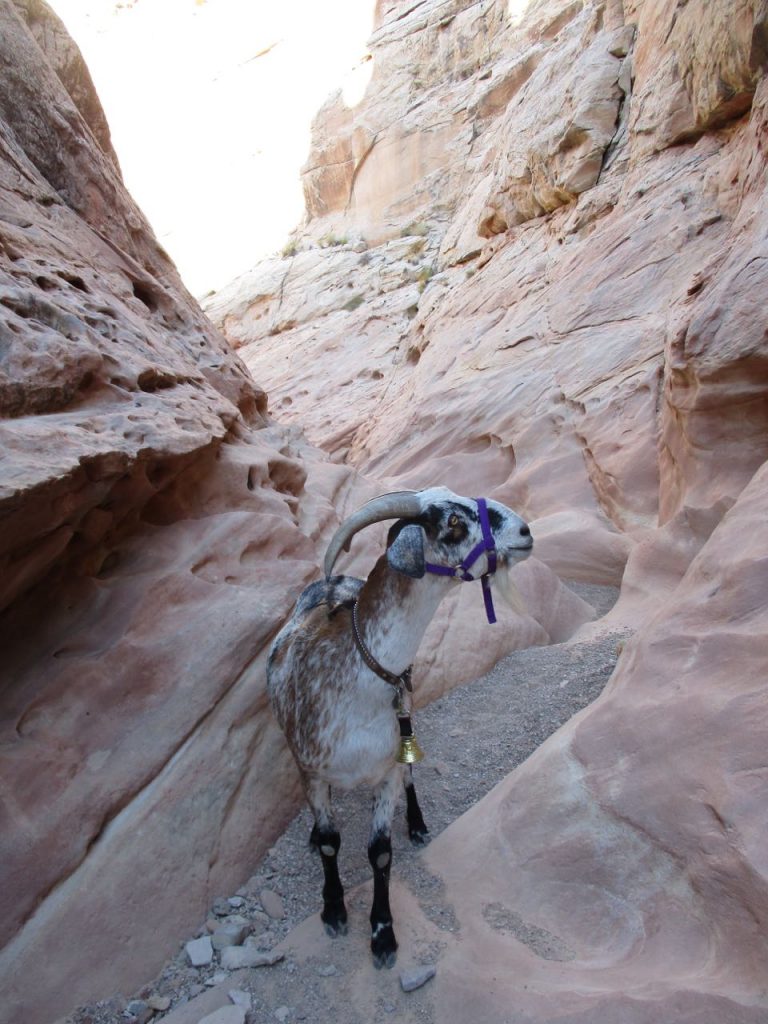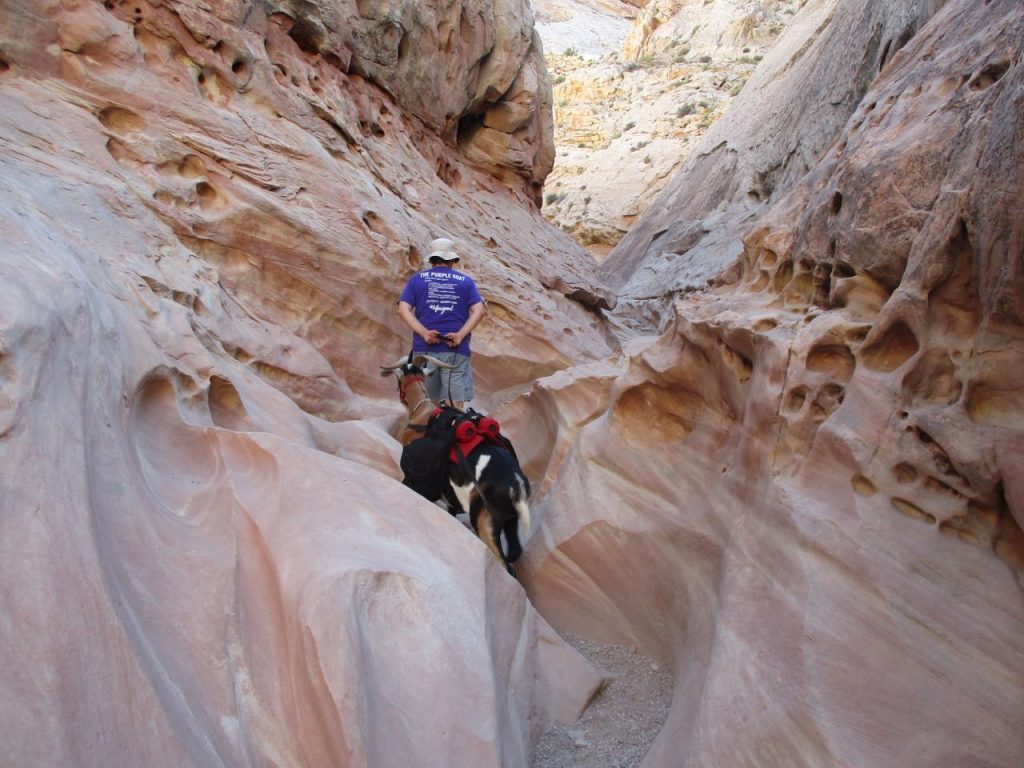 There's more root here than bush!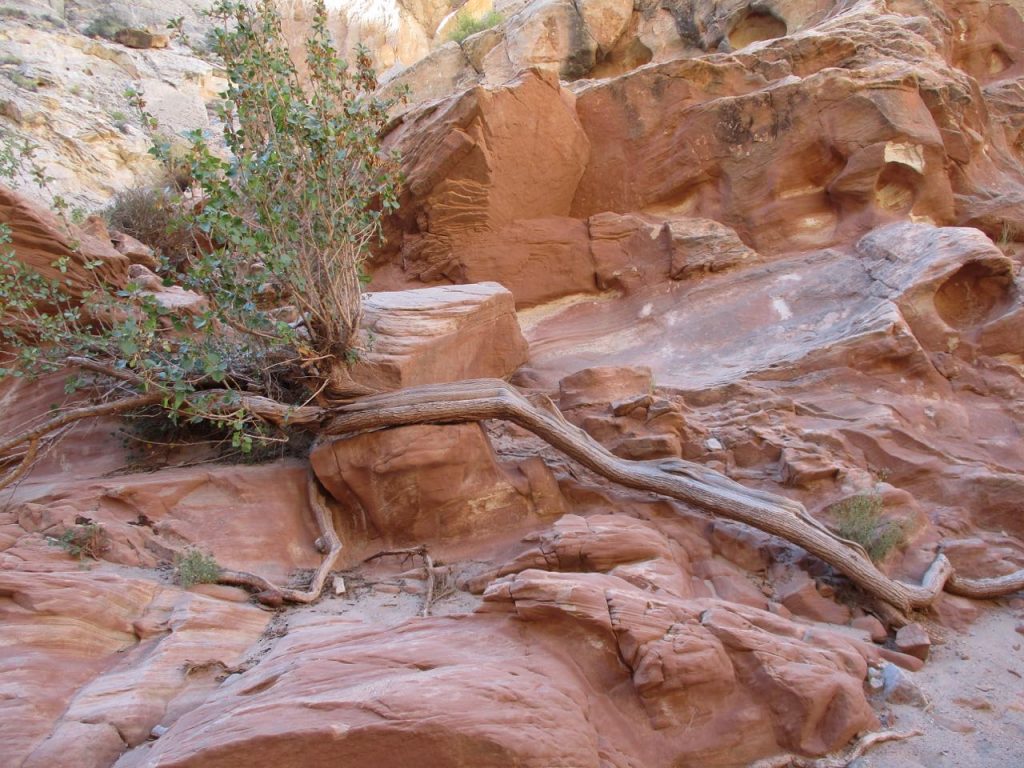 The walls are so cool!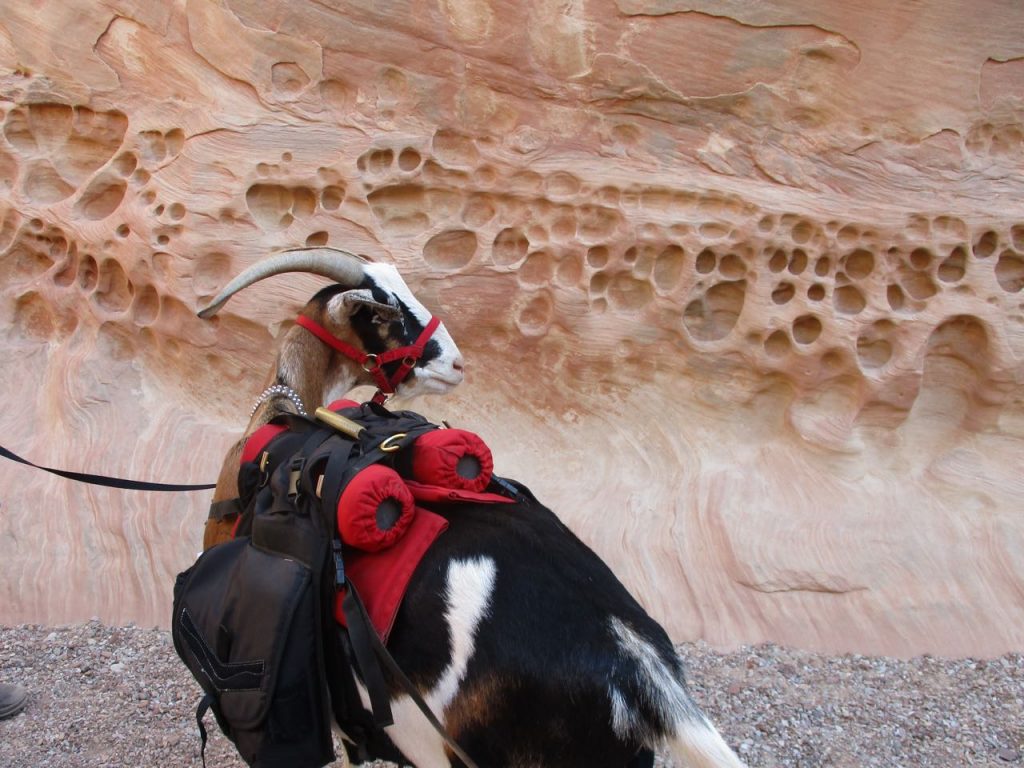 "How high is that?"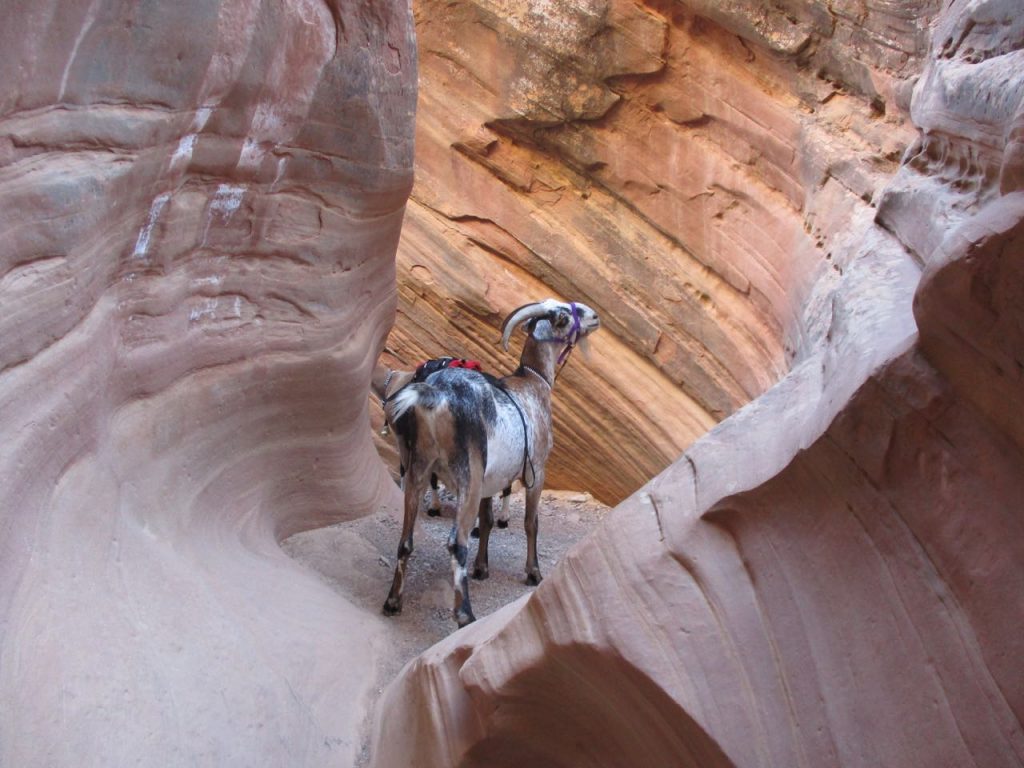 Little Wild Horse is a beautiful canyon, but I'm afraid I can't recommend it for goat packing. It's incredibly narrow in places to the point where panniers must be removed, and there is no place for traffic to pass. This can make it very stressful on goats and on people who are afraid of unfamiliar animals and/or animals with horns. Since half the tourists don't speak English it can be difficult to communicate that the goats won't hurt them and they should just squeeze by.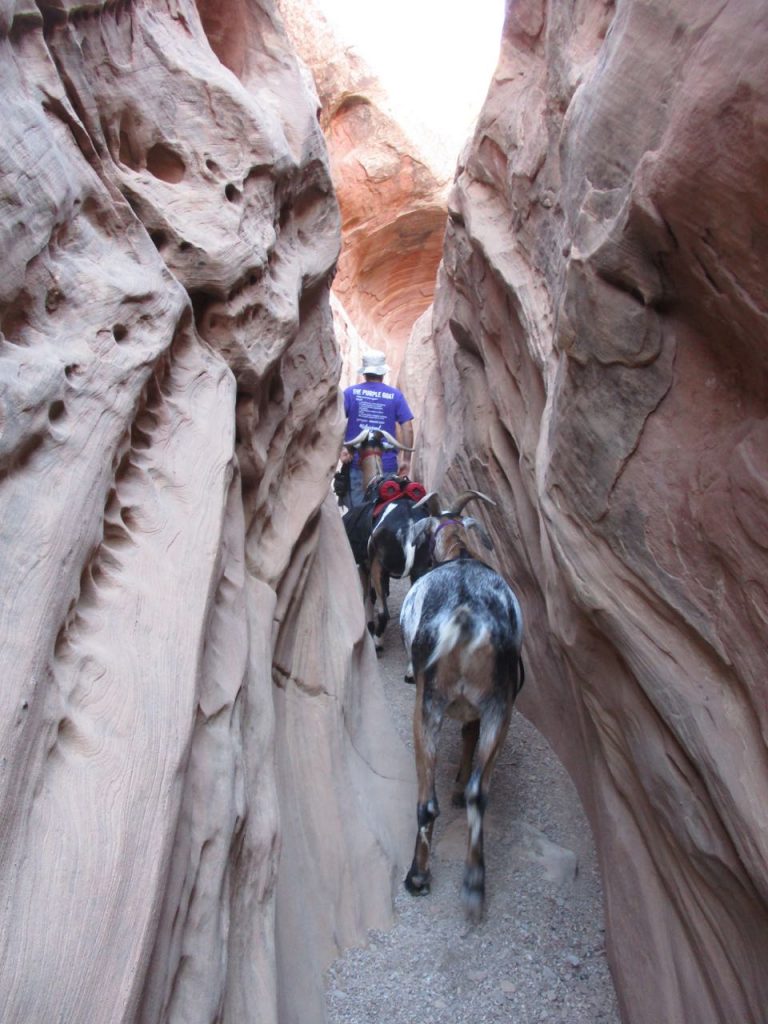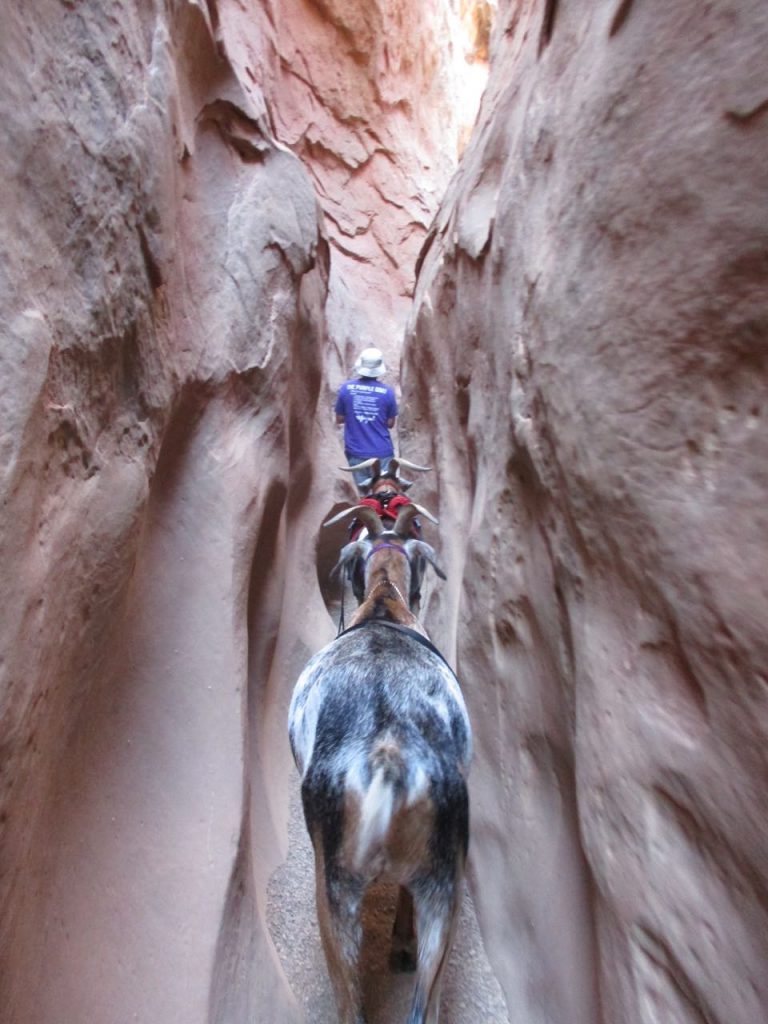 And this was the stopping point. This was the same obstacle that turned Cuzco back the last time we were here, only this time instead of being held up by an elderly goat we were held up by crowds of tourists. Phil had scrambled ahead of us over the rock. Finn measured the height, backed up, and was just winding up to leap onto the rock after Phil when a group of several tourists came down the canyon. The goats and I had to scrunch against the canyon wall to get out of their way. They passed and I climbed the rock and turned to call Finn when another group came up the canyon from behind us. I had to climb down and scooch Sputnik and then Finn out of their way so they could pass us. We started again for the third time when yet more tourists came. After that it was an unending flow. The place had turned into Disney World and my goats and I were holding up the lines! As soon as there was a momentary break in the crowd, I backed the goats up to a convenient turn-around place and headed straight back out of the canyon. If it weren't for all the people, Finn could easily have cleared the obstacle, but Sputnik would have had a hard time.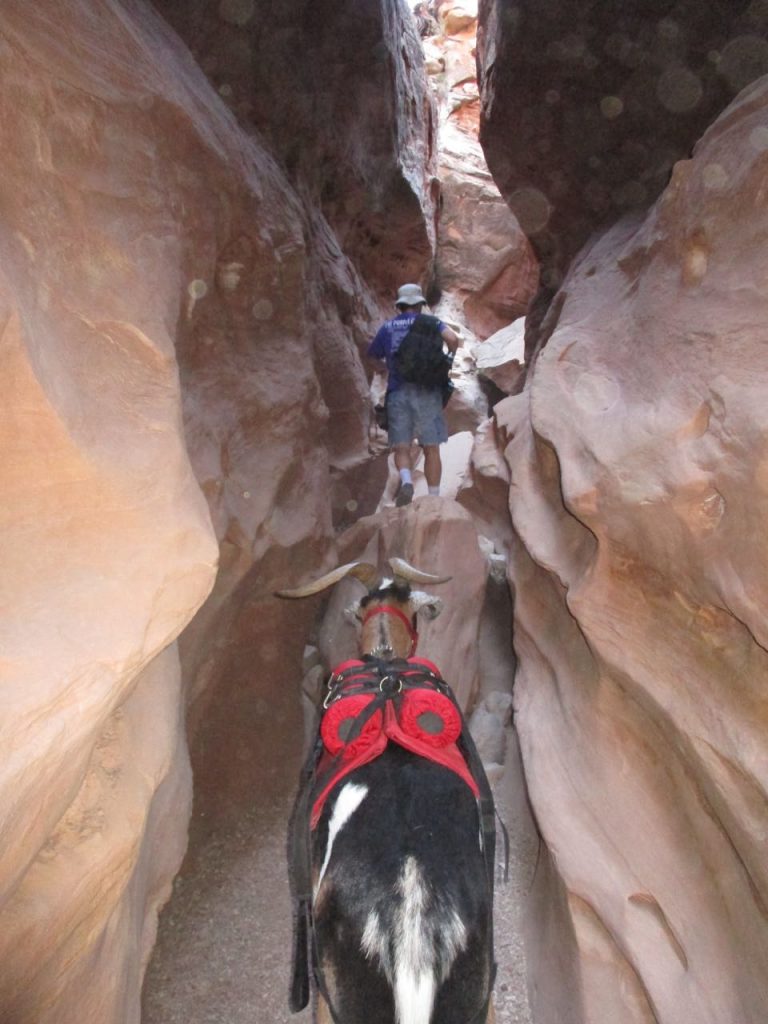 Our original plan was to hike up Little Wild Horse and down Bell Canyon, forming a nice loop to avoid backtracking. Herb had never been up or down Bell Canyon but he thought it should be goat-friendly. At first we thought it would be too. For one thing, there were no crowds. Nearly everyone hiked up Little Wild Horse and back, skipping Bell Canyon entirely.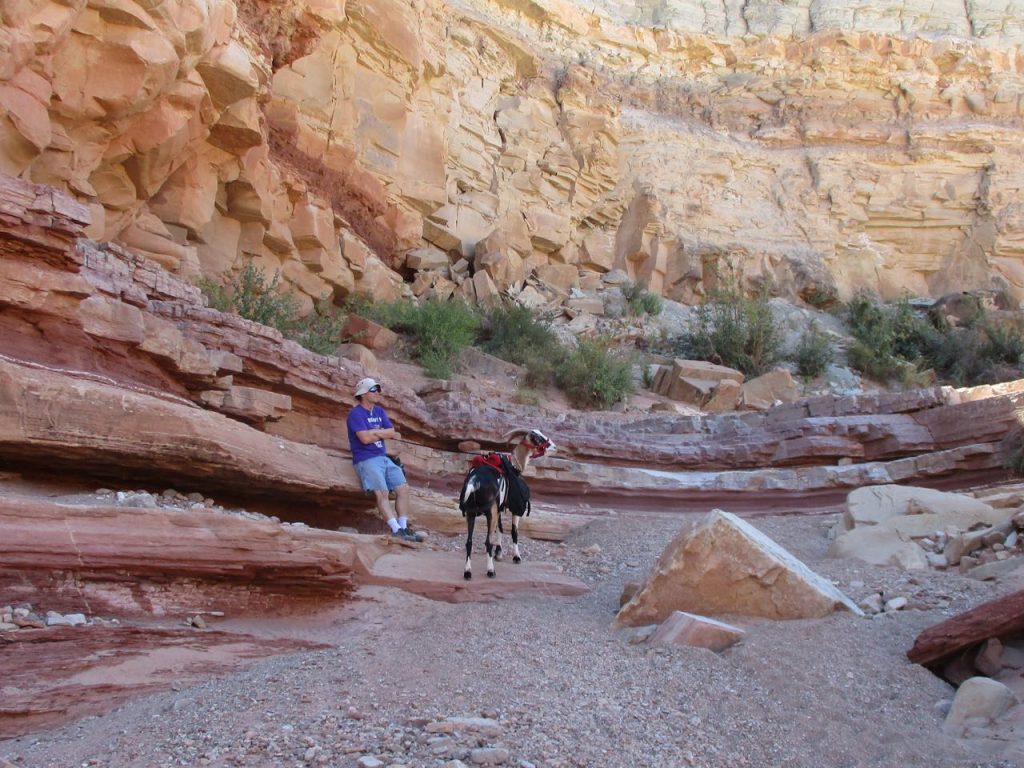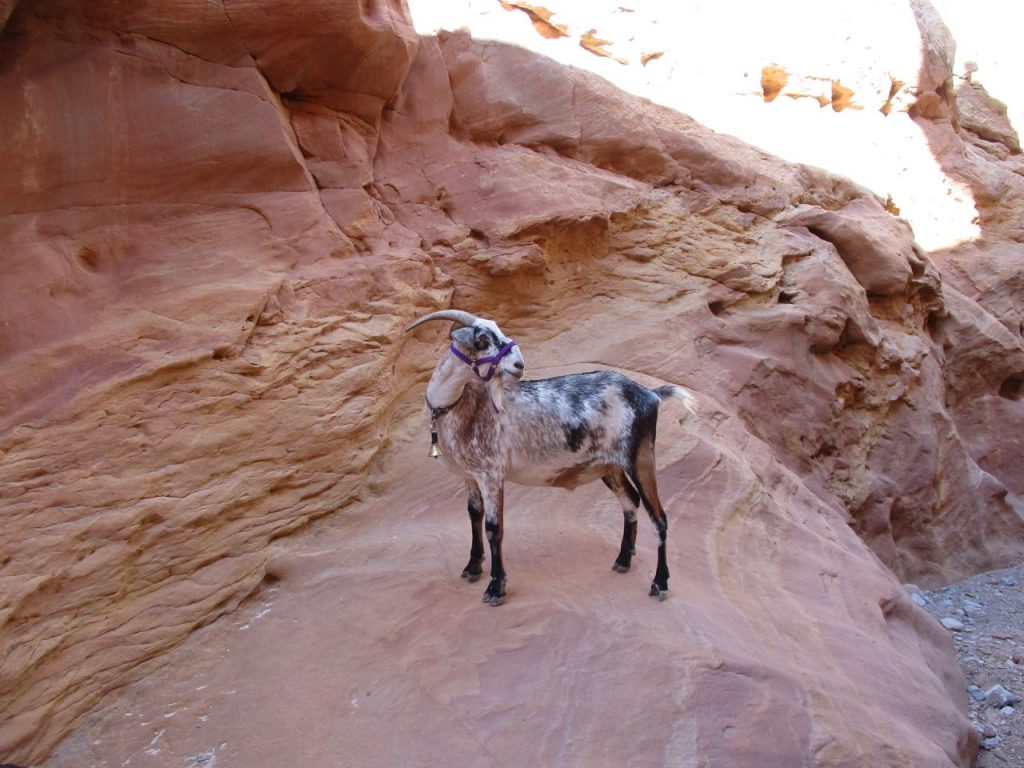 But not far up the canyon we came to a narrow place with a good 5-6 foot jump/climb/scramble. It was very narrow and the killer was that there was no good take-off spot for the goats to leap from–just a pile of loose, rounded rocks that varied in size from softballs to beach balls. Finn assessed the climb and gave Phil a sad, pleading look. While I'm certain he would have tried to make the jump, there's a good possibility he could have hurt himself in the attempt. So Phil and I gave up on Bell Canyon, ate our picnic lunch, and enjoyed the stunning views before heading back out and on to Escalante.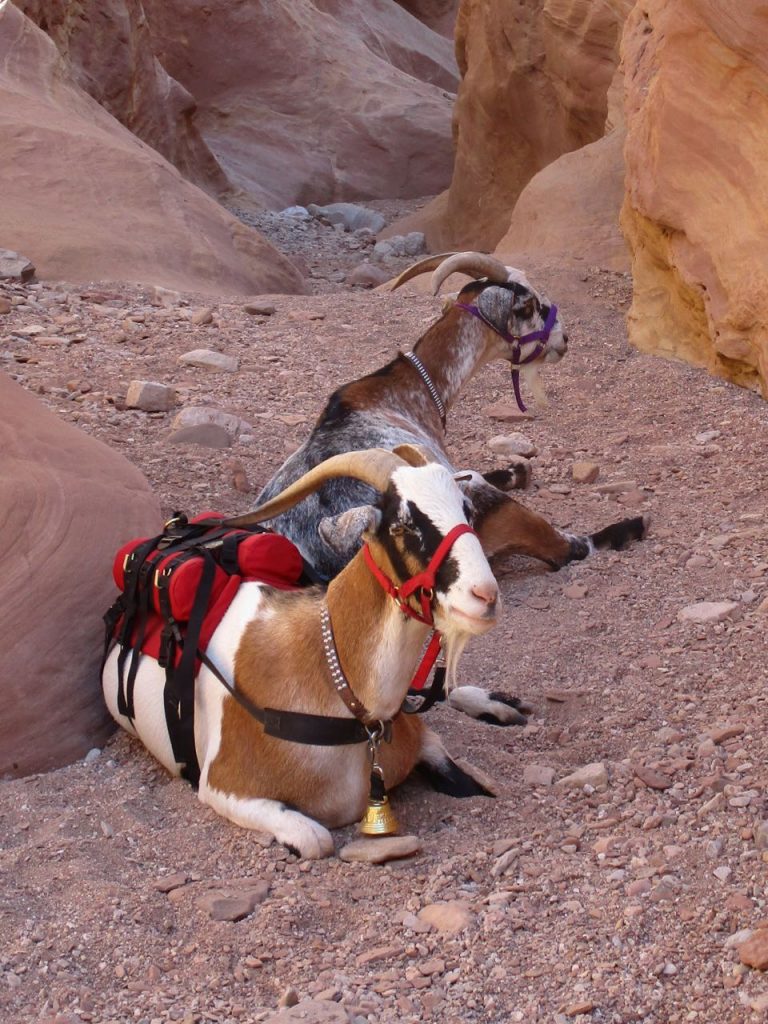 After Little Wild Horse and Bell Canyons, we packed up the boys and headed to Escalante. The drive along Highway 12 is always stunning. We were about fifteen miles outside of Escalante when I spotted a cyclist along one of the curves. I recognized the floppy white fisherman's hat and white tank top immediately. It was Matt! Phil was riding shotgun and he rolled down the window, waved, and shouted "Hey, man! See you in Escalante!" Matt shouted, laughed, and waved back at us as we drove past.
Phil and I settled into our room at the familiar and wonderful Rainbow Country B & B where we have stayed on all our trips to Escalante. We unpacked and then walked into town with our goats so we could eat at our favorite little outdoor restaurant called Nemo's. We were just crossing the street when we spotted a white shirt, tan skin, and black hair. A bike was leaning against the fence. It was Matt! We offered to buy him dinner, but he had already eaten so we treated him to ice cream. We all sat and chatted while Phil and I ate dinner. We were able to snag a quick photo before Matt headed out. He had to find public land before dark because, as he said, "If you sleep on public land you're an adventurer, but if you sleep on a park bench you're a vagrant."
Thankfully Escalante is mostly public land, so I'm sure he didn't have to ride far to find somewhere to sleep. He was headed for the most difficult portion of his trip across the Navajo Nation where water and food are scarce and very far between. We wish him all the best and we hope that by now he's made it to Mexico.