We stopped at the Upper Calf Creek Falls on our way out of Escalante. I think this might become a tradition. Last year we didn't know what awaited us at the bottom of the trail, so we did our swimming au naturel.
This time we wore our swimsuits under our clothes. We weren't sure if we would actually make the plunge since it was freezing cold outside, but we decided that luck favors the prepared and it would be feeble to not even give ourselves the option. Due to National Park closures, there were several other people at the falls and us skinny dipping might leave them with a bad impression of Utah. So we brought the swimsuits.
Our first stop was one we didn't make last year. We saw this waterfall from the top but didn't notice the trail to the bottom. This time we did and it was quite worth it.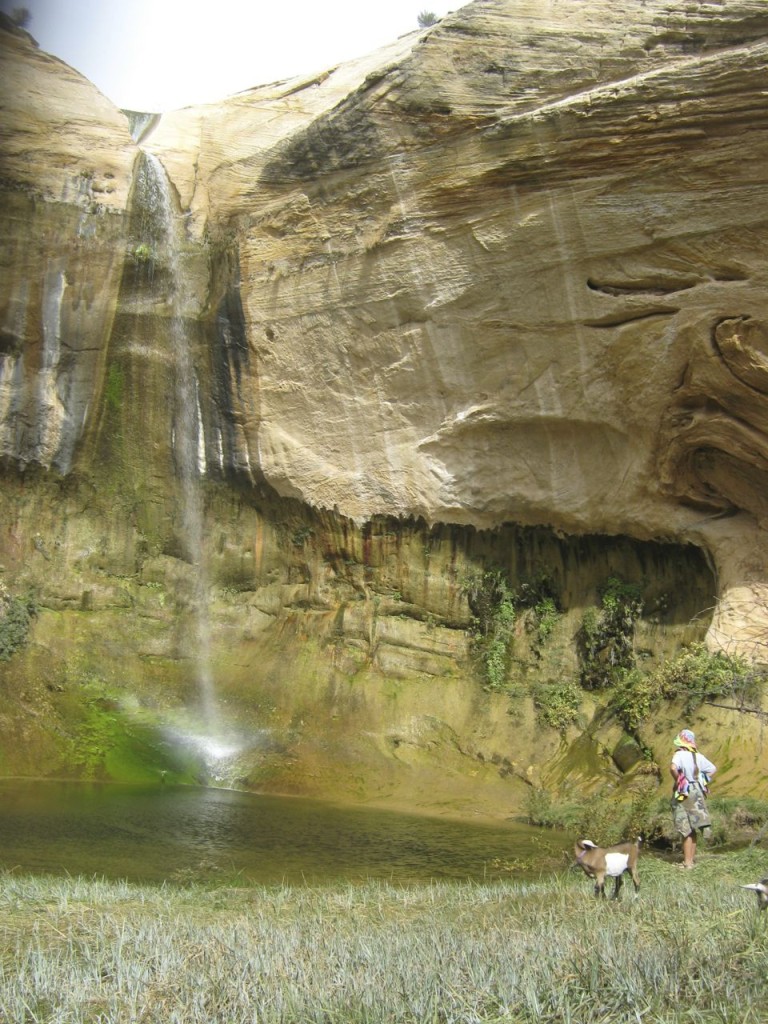 Did I mention it was freezing outside? Last year was hot and I still remember how icy the water was even on that beautiful day. This year it was overcast and there was an arctic wind blowing. I wasn't sure I was brave enough to take the plunge, or that the thrill was worth the chill. But once again, in the interest of not being feeble, I decided I'd regret not doing it. Besides, there was a group of people watching and I'd practiced my swan dive at Lake Powell during the summer.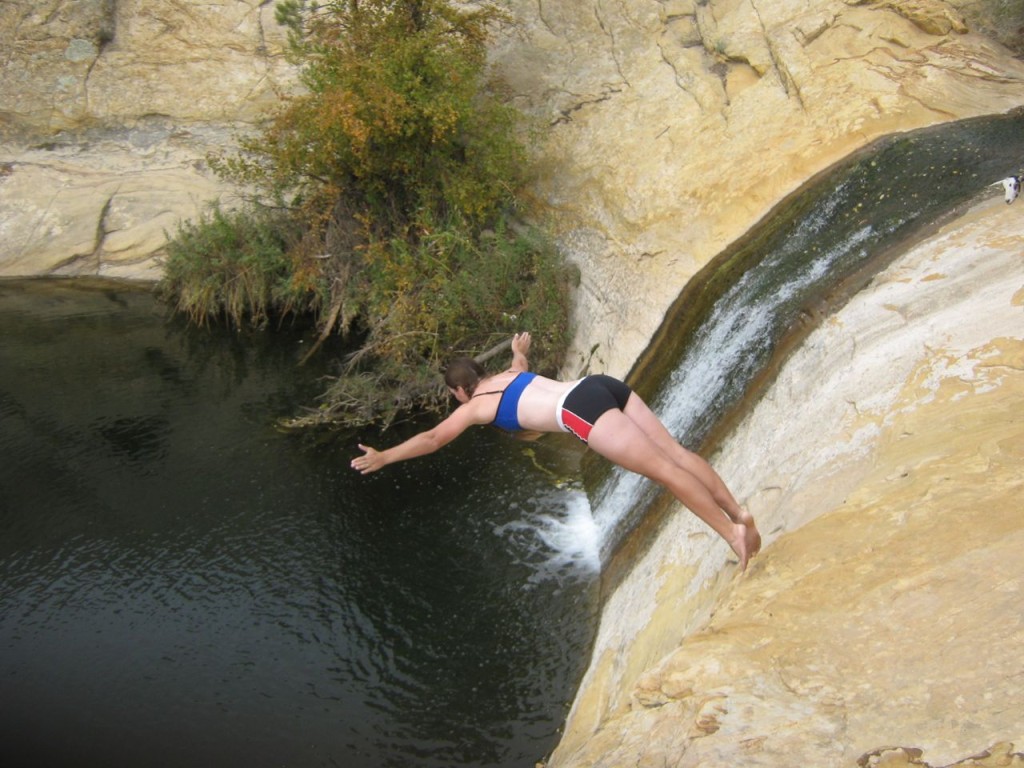 Phil took the old cannonball approach.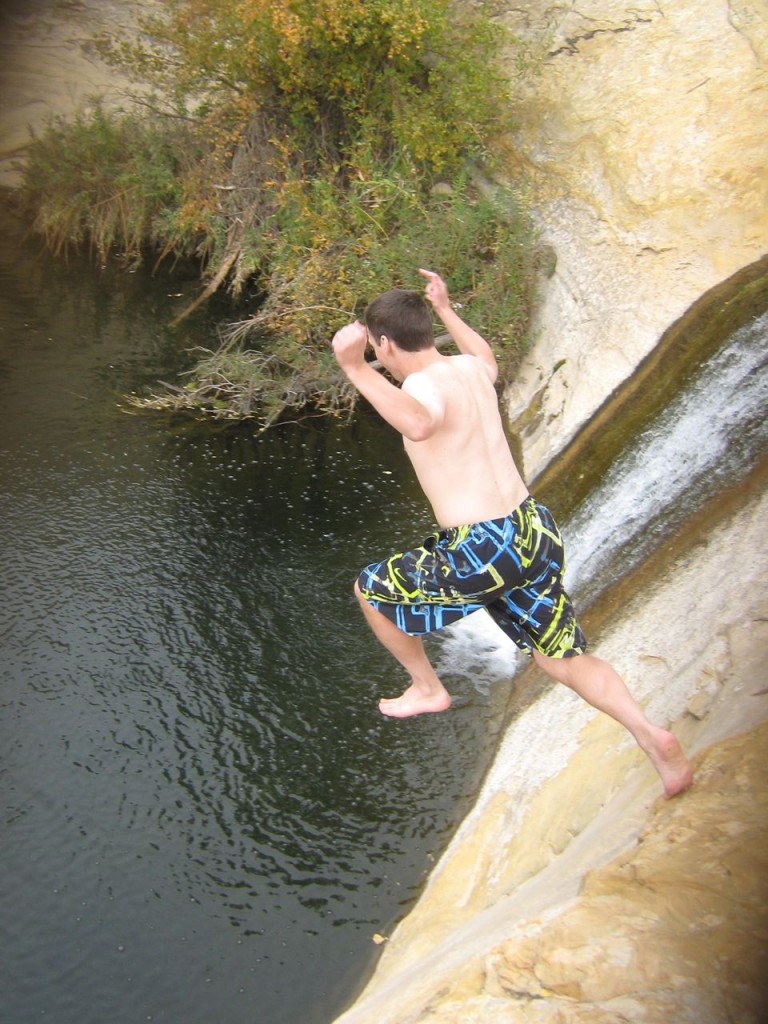 It was freezing, but it was totally worth it. We got cheers from the audience on the hill above. No regrets. The goats are clearly smarter than we are and stayed sensibly rooted to the rocks from which we leaped.This is how you know you have a pack goat extraordinaire. Cuzco faithfully carried my cold, wet towel back up the trail and even allowed me to dangle my dripping swimsuit top from his horn.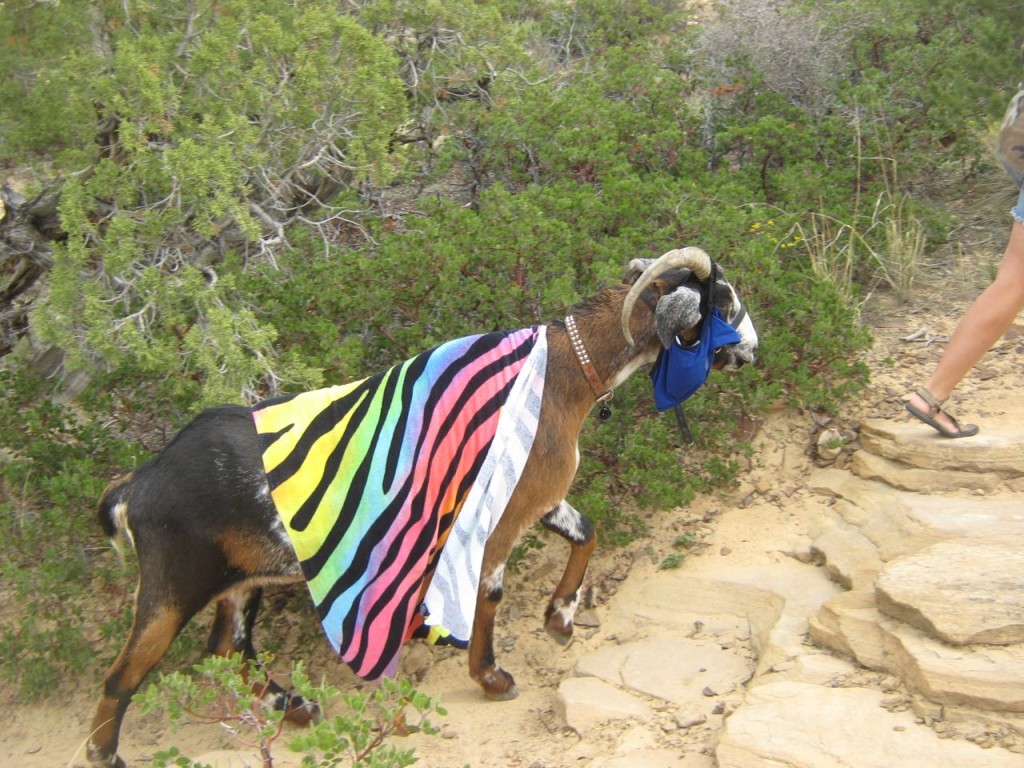 I eventually had to take the towel back because, careful as he was, Cuzco could not prevent it from sliding off on that steep trail. And I removed the brassiere because I felt it embarrassed for the poor guy. Besides, it was impairing his vision. He kept stopping and turning his head so he could peer out from behind it, but he never once shook or tried to scrape it off on a tree. I told you he's a good packer!
What a faithful trail companion…