We had fun at the 2016 Harvest Show. It was the 40th anniversary of the CDGA, so lots of cake this year. The girls did very well. Pepi won in her class of five Recorded Grades on the first day of the show, but the judge overlooked her in the second. The doe in third place in this photo took Reserve Champion the next day.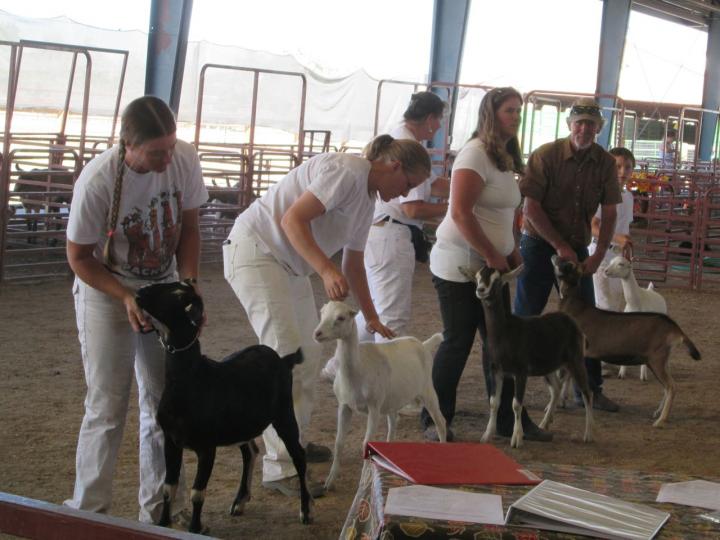 Nubbin was the queen of the Recorded Grades and won Grand Champion both days. Unfortunately there weren't enough in her class to sanction so it can't count toward anything, but we had fun. Nubbin was more interested in fighting with the other goats in her class than in setting up nicely and looking good for the judge. Here she is with her hackles raised and her neck arched as she's about to reach for the tail of the goat in front of her!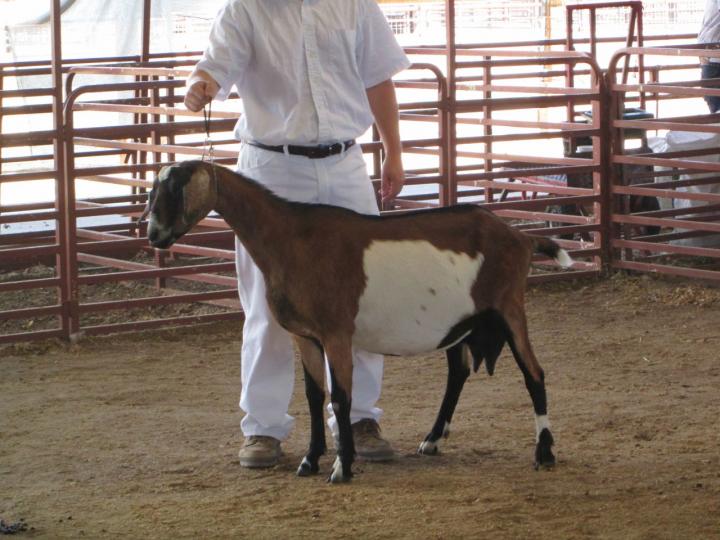 But she took home the prizes so we can't complain about her "cage fighter" attitude.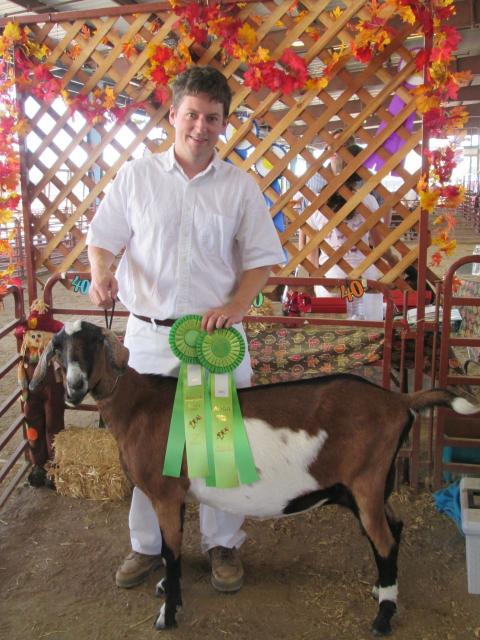 This was a tiring weekend for all the girls, coming right on the heels of the rather grueling State Fair. Petunia enjoyed using Pepi for a pillow.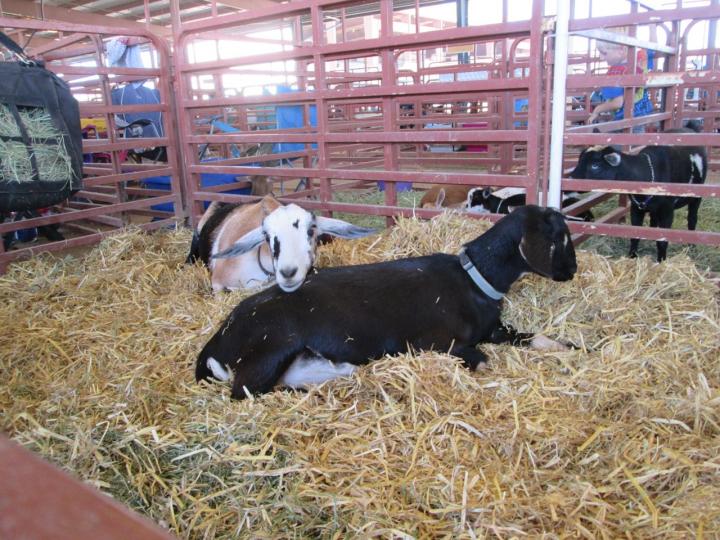 Happy, sleepy goat smile.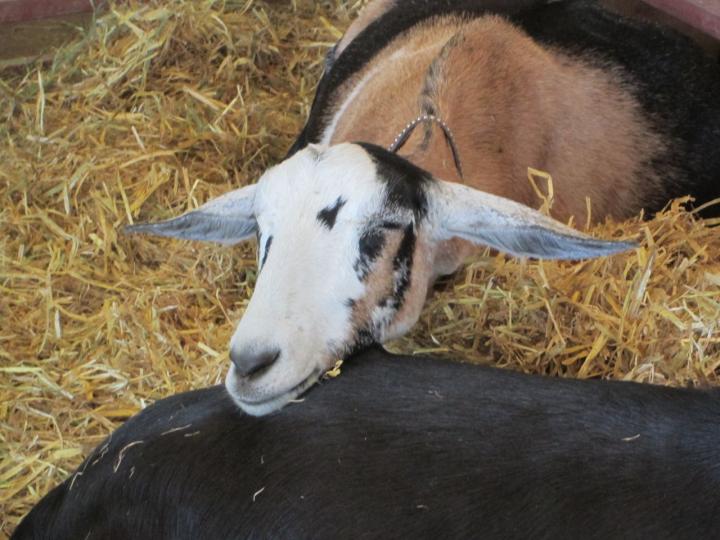 All the girls did well for themselves. Petunia showed off her repertoire of tricks to an amused audience, and Pepi learned to shake hands and walk on her hind legs while we waited for our class to start. Tigerlily was very subdued this weekend. She came down with the snots and seemed tired most of the time. Pepi came down with the snots too, but not so badly. And at least Pepi enjoyed eating her vitamin C with zinc and echinacea gummies. I had to force them down Tigerlily's throat while beating the other goats back. I'm not sure why she doesn't like them. Everyone else (especially Pepi) wants to kill for them.
The winnings: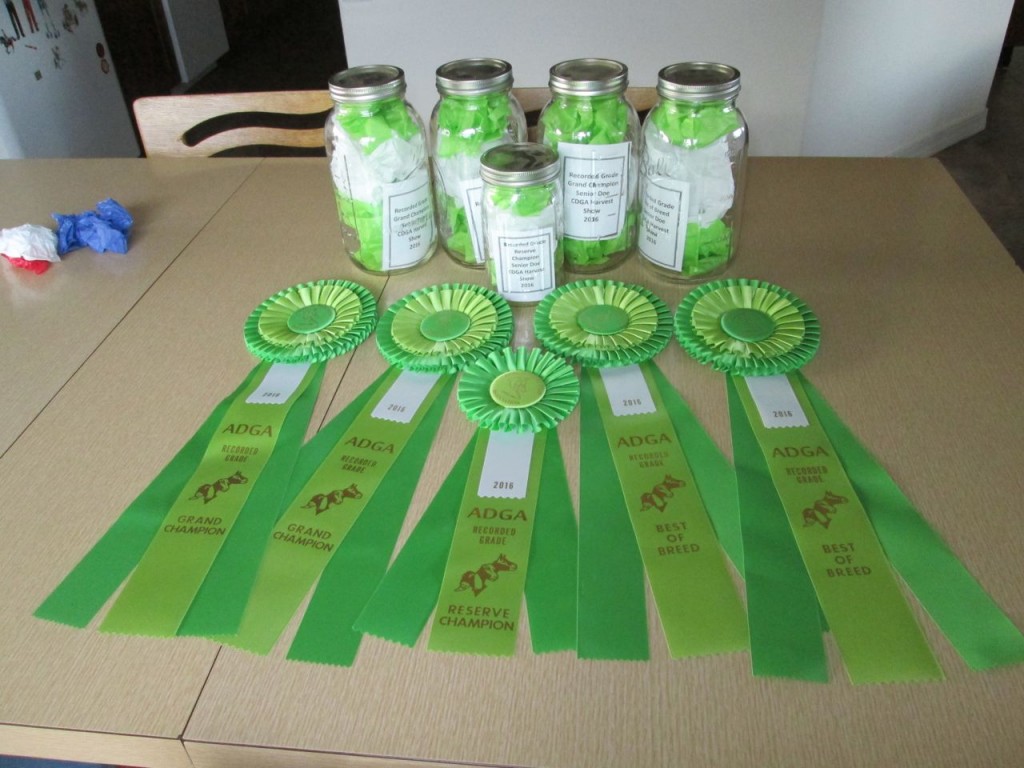 It was a fun show but we're happy to be home with the show season over. Now it's time to look forward to our annual goat vacation!