After saying goodbye to our friends and to Pac-Man at Goblin Valley, Phil and I headed out to Escalante. We spent a relaxing first day hiking up the Escalante River (which was really more of a trickle), and it was a great opportunity for the younger goats to practice getting their feet wet over and over again.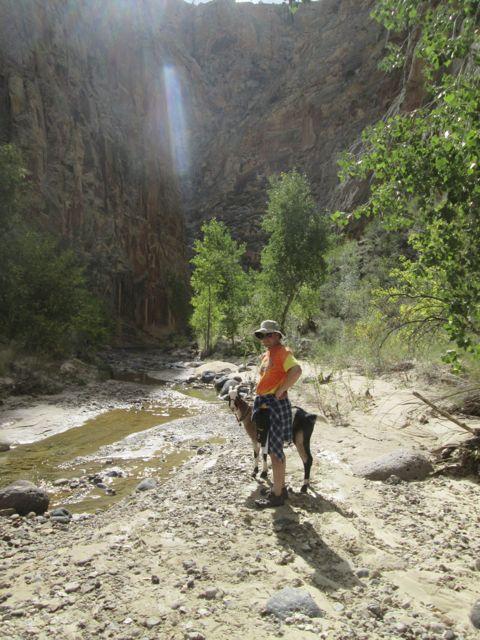 Sputnik had the honor of carrying our food and water that day. This little Outward Hound dog pack was super cheap and it's not perfect by any means, but as long as we adjust the straps correctly and balance the load exactly, it seams to stay neatly in place most of the time. It held up better than I expected on this trip, considering how often it was scraped on branches and rocks.

We were surrounded by beautiful, high canyon walls for the entire hike. At one point, Phil and I used "math skills" to estimate the height of the cliffs. I looked at a tall pine tree way up on the wall and estimated the height of the tree, then estimated how many would have to be stacked on top of each other to reach the top. I arrived at 450 feet. Phil thought that might not be accurate, so he used a stick to measure the height of the wall (one stick length) compared to the length of his arm (two stick lengths). Then I paced off our distance from the wall, which turned out to be about 900 feet. Whether we were right or wrong, at least there was no argument.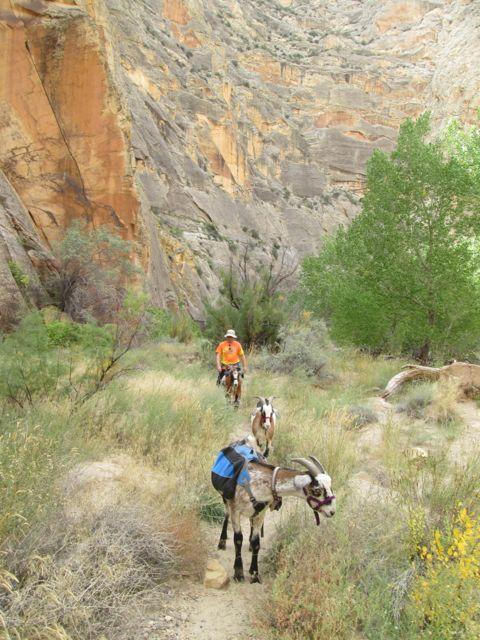 We came on the Escalante hike two years ago, and we were surprised this time to see that the rock art had recently been "modernized" by what appear to have been some teenaged visitors wielding charcoal lumps from a nearby fire pit. A nice couple took a photo of us and our goats in front of this mix of old and new graffiti.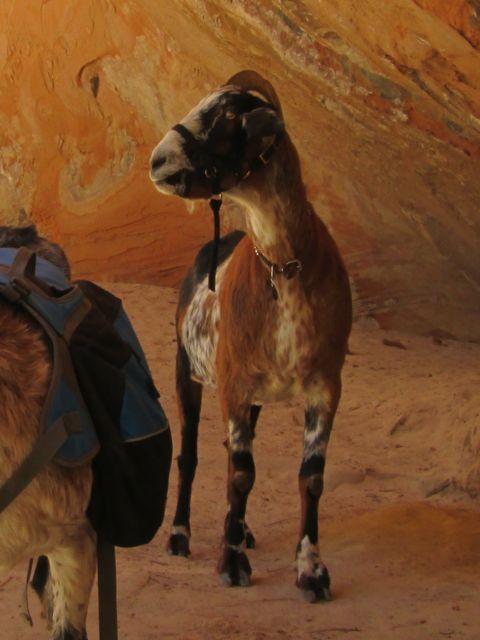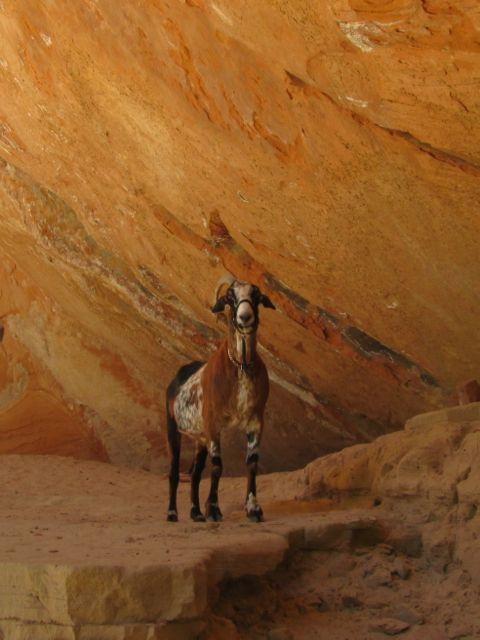 Sputnik is shaping up to be a pretty decent hiking companion. He seems to enjoy carrying a pack. I think it gives him a sense of purpose and importance–a feeling a bottom-tier goat doesn't often get.

There was plenty of shade on this hike, and a creek to keep our toes cool. This was especially nice for Cuzco, who is definitely beginning to feel his age. He hiked 12 miles to Wild Horse Window and back and never once lagged or complained. And Phil and I probably took him about 10 miles on this Escalante hike even though he had spent the previous day walking the hard surfaces of Goblin Valley and riding in the trailer over the winding, twisting State Highway 12. But in spite of his creaky joints and shortness of wind, I think Cuzco truly enjoys these expeditions.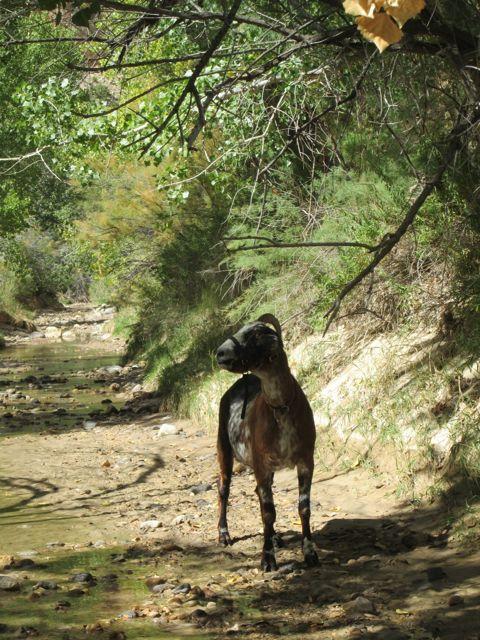 And he's a great example to the yearlings. Cuzco bravely crosses water that the younger guys will do almost anything to avoid.

Case in point:

Finn took charge of the pack on the way back. Since they are only yearlings, we kept the pack lightweight and we never made either one carry it for the entire hike.

Speaking of goats not wanting to cross water, this is what happened when Finn led instead of Cuzco. Cuzco stares bemusedly after Finn's questionable choice of navigation.

Sputnik spent our entire time in Escalante expressing his undying opinion that Finn is an infallible leader.

Every single thing Finn did…

Sputnik did too.

Sputnik became Finn's shadow, and since Finn is showing early signs of becoming an incredible packgoat while Sputnik has always possessed some fairly questionable personality traits, I can only think that this copycat behavior is a good thing.