Our second day in Escalante was cold, windy, and full of rain. We spent the morning doing laundry and hoping the skies would clear but they never did. We have to be especially careful of Cuzco these days as he's not very resistant to pneumonia in his old age. The rain gave way to sullen, brooding skies in the afternoon, so we took a chance on the weather and darted out for a brief but pleasant hike up a butte just outside of town. We had originally planned to go down the wash, but someone ahead of us had a bunch of rambunctious loose dogs, so we turned off the trail and made our own way up toward a cool-looking rock outcropping we could see from the valley floor. It turned out to be even cooler than we realized! We discovered a weird, crumbling little mini-arch with a spectacular view of the town of Escalante and the surrounding valley with its beautiful rock walls and lovely green farms.

Finn says, "I want up there!"

If you see a small tunnel, you have to squeeze through it!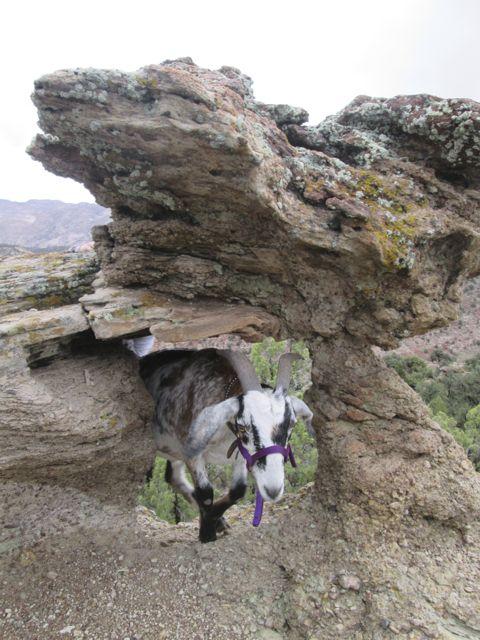 I tried to get pictures of the view from the top, but the flatness of the light faded it all together and I tossed those photos. So here's a picture of my handsome husband enjoying the view instead.

We also found a cool boulder.

And then it started to rain so we packed ourselves as tightly as possible under my umbrella and raced back to the truck. Finn, in a moment of blind panic about getting left behind in the rain, tried to get himself run over. I always have to back the truck up to a bank or a rock so Cuzco can get in. Finn didn't want to wait and he bolted away from Phil and leaped into the truck while I was backing up. I didn't even see him until he landed on the tailgate and almost gave me a heart attack. Cuzco got wet, but not too wet. I blanketed him and bedded everyone down cozy in their trailer as soon as we got back. It was a short adventure but a memorable one.