After a restful night and a hot breakfast, Phil and I traveled back to The Wedge to rejoin our group. It was a hazy morning at the Little Grand Canyon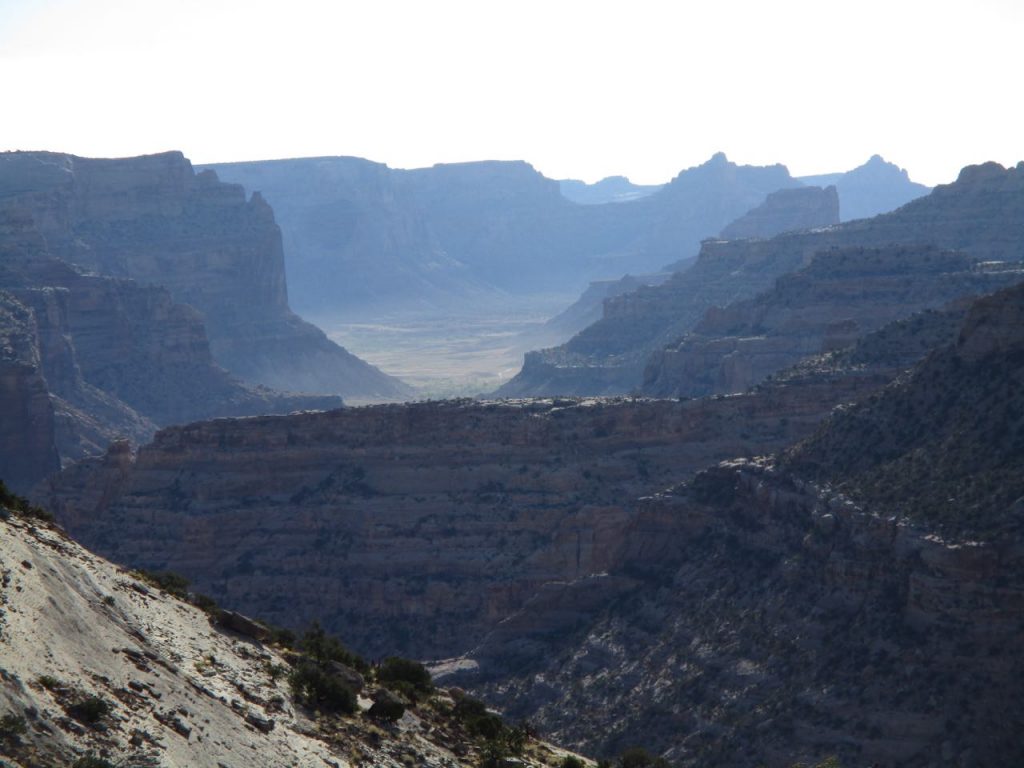 We all spent a great deal of time admiring the view, but Finn especially liked to get up-close and personal.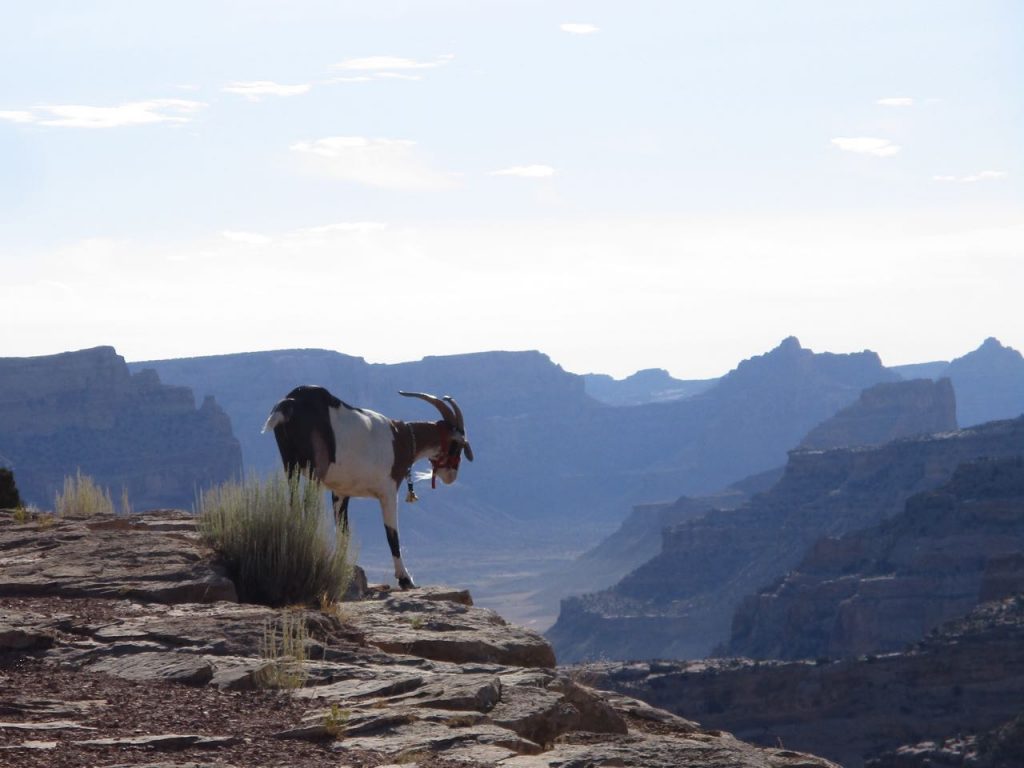 Finn and Sputnik performed daredevil cliffside walks.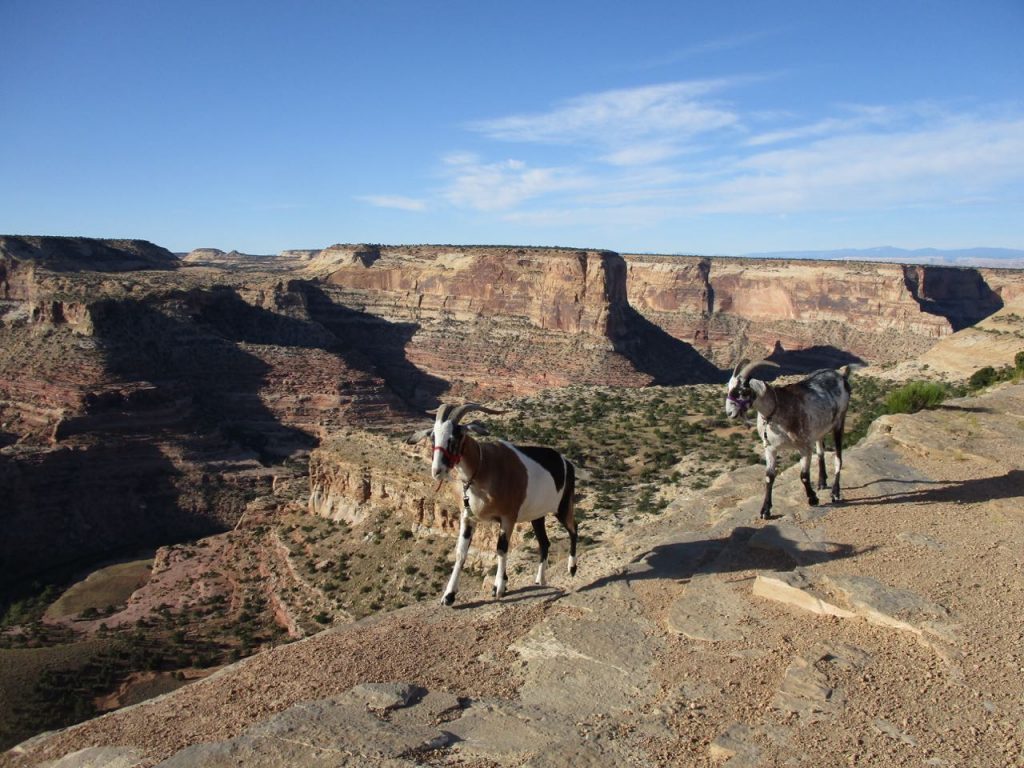 "Helloooo down there!"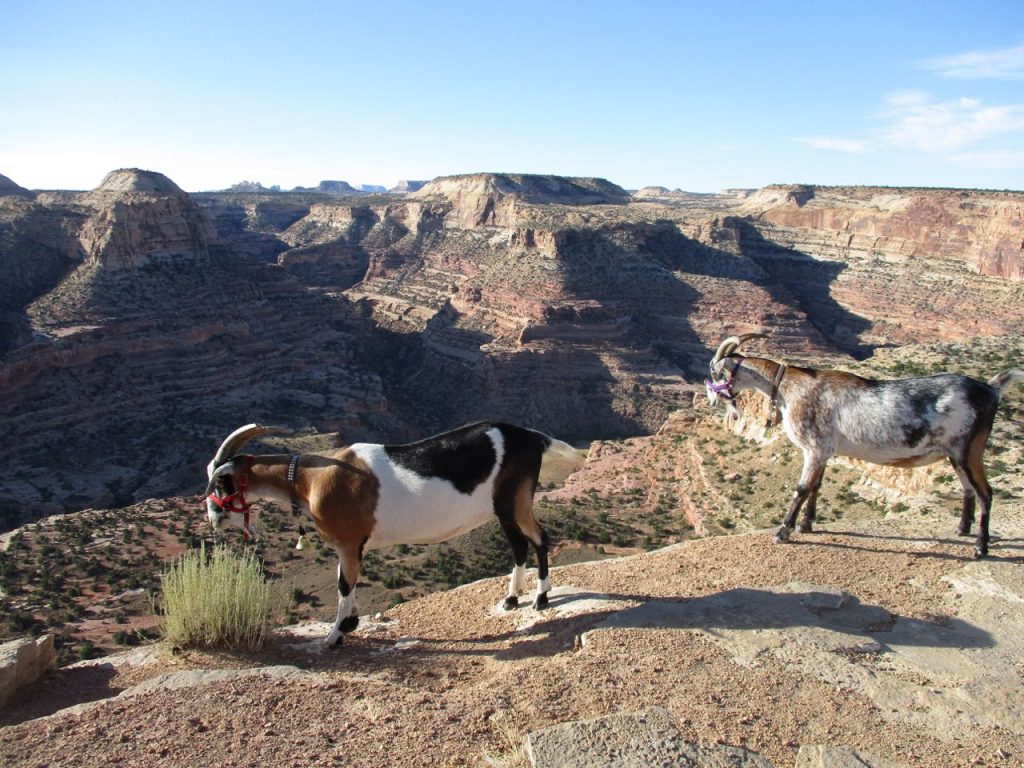 Since it's Sputnik, I know he's not quite as close to the edge as he looks. He's a fairly cautious fellow.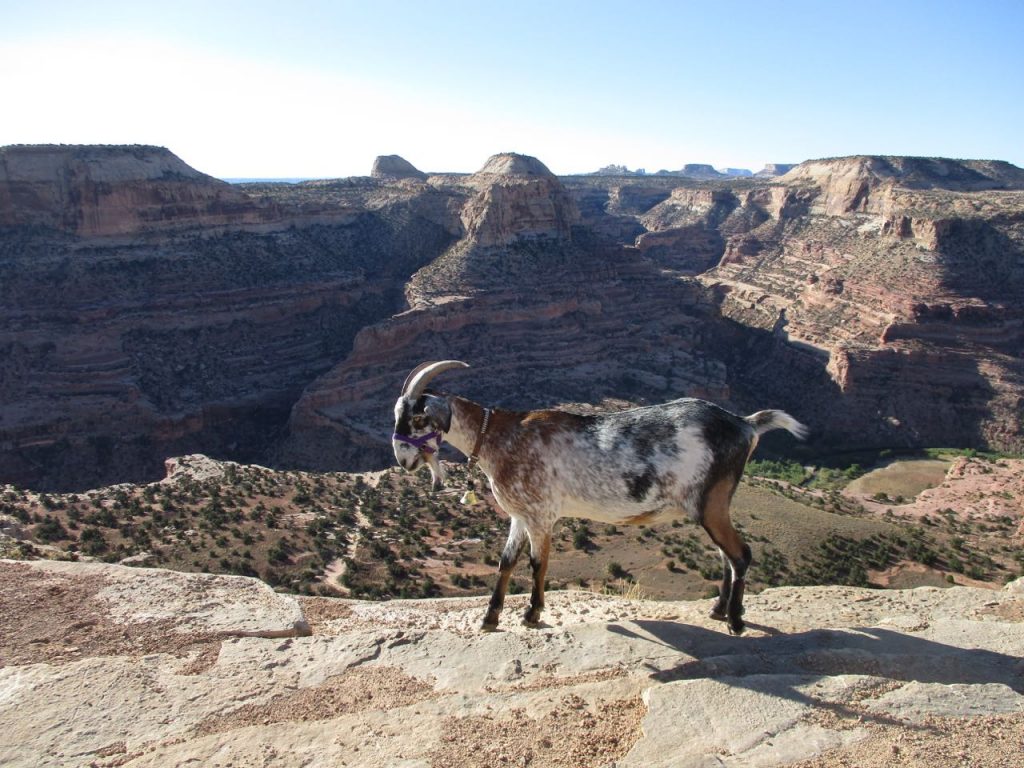 Herb's goat, Bacchus, commands center stage.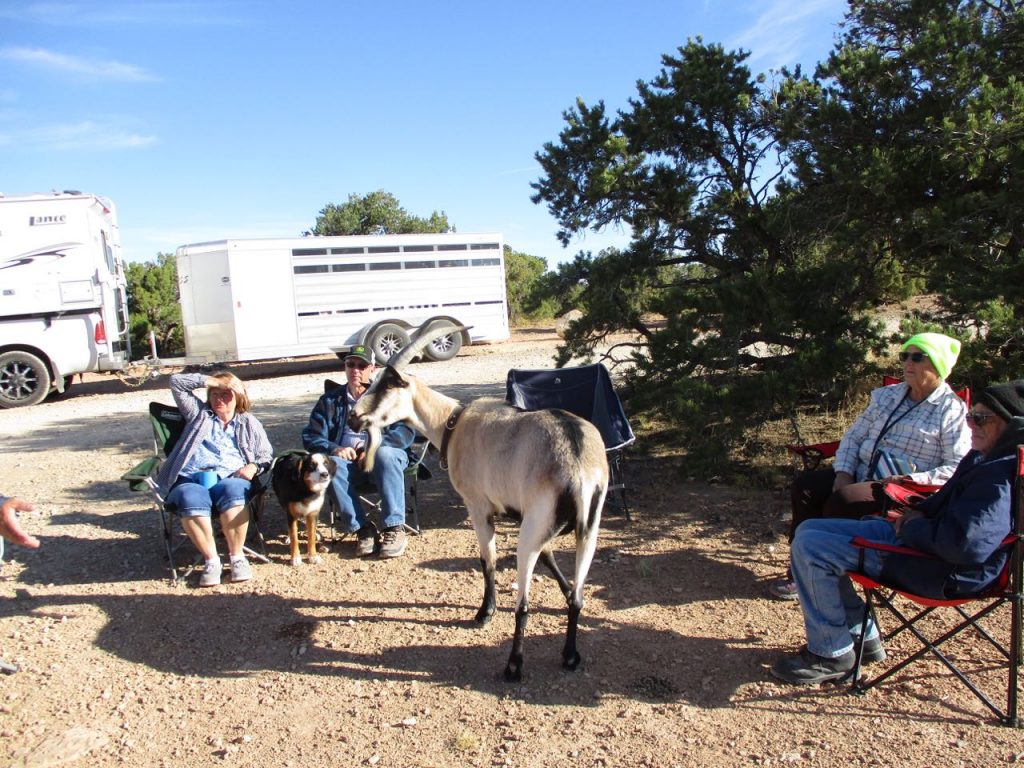 That afternoon we drove to the bottom of Buckhorn Draw and hiked a short ways up Calf Canyon. It took us a while to get going, and it was during the prep time that a cyclist came by that I'd seen the day before on top of The Wedge. He had been coming just as we had been going, but today he stopped because he was curious about our goats. We told him a little about ourselves and then he told us he was on an adventure to ride his bicycle from Canada to Mexico using almost exclusively dirt roads. So far he had been mostly successful at avoiding pavement. His name was Matt, he was about 30 years old, he had a broad, infectious smile, and he was a Coloradan like us! He had snuck across a rancher's land so he could quickly touch foot on Canada, and now he was headed for the southern border. He was the epitome of the carefree, wandering spirit. He'd spent time in Montana teaching a marching band class to earn money for his trip. He'd spent time playing in a jazz band in New Orleans to earn money for a similar bike trip the year before. He traveled impossibly light and would camp in the open on public land, filtering water from creeks and stock tanks. What a marvelous young gypsy! I'll never forget that great, toothy smile, deep tan, and dark eyes sparkling with the joy of adventure. We shook hands and wished him best of luck on his journey then packed our goats and set off on a much shorter journey of our own.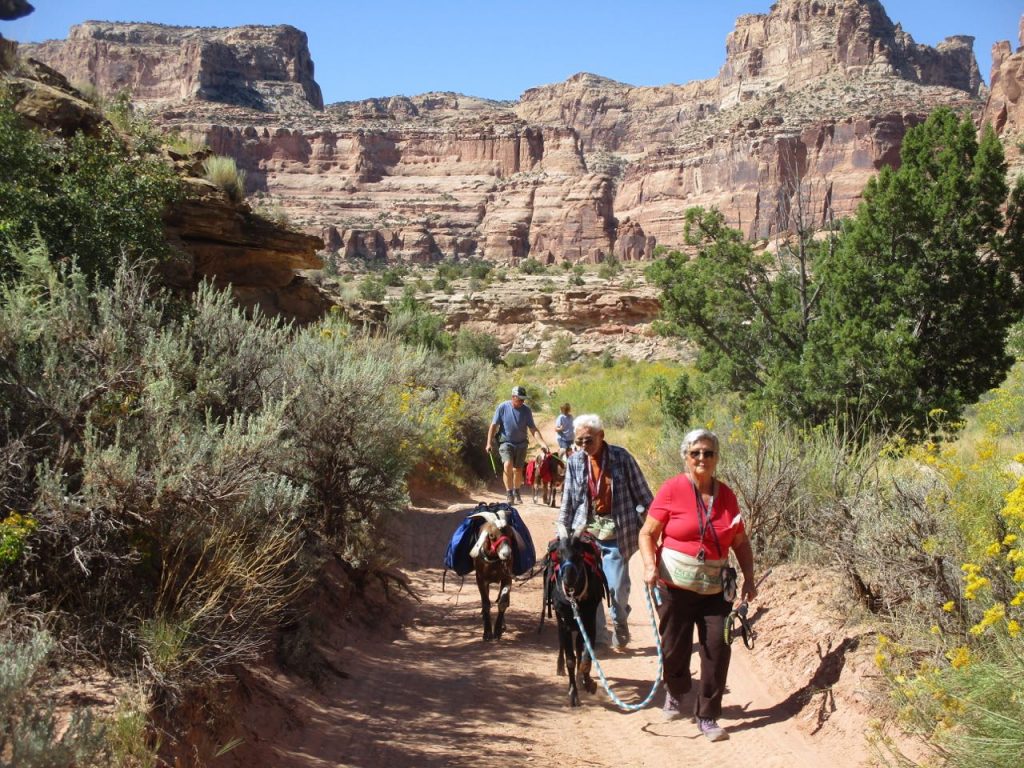 I spent the first part of the hike with Taffy. We went slow, but that gave us plenty of time to visit.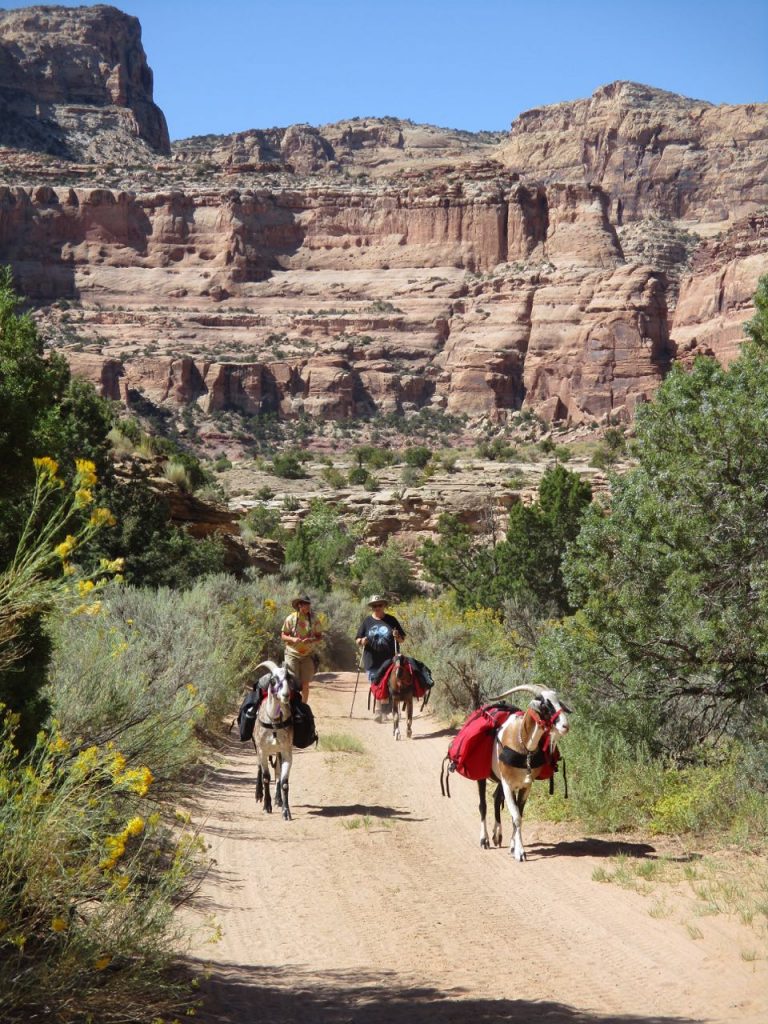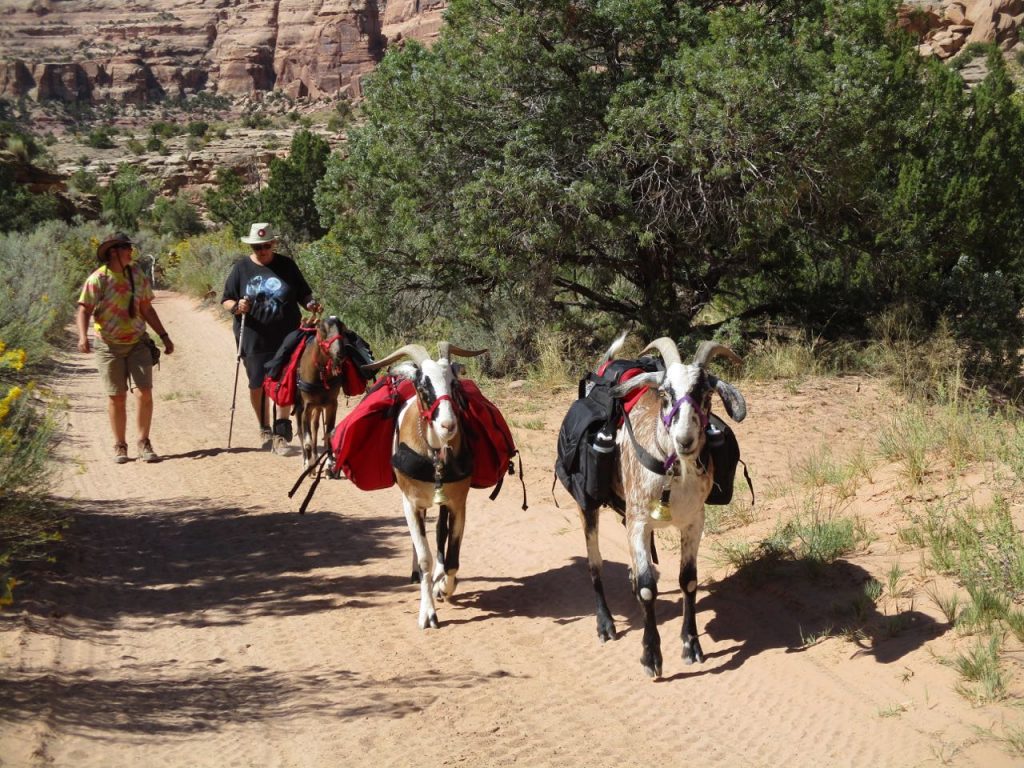 We ate lunch in this little grove near a spring before heading back. It was a short hike but a merry one!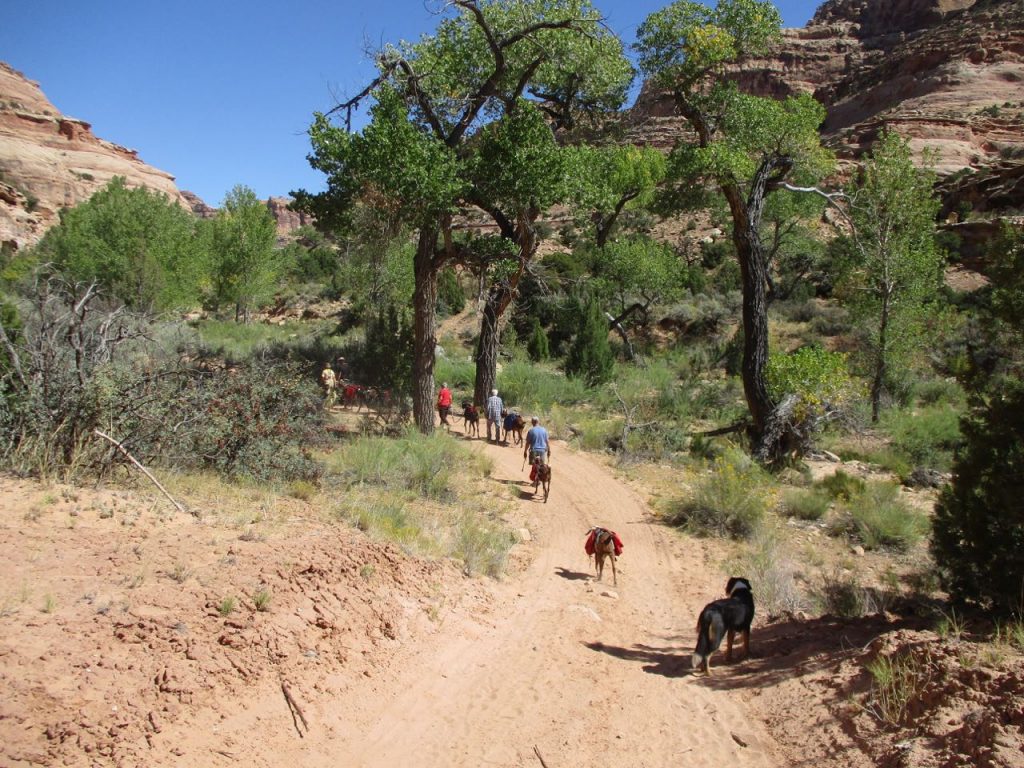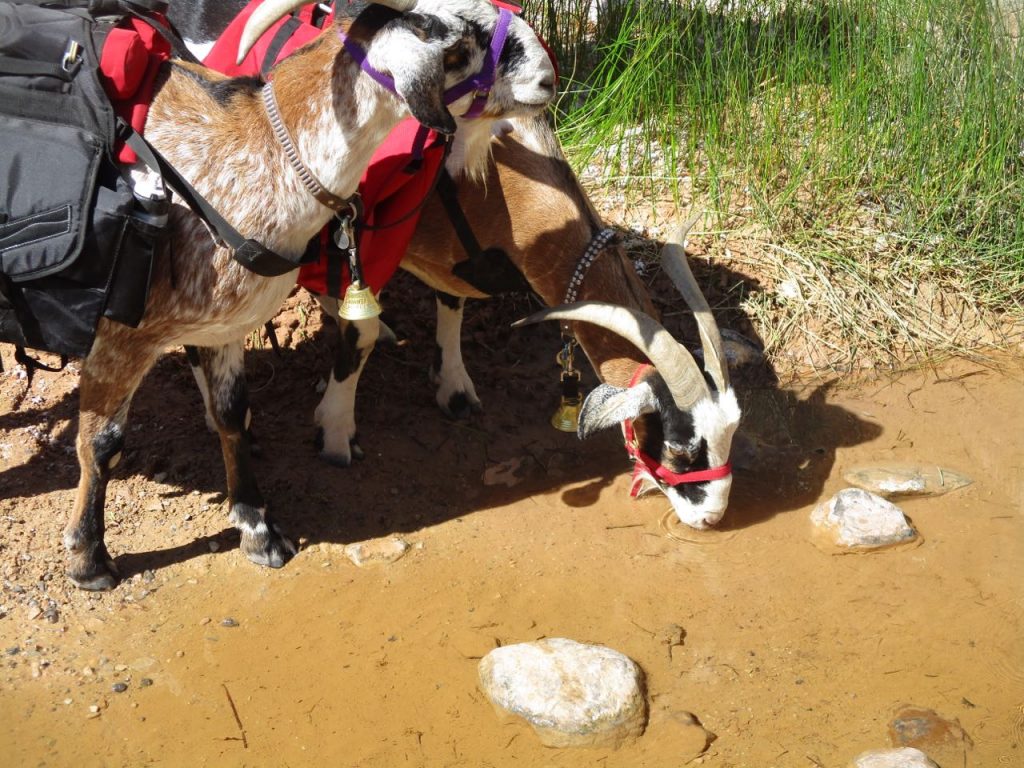 On Tuesday morning we stopped by the San Rafael Museum before heading out to the Goblin Valley area. We were greeted by a replica of a famous petroglyph in the area that Phil and I saw once before in person when we visited Ferron in 2018. I didn't remember seeing this goat! Of course, the replica is somewhat more clearly etched than the original, and also there are a LOT of figures on this panel. But here is the goat now since I apparently missed it the first time…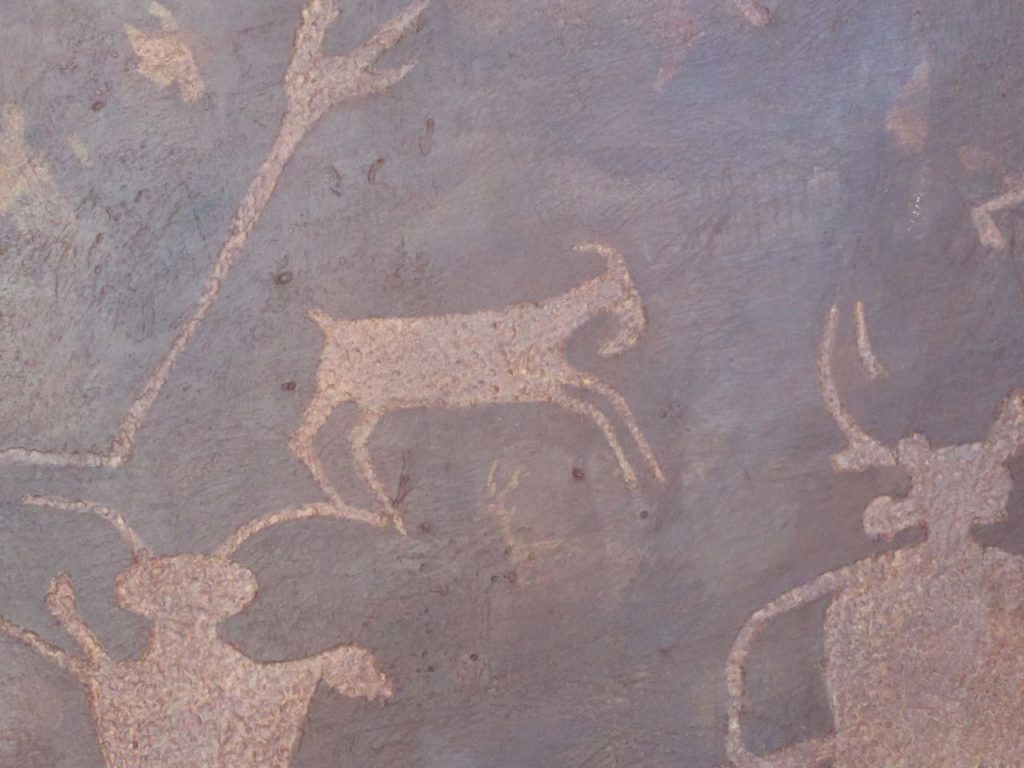 Phil poses with one of Finn's distant relatives.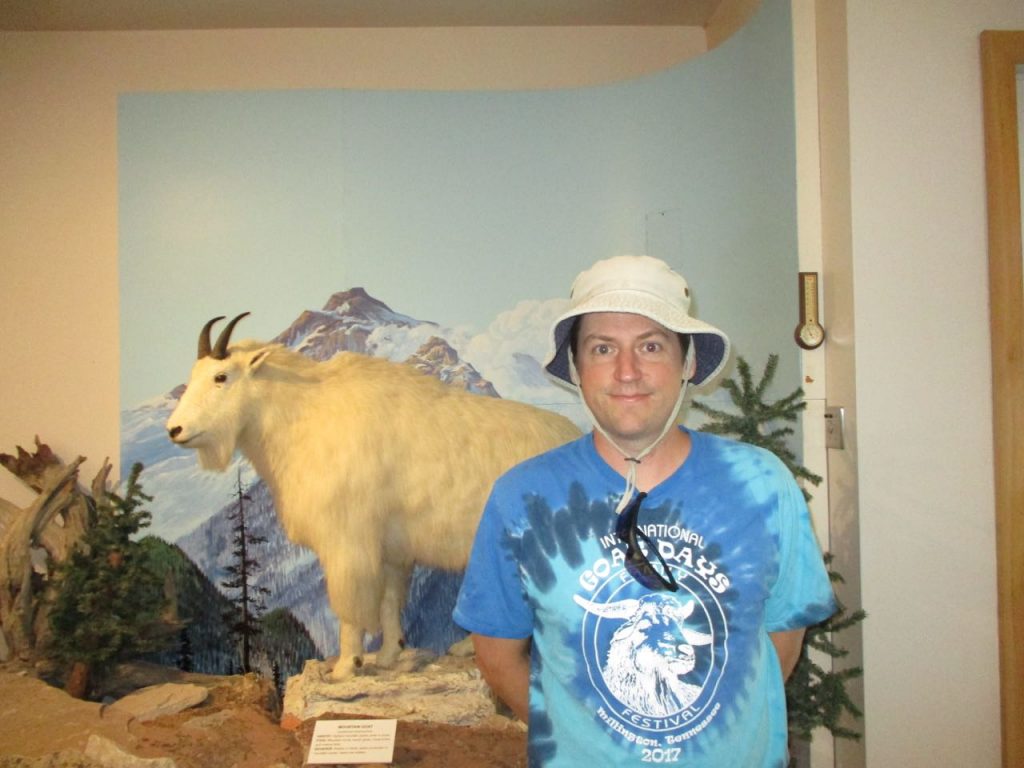 Phil was highly amused by this old high school spanking paddle. The word PAIN is drilled into this "board of education"!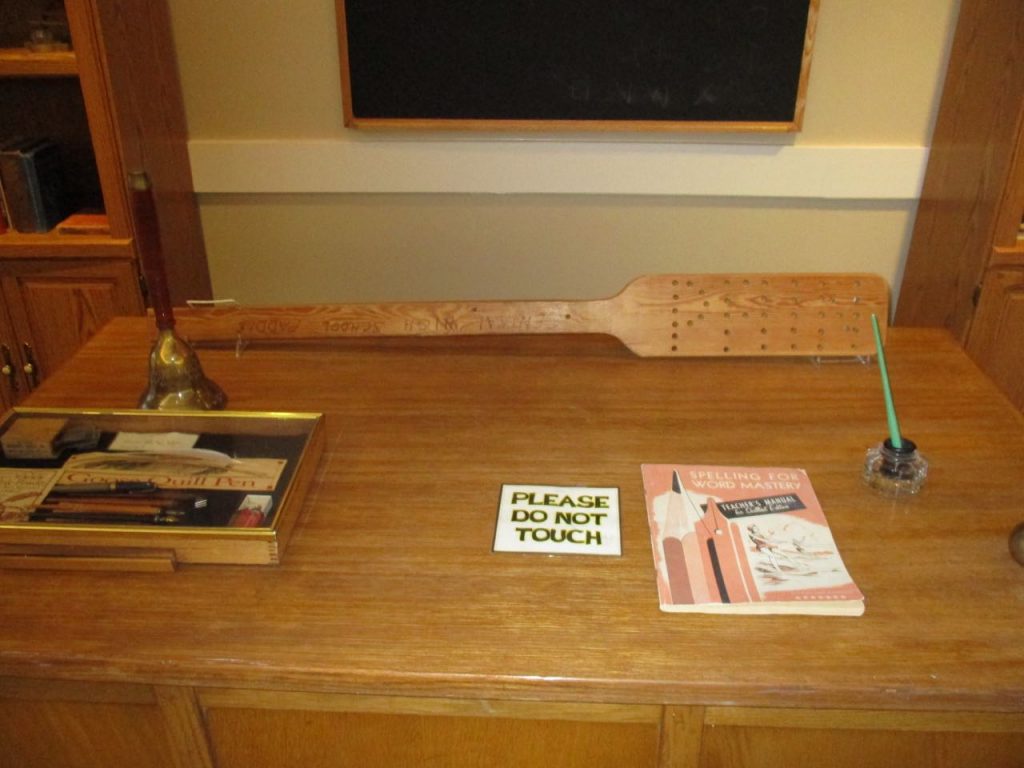 We found a wonderful campsite near Goblin Valley, and the best part was that there was a scenic little wash that went right by so we could explore or go for interesting walks right from camp. We did a little exploring that first night before dark.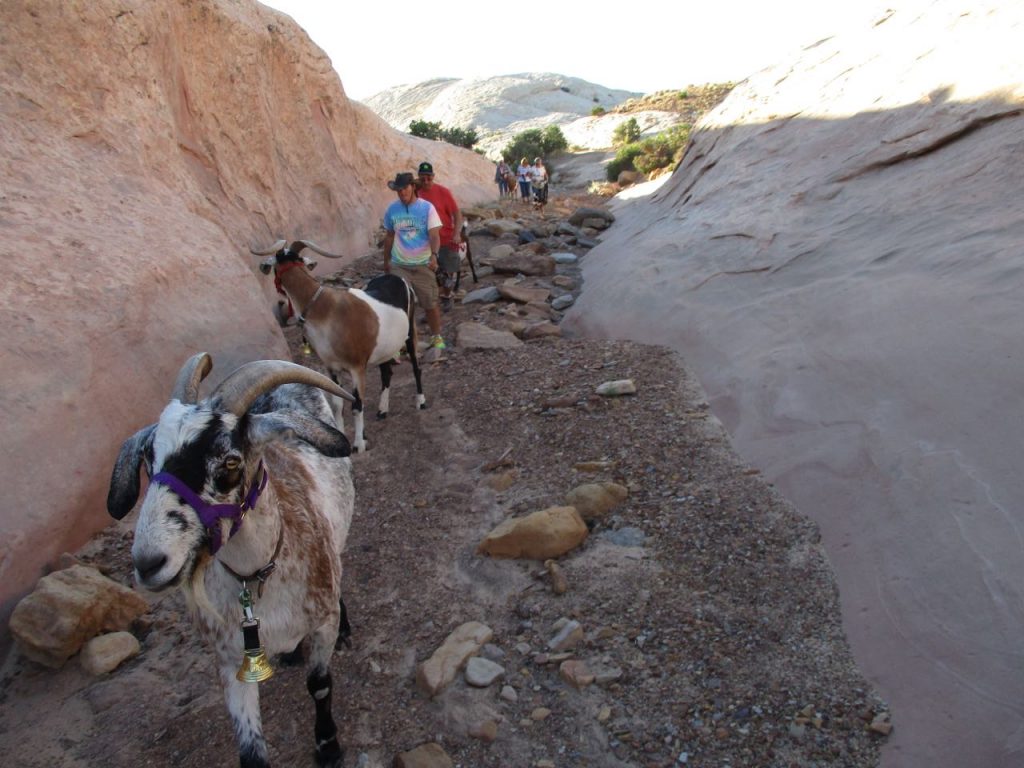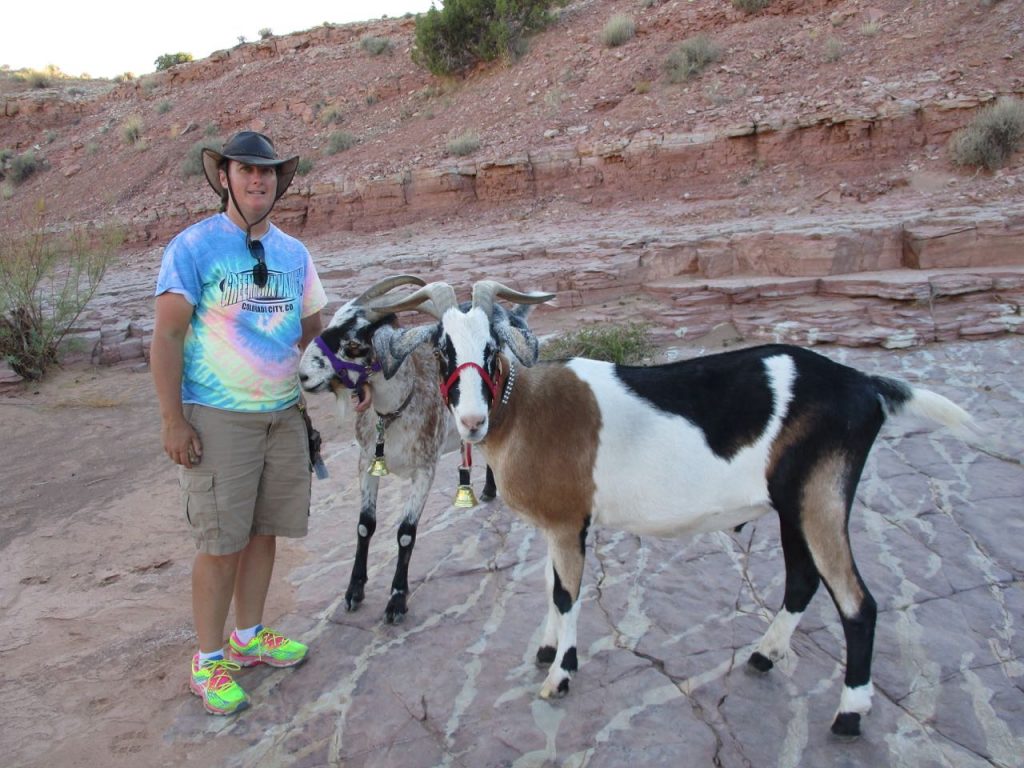 Eldon and Hobbes share a moment. Hobbes is so like a miniature Pac-Man.