And the fun didn't stop!
Goat Trail was only a there-and-back detour from the Centerpoint Trail, which we continued down for a couple more miles to Granny Henderson's homestead, reluctantly abandoned when the Buffalo National River was established. Poor Granny. She was kicked out by the National Park Service even though she and her husband had built this home together in 1912. She was told she could stay but only if she gave up her livestock. She felt the same way about her critters as we feel about ours and decided it wouldn't be home without them. She packed up and left in 1978 but died shortly afterward from the stress of leaving her home and animals. I think she would have loved Finn and Sputnik.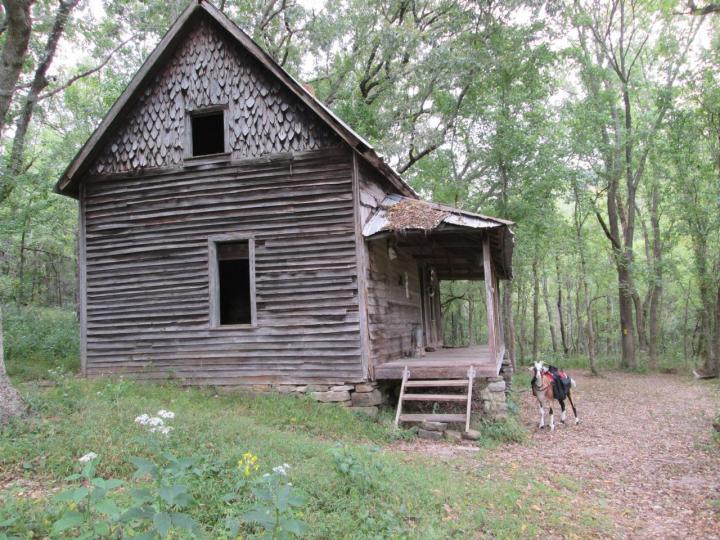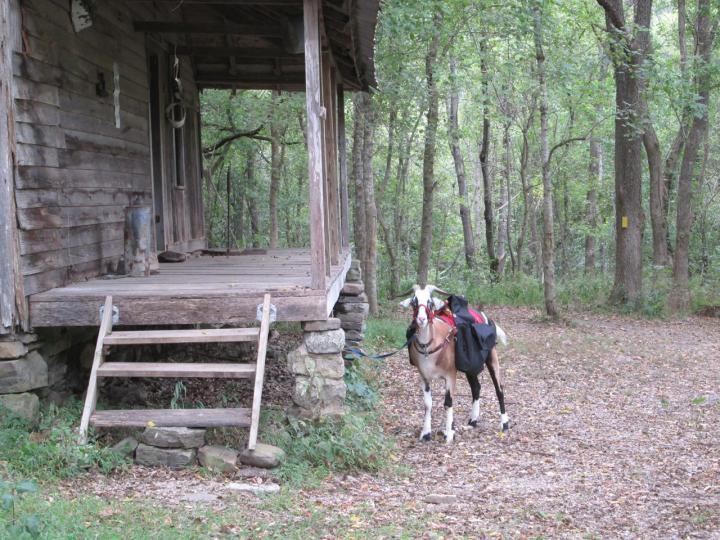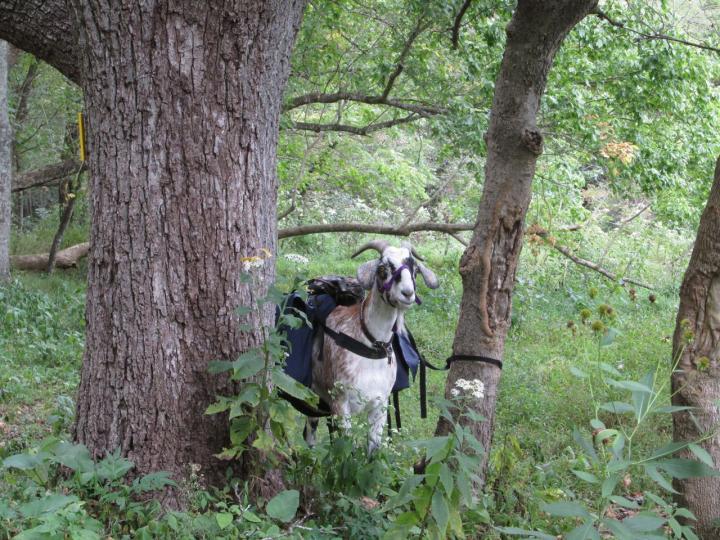 From there we hiked on to Hemmed-in Hollow, which at 250 feet is the tallest waterfall between the Appalachians and the Rockies–when it's flowing. We caught it during a dry spell, but I can imagine it would be spectacular when it's running. We had a nice lunch break here and unsaddled the goats for a while so they could take a break.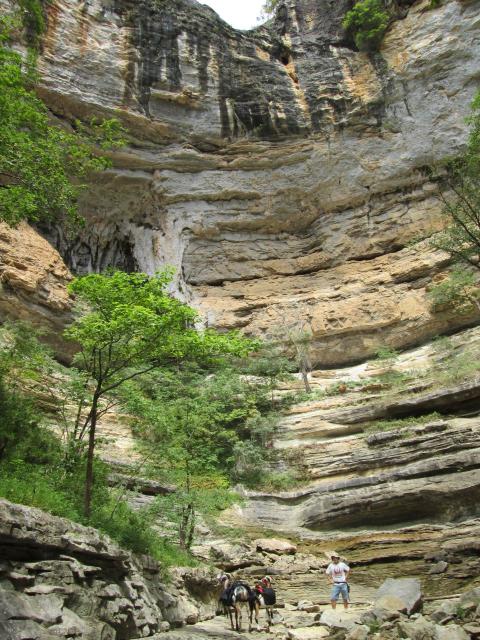 After lunch we decided to take the "long loop" back on the Old River Trail. I'm not sure if that was a very good idea, but at low altitude we felt like warriors and decided it would be somewhat feeble to retrace our steps.
I loved the root system of this tree.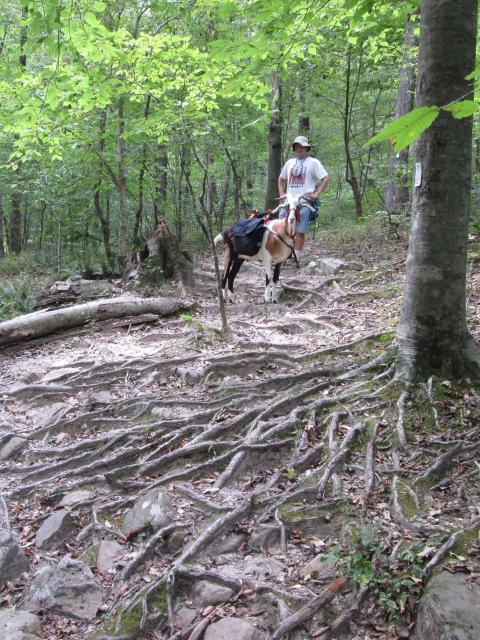 The Old River Trail turned out to have something like eight or ten river crossings (I eventually lost count).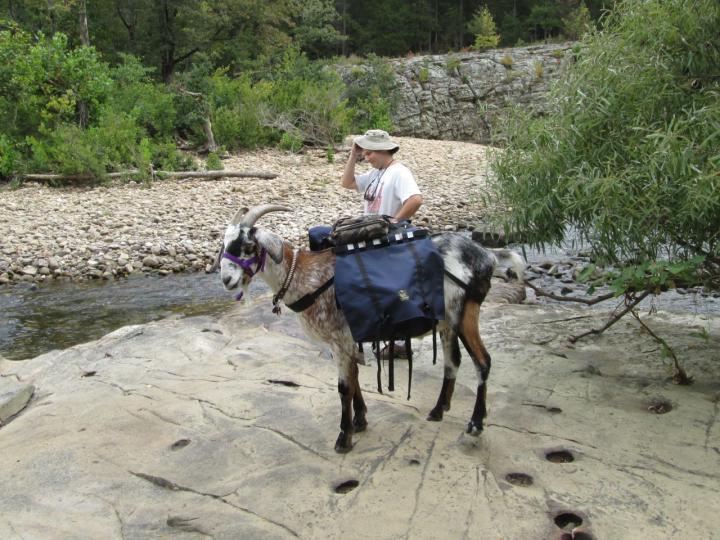 Since Phil and I did not bring water shoes, we spent a lot of time taking our boots off and then finding some dry place to put them back on again.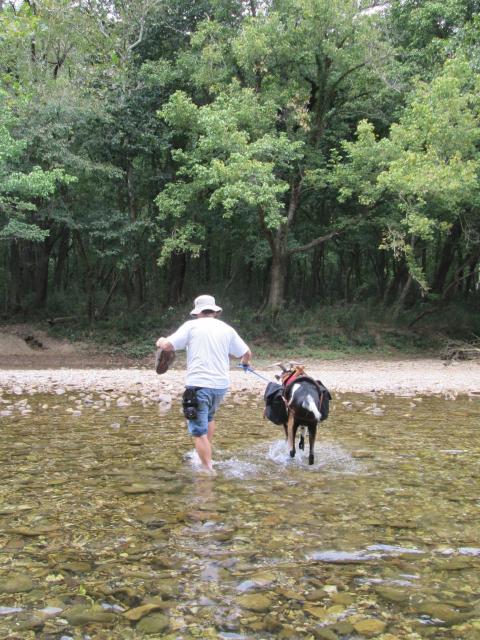 The goats were not particularly cooperative at the first crossing and made me go back over and fetch them. Normally our goats don't have a problem with water, but I think they had to get us back for making them swim the day before. After that we cut to the chase and put leashes on them before each crossing just to make sure there was no funny business. We didn't have time for shenanigans–we had something like eight miles to cover before dark and it was already late afternoon.
But I did take a moment to snap a photo of this cute little fellow hiding among the river rocks.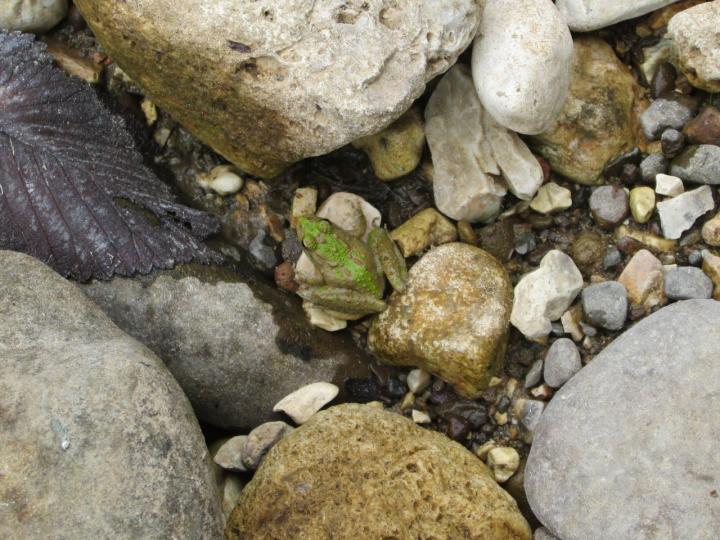 Phil loved this gnarled old tree, but the lighting was so bad I had a hard time photographing it. The hike along the river bottom was interesting. There were many old homesteads and even a school here in the early 1900's, but they slowly faded away in the 1950's and 60's as post offices in these remote areas were closed and school districts were consolidated. Then the Buffalo National River was established and the last few homesteaders were pushed out and their farms turned back into wilderness. It's hard to imagine all this forest as farmland.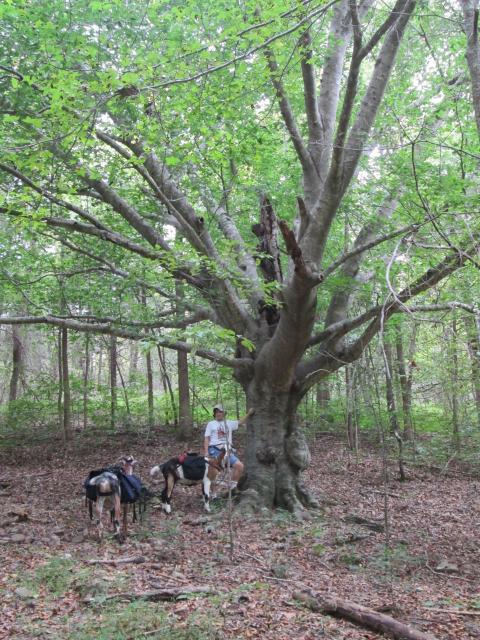 From here we could see Goat Trail from the bottom.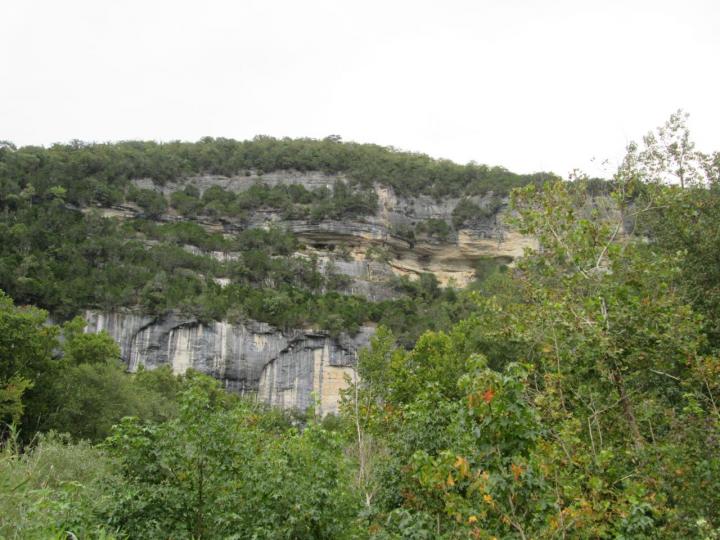 You can even see the ledge where we walked across the bluff.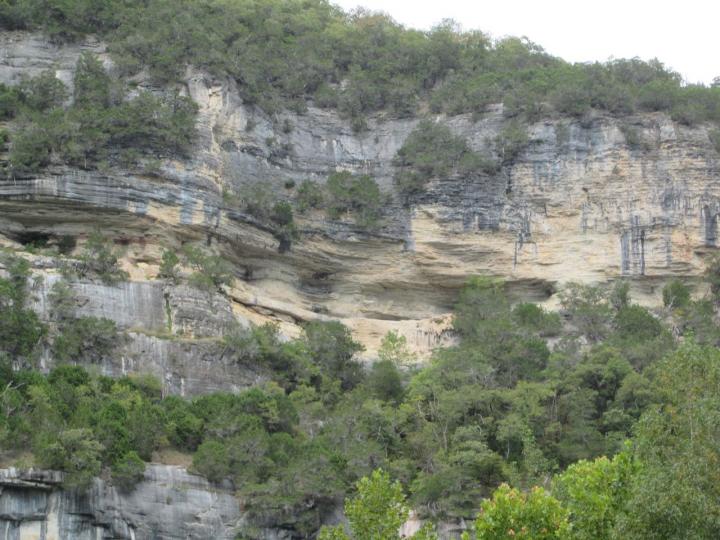 There weren't a lot of flowers, but I thought these were spectacular and they matched Finn and Sputnik's halters.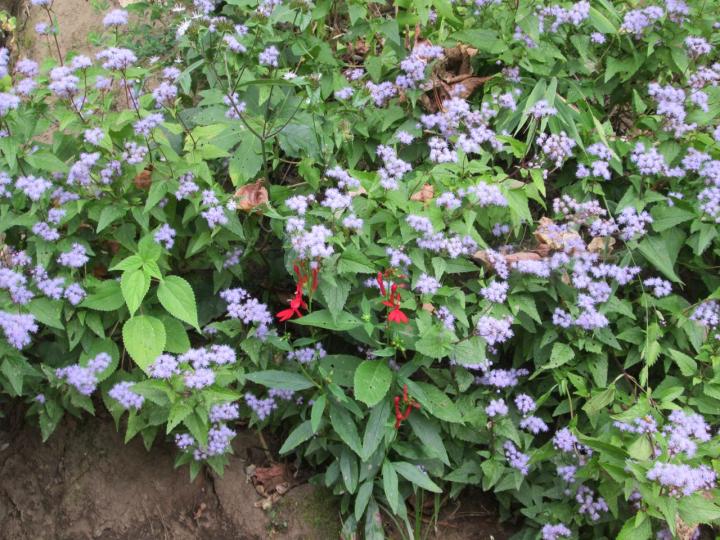 The goats were getting pretty tired at this point. There was a lot of sand in the river bottom which made hiking difficult for them, especially since Phil and I were keeping up a pretty quick pace.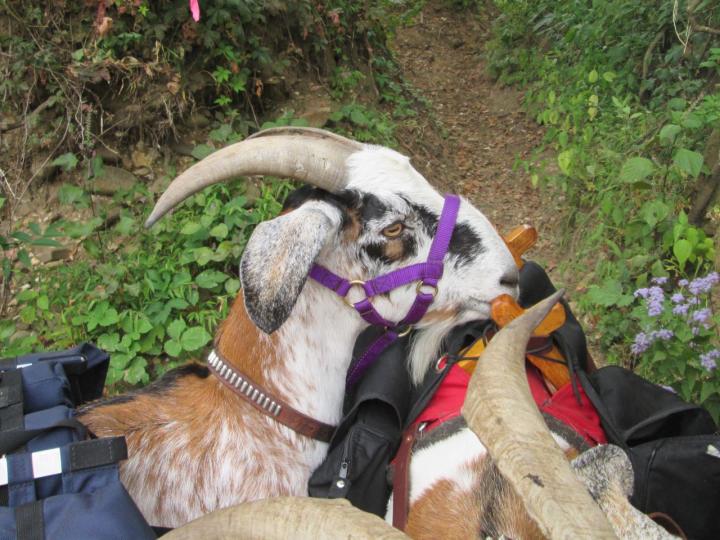 "Are we there yet?"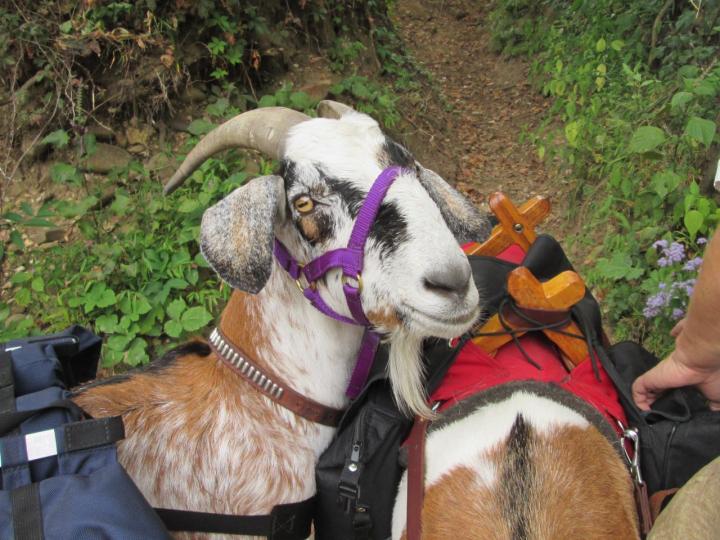 "Is this the last crossing?"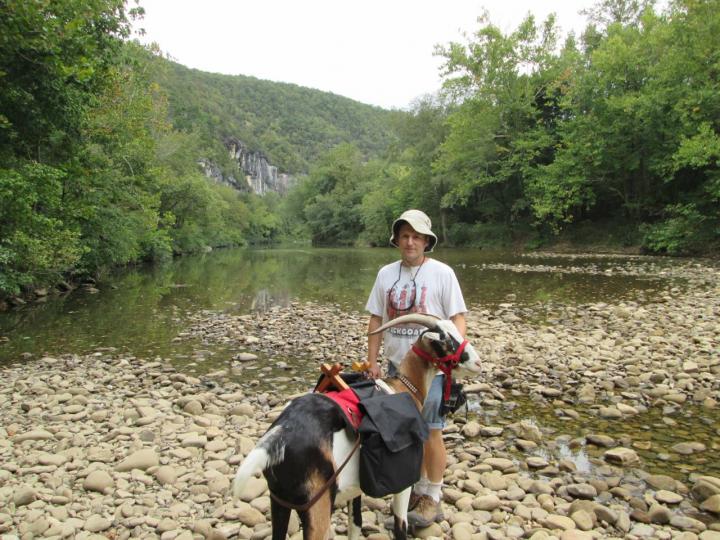 No, it wasn't the last crossing, but there weren't many more. We eventually made it to Steel Creek, which was a massive and perfectly groomed camping and staging area with real flush toilet restrooms which we happily made use of. I wish I'd gotten some pictures of the area because it was quite beautiful with its well-kempt lawns, and it felt eerie because no one was there except two Forest Service horses snorting suspiciously at our goats. The stabling area was massive with spacious pastures and corrals. I wondered if the campground were ever filled because it looked like it could accommodate hundreds of people and dozens of horses. It reminded me of the magician Coriakin's island in the book Voyage of the Dawn Treader.
After that we had a steep hike up Chimney Rock Trail. I'm not sure why it was so named except that there were a lot of rocks of the sort you might use to build a chimney. It was nearly dark by the time we arrived at our truck and all of us were very tired. It had been a wonderful hike and although it remained completely cloudy all day, we only got the tiniest bit of drizzle on us as evening approached. Phil, however, was covered in spiderwebs and also, it turned out, with seed ticks. They were all over his ankles. It took us a long time that evening to get them off. I had a couple dozen as well, but Phil bore the brunt of them. When all was said and done, it was very nice to get back to our cabin for a long soak in the hot tub. Finn and Sputnik put themselves to bed immediately and didn't make a peep all night