The 2018 North American Packgoat Rendezvous in Island Park, Idaho was a great success and it was the biggest one ever!
Phil and I arrived around 2:30 Thursday afternoon with low, threatening clouds looming over us. We decided that since we were tent camping, a sheltered location would be ideal. We found a suitable little spot, and no sooner had we pulled into it than the rain began to spatter down. I hustled to rig up a high line so we could hang our tarp and perhaps get our tent up before the real rain started, but it was hopeless. I threw the tarp over the line, but before I could get the corners tied off, the heavens opened and Phil and I were forced to retreat. We sat in the truck for a good half hour and more while rain and then hail pelted our foggy windshield and created ever-widening lakes around our tires. I was thankful that I'd packed my rubber muck boots with my raincoat. When the deluge slowed to a trickle, we slogged through the mud and hung our rain tarp, and then put two tarps on the ground under our tent. We'd read the weekend's forecast and we were determined to stay dry.
Once it stopped raining I put Finn and Sputnik out on a picket line to eat grass. We've been in terrible drought in Colorado, so these boys hadn't seen grass like this since last year! You can see our little tent in the background. And it did stay nice and dry all weekend even though we had several inches of very heavy rain Friday night.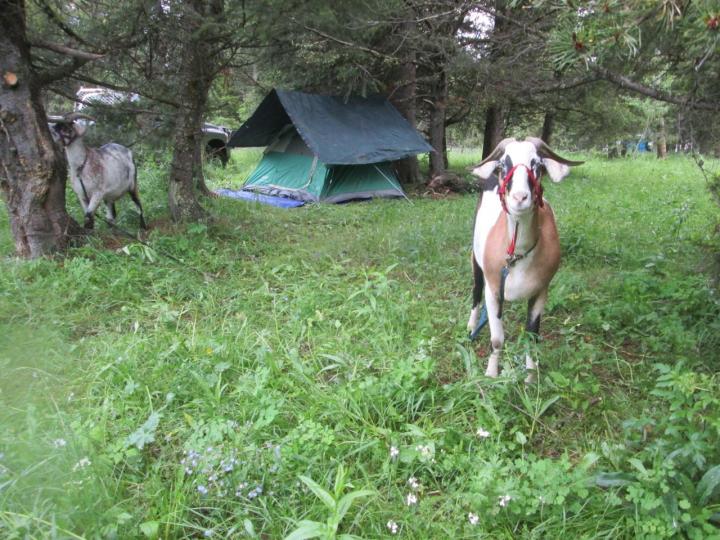 The first thing Phil did after setting up our tent was to scope out the thunderboxes. Dwite Sharp is in the background with the kids he brought.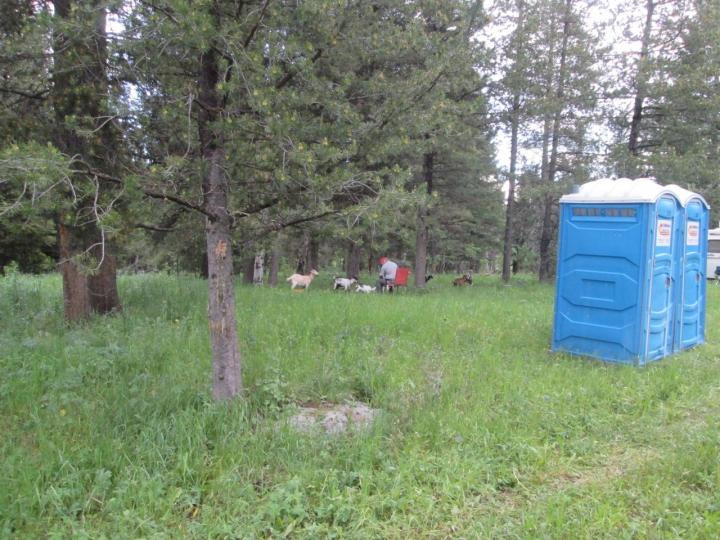 Phil and a few other folks got the tents up. It was cold, wet work. It was too damp that night to start a campfire, so it was a rather cheerless start to the Rendy. We were supposed to hold a NAPgA board meeting Thursday night, but the rain delayed setting up camp, and everyone was too cold, wet, and hungry to face down such formidable topics as amending by-laws and scheduling meetings with the Wild Sheep Foundation.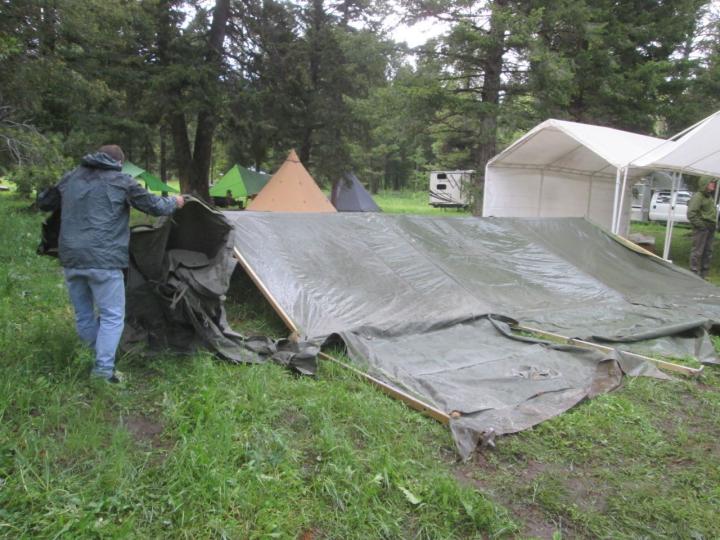 Friday morning we set up the Rendy store. The shelves are a bit bare here, but things got added as the day progressed. It was a very successful store this year and ended up raising around $3500!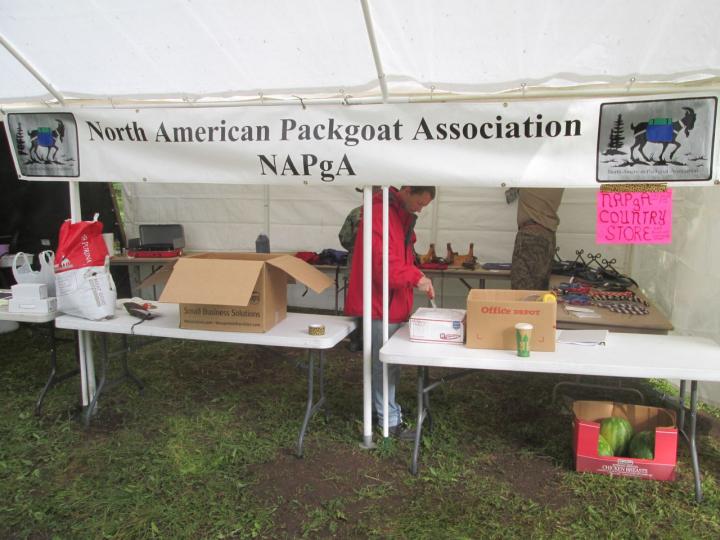 The army tent was so long it wound up encroaching on Finn and Sputnik's tethering area. It turned out very well for them. Since it was a high traffic area, they got loads of attention from everybody who walked by. Finn especially lapped it up.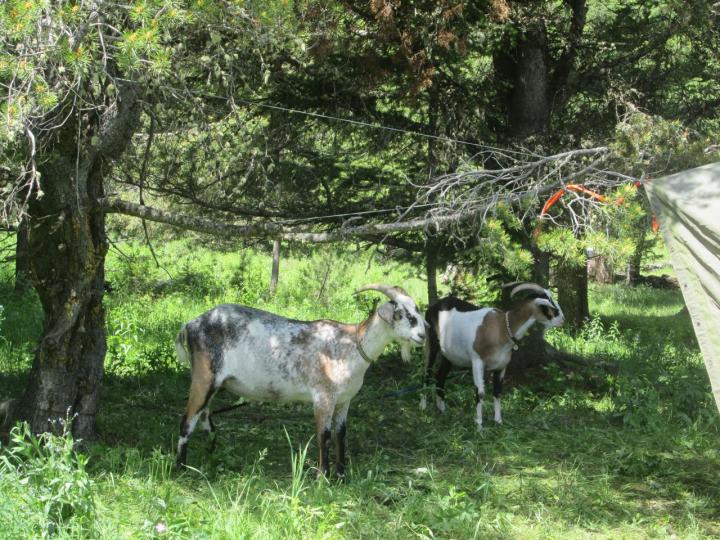 We had a board meeting Friday morning. Can you sense the thrill in the air?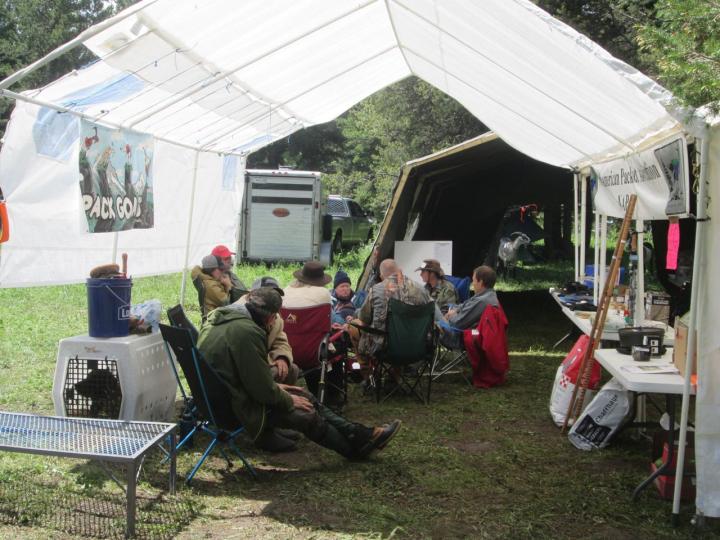 After lunch, everyone gathered round to hear Marc Warnke from www.gothunts.com talk about hunting with goats, transporting goats, keeping them fit, etc.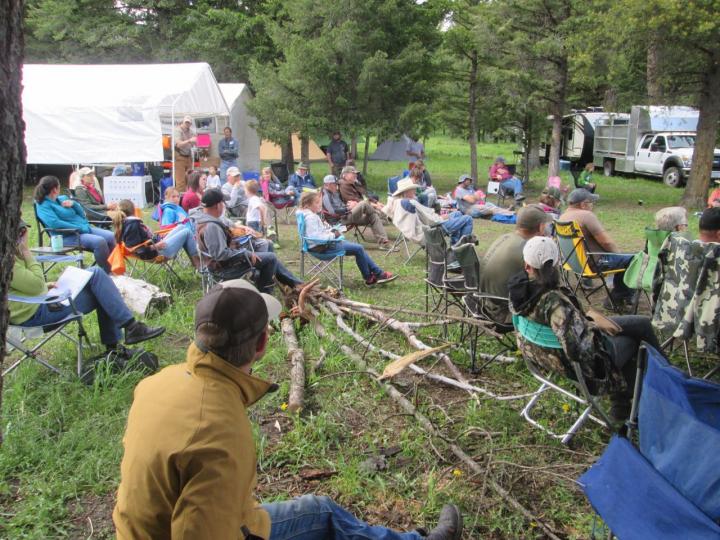 Marc and Matt Lyons also talked about the various saddles they've used, and showcased their own design.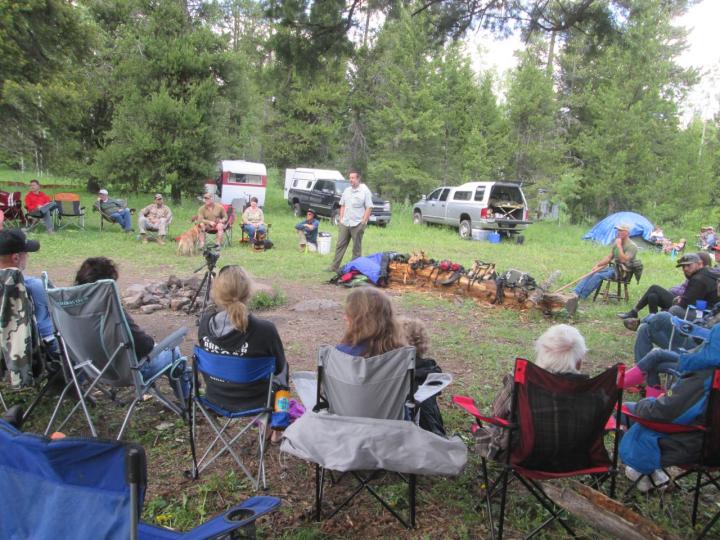 The sun finally made an appearance later in the afternoon, so Phil and I took Finn and Sputnik for a walk on one of the trails outside of camp. Kate from Australia came with us and we all had a great time stretching our legs and enjoying the scenery and sunshine.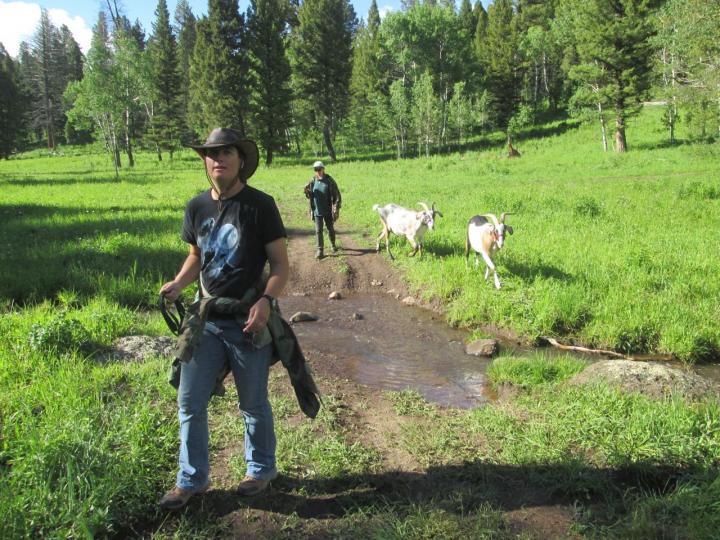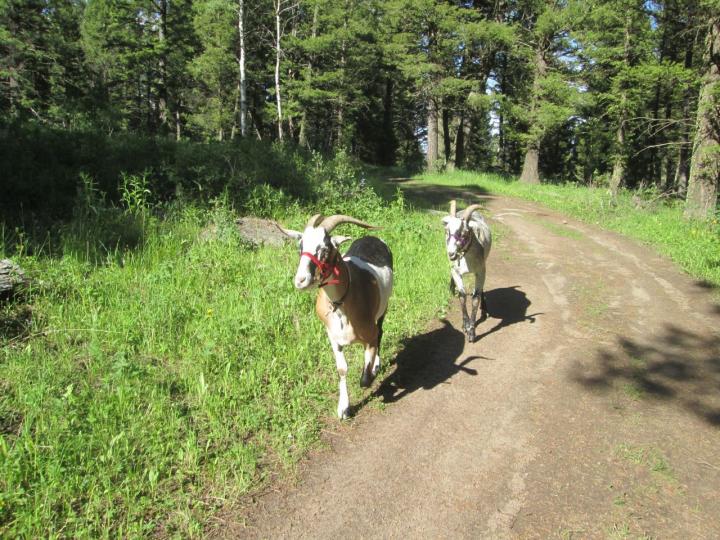 The boys were really digging the grass in this place! They hardly had to drink all weekend because there was so much moisture in the browse. That's a far cry from Colorado this year! Our grass never exceeded three inches, and now it's all brown and burnt to a crisp, so this Rendy trip was a real treat for these fellas.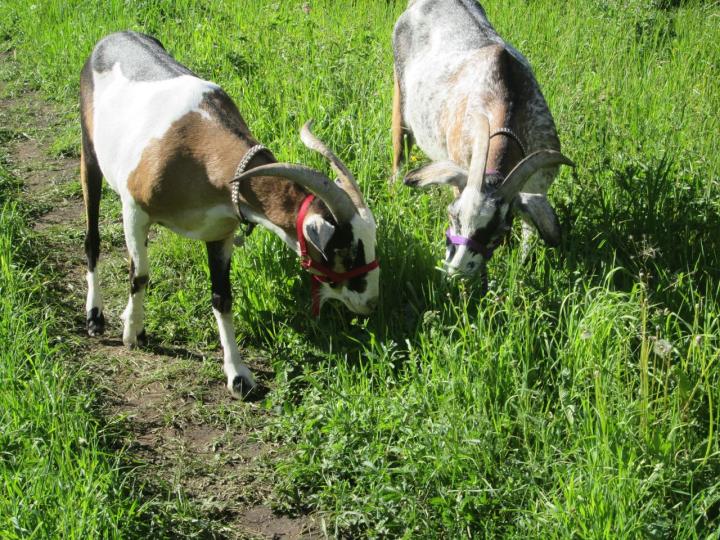 "Don't get your toes wet, Finn!"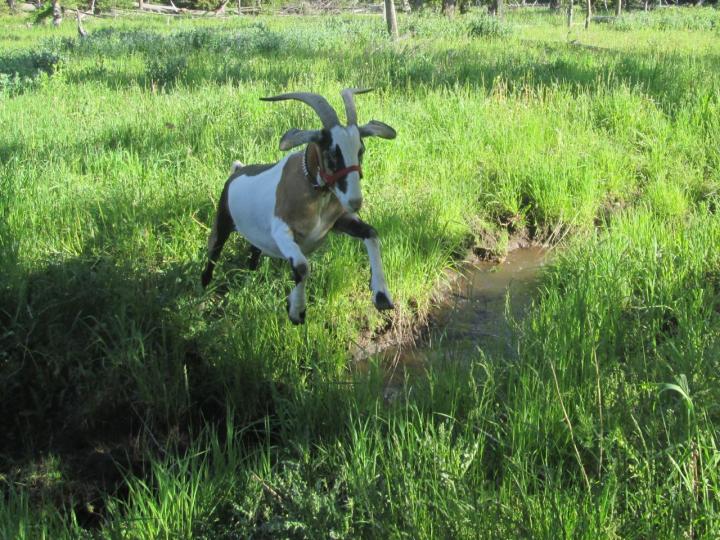 By Saturday morning, Finn and Sputnik had eaten and trampled their area down to the dirt. Compare this photo to the ones Thursday and Friday!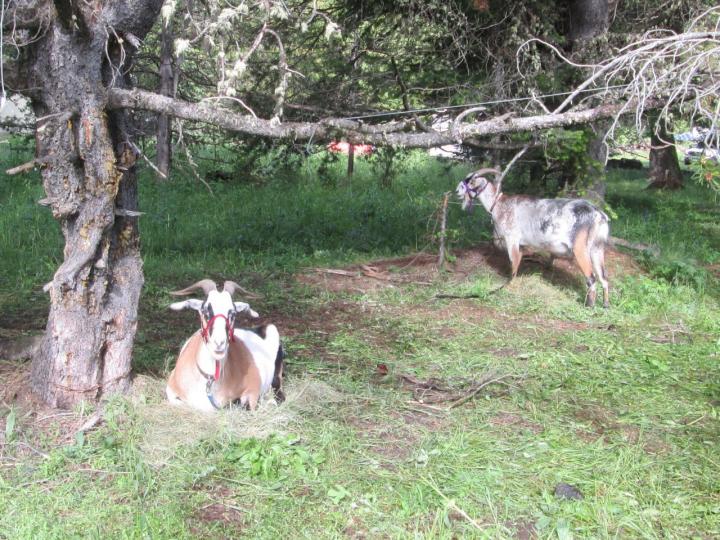 The day was clear but chilly. As per tradition, Clay Zimmerman kicked off the festivities with sourdough pancakes. We were grateful for the big army tent which provided a dry place out of the wind for cooking and buffet tables.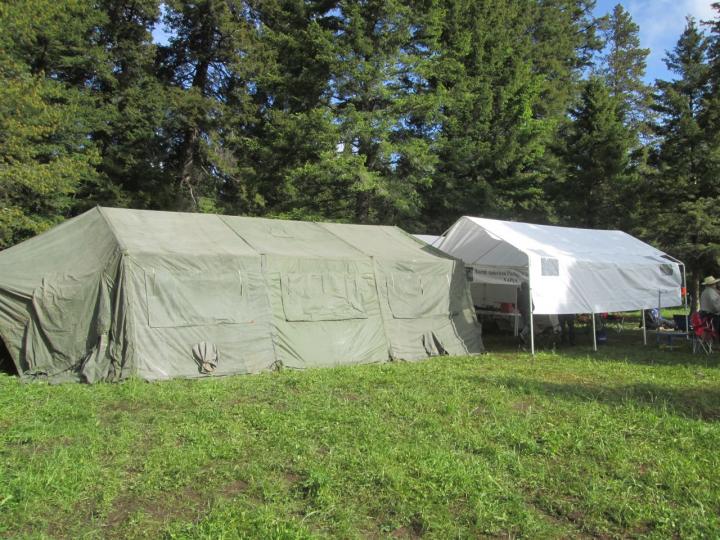 Immediately after breakfast, Clay and I jumped straight into our talk about saddling and saddle fitting. Clay spoke about saddle placement and the particulars of how to properly cinch up and adjust breastcollars and britchen straps.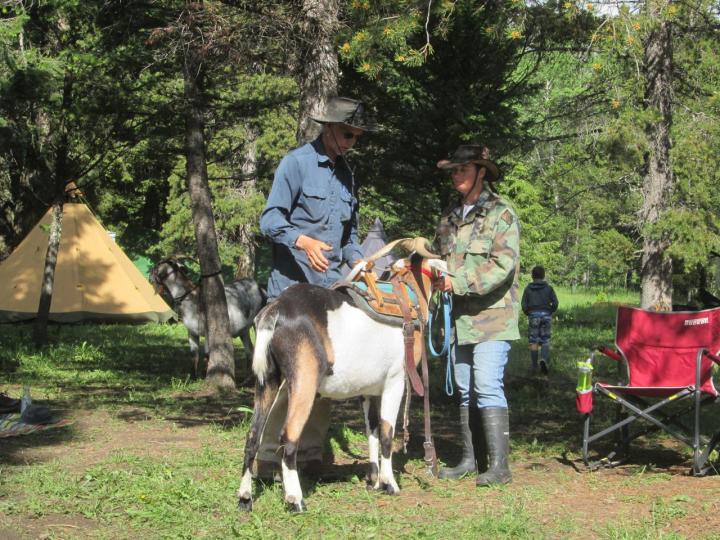 I focused not only on saddle placement but on fit. Here I am showing people how to look down the channel for spinal clearance and how to see the angle of the tree vs. the angle of their goat's back.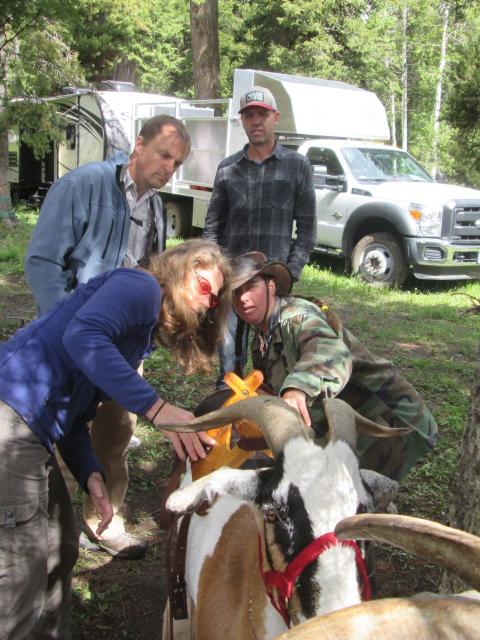 It was fun to have two vastly different goats to compare/contrast saddle fit. This saddle was on Finn in the previous photo and it more or less fits with a few issues (which would be largely resolved if Finn lost weight). Sputnik, on the other hand, is a saddle fitting nightmare so it was fun to demonstrate the differences. Here we're looking at how the rear of the saddle perches up higher than the front.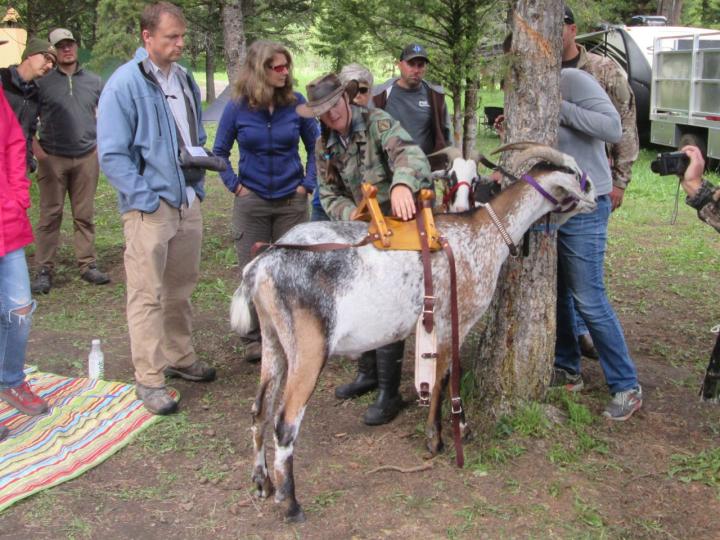 Marc demonstrated his new saddle design on Finn. This saddle fit Finn like a glove.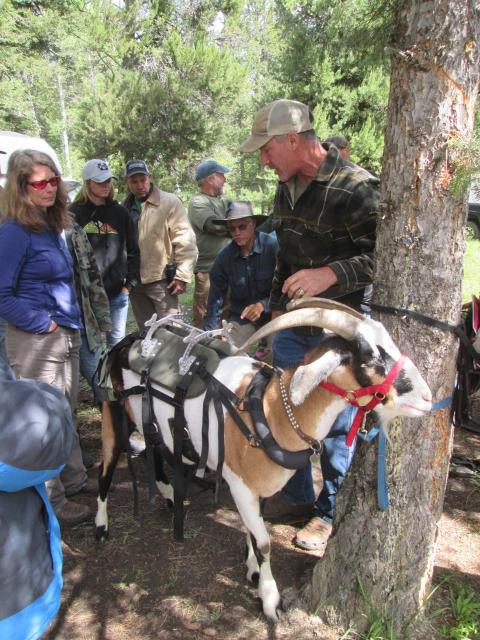 After lunch, a huge crowd gathered to hear Dwite speak about goat nutrition and parasites. There were many good questions and a lot of good advice.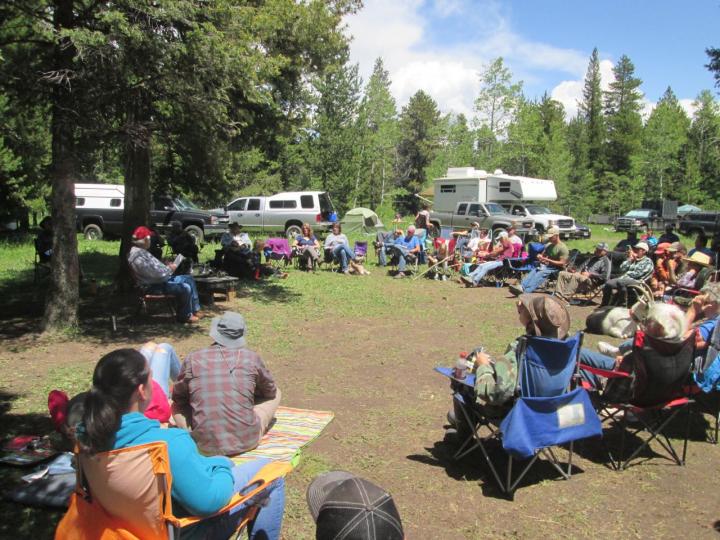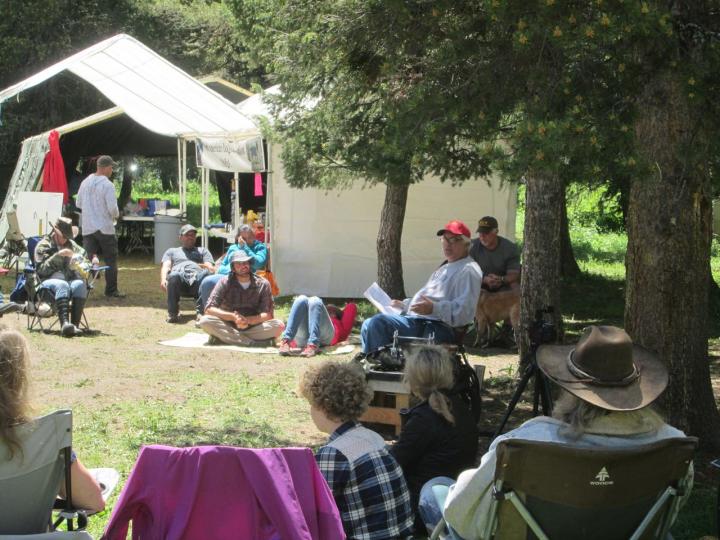 Sunday morning we packed everything up and headed out around noon. We met a lot of new folks and reconnected with many that we'd met before. We met some folks face-to-face for the first time who we knew online. It's always fun to put a face to a name at these events. We saw many beautiful packgoats and packgoat prospects as well. Soon it will be time to start planning for Rendy 2019!